These are vacancies in Chhattisgarh, a leading recruiter, and will update the details of the latest and upcoming job postings. Go down the page to find notifications for all government agencies in Chhattisgarh after the last application date. Individuals who have passed an engineering degree 10 or 12 times are listed on this site. Candidates looking for the latest government positions in Chhattisgarh (CG) have access to all sorts of information about current and future CG positions in various government sectors.
The Chhattisgarh Government announces numerous vacancies each year for 10th and 12th-degree freshmen in engineering. Currently, there are over 15,000 live CG vacancies. Applicants interested in a civil service position can review the details of the notification and apply using the link provided. However, please keep checking our page for more information on the latest Chhattisgarh government Job in the various sectors available in Chhattisgarh. Now, applicants can apply for  CG Jobs 2021 online/offline.
Required Educational Documents To Apply For Government Jobs In Chhattisgarh
10th/ SSC Marks List
12th Marks List
Scanned Photograph
Educational Documents (Mark sheet, Transfer Certificate, Provisional Certificate, etc.)
Mail ID and Phone Number
Cast Certificate (if you are in a reserved Category)
Disability Certificate (If you have any Disability)
Date of Birth Certificate
Scanned Signature
Chhattisgarh Public Service Commission (CGPSC) Under Chhattisgarh Government Jobs
| | | | |
| --- | --- | --- | --- |
| Exam Name | Posts | Age Limit | Salary |
| CGPSC Forest Service | Assistant Forest Conservator Forest Guard | 21-40 Years | Rs.38100- 56100 |
| CGPSC IMO | Insurance Medical Officer | 40 Years Max. | Rs.15600-39100 |
| CGPSC Civil Judge | Civil Judge | 21-35 Years | Rs.27700- 44700 |
| CGPSC Assistant Professor | Assistant Professor | 25-40 Years | Rs.15600- 39100 |
| CGPSC Medical Officer | Medical Officer | 21-38 Years | Rs.15600-39100 |
| CGPSC Veterinary Assistant Surgeon | Veterinary Assistant Surgeon | 21-30 Years | Rs.56100 |
| CGPSC Assistant Director/ District Women and Child Development Officer | Assistant Director/ District Women and Child Development Officer | 21-30 Years | Rs.56100 per month |
| CGPSC Nayab Tehsildar | Nayab Tehsildar | 21-30 Years | Rs.39100 per month |
| CGPSC Excise Sub- Inspector | Excise Sub-Inspector | 21-30 Years | Rs.39100 per month |
| CGPSC Deputy Registrar | Deputy Registrar | 21-30 Years | Rs.39100 per month |
| CGPSC Commercial Tax Inspector | Commercial Tax Inspector | 21-30 Years | Rs.39100 per month |
| CGPSC Cooperative Inspector/ Cooperative Extension Officer | Cooperative Inspector/ Cooperative Extension Officer | 21-30 Years | Rs.39100 per month |
| CGPSC Assistant Engineer | Assistant Engineer | 21-30 Years | RS.15600- 39100 |
| CGPSC ADPPO | Assistant District Public Prosecution Officer | 21-30 Years | RS.15600- 39100 |
| CGPSC Assistant Jail Officer | Assistant Jail Officer | 21-30 Years | Rs.39100 per month |
Chattisgarh Government Jobs: Teachers Recruitment
| | | | |
| --- | --- | --- | --- |
| Exam Name | Posts | Age Limit | Salary |
| CG TET | Primary and Upper Primary Teachers | No Age Limit | Rs.9300-39000 |
| CG SET | Assisstant Professors | No Age Limit | Rs.34768 |
| Chattisgarh Teachers Recruitment | Lecturer/ Assistant Teacher | 18-40 Years | |
Chhattisgarh Government Jobs: Police Recruitments
| | | | |
| --- | --- | --- | --- |
| Exam Name | Posts | Age Limit | Salary |
| CG Police Constable | Constable | 18-28 Years | Rs.19,500 |
Chhattisgarh Government Jobs: Others
| | | | |
| --- | --- | --- | --- |
| Exam Name | Posts | Age Limit | Salary |
| CG Vyapam | Sub Inspector Market Inspector | 21- 35 Years | Rs.25300- 80500 Rs.28700- 91300 |
| CG Vidhan Sabha Assisstant Grade 3 | Assistant Grade 3 | 18- 40 Years | Rs.19500- 62500 |
| CG Vyapam Patwari | Quick Writer Steno Typist Data Entry Operator | 18-40 Years | Basic Pay: Rs.5200-20200 and Grade Pay Rs.2200 |
| CMHO Sukma Recruitment | Doctor, Staff Nurse Radiographer Pharmacist Grade II | 18-64 Years | Rs.8000- 210000 |
Chhattisgarh Government Jobs: Latest Recruitment Detail
Around this year, many Chhattisgarh Government jobs were released, and many aspirants who were eligible for these jobs could apply accordingly. The remaining candidates can learn the details and apply them in the next cycle.
| | | |
| --- | --- | --- |
| Recruiting Body | Posts | Vacancies |
| DHS Chhattisgarh | Staff Nurse | 267 |
| CGPSC | Assistant Professors | 140 |
| CMHO, Korba | Gynaecologist, ENT, Pediatrician, MO, and others | 25 |
| CMHO, Kanker | Medical Micro Biologist, SR Scientist, Lab Technician, MO, DEO, and Others | 34 |
| NMDC Ltd. | Graduate, PASAA, Technician Apprentice | 59 |
| Office of the Deputy Director Veterinary, Dantewada | Assistant Surgeon Veterinary Services, Assistant Veterinary Field Officer | 23 |
| The Collector Office, Dantewada | Development Assistant, Assistant Grade 3 and Bhutan | 5 |
| DEO Raipur Recruitment | Teacher, Assistant Teacher, Peon, etc. | 53 |
| CSPHCL Lineman Recruitment | Lineman | 1500 |
| CG Vyapam Steno Typist Recruitment | Steno Typist | 34 |
| CG Vyapam Stenographer Recruitment | Stenographer | 15 |
DOWNLOAD THE OLIVEBOARD APP FOR ON-THE-GO EXAM PREPARATION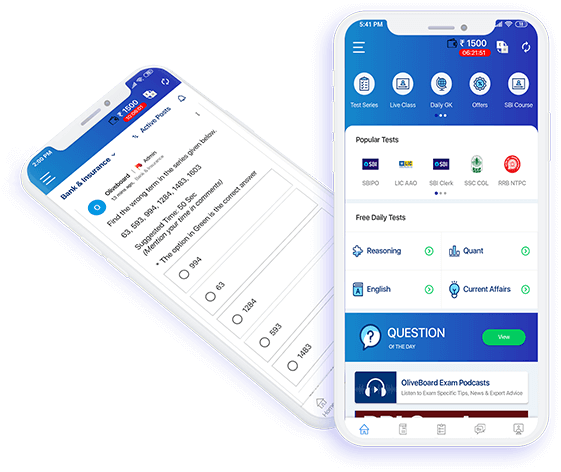 Video Lessons, Textual Lessons & Notes
Topic Tests covering all topics with detailed solutions
Sectional Tests for QA, DI, EL, LR
All India Mock Tests for performance analysis and all India percentile
General Knowledge (GK) Tests
Free videos, free mock tests, and free GK tests to evaluate course content before signing up!
Procedure To Apply For Chhattisgarh Government Exams
Following are the steps that will assist you in completing the online/offline application procedure successfully:
Visit the official website of this particular organization www.chhattisgarh.gov.in.
Find the Recruitment / Career / News / Advertising section on the Welcome page Receive recruitment notifications / promotional links.
Download Chhattisgarh Recruitment Notice PDF.
Please read the general conditions and instructions carefully.
Confirm your approval and click the CG Govt Job Apply Online link.
If you are a new user, please click the registration link.
Please enter your email ID and personal phone number.
Your new registration ID and password will be sent to you by email. Log in to the application form with this registration ID and password.
Please fill in your details on the application form.
Review the details provided and upload your scanned signature and passport photo.
Apply to Pay the application fee.
Print out the application for future use.
List Of Documents Needed To Apply For Chhattisgarh Government Exams
Passport size photo
SSC (10th) Marks Memo
Marks memos of Intermediate (12th)
Marks memos of Graduation/ Post Graduation
Residence certificate
Date of Birth Certificate
Physically Disabled Certificate (If Required)
Aadhar card
Voter Id
Pan card
Passport
Nativity certificate
Community certificate
Any Valid identity proof
DL (Driving License)
Ration Card
A Certificate or any ID signed by Gazetted Office
Tips For Exam Preparation
Start preparing for work before it is approved, as you will get to know about exam dates and all other details so it will be beneficial for you to start preparing at the time of registering yourself.
First, create a preparation plan for the exam, as it is most useful for making your study constant. Come up with a tight schedule and follow it constantly, and it will help you score good marks. As you all know, consistency is the key to success.
Clarify exam patterns, and you need to know about exam patterns to get an idea about which topic you need to focus more on and curriculum topics because they play an important role in the exam.
Start with a simple topic that you are already thinking about, as it will boost up your energy. If in starting you will pick a difficult topic and find difficulty in studying it your confidence will decrease from starting. So start with the easy topic.
Keep your weight target low to complete your preparation on time.
Try online practice exams, past year papers, revision test papers. They are always beneficial to every student as you get an idea about the paper pattern, and they help evaluate your performance.
Download the survey for the past year and write down the repeated questions.
Conclusion
The Government of Chhattisgarh offers qualified directors different career opportunities through different departments. It is a dream that everyone will be accepted into the work of the Chhattisgarh Government. Not only residents of Chhattisgarh but other citizens can apply for notifications. Because of its benefits, no one is willing to leave CG State Govt Jobs. Senior civil servants receive promotions and salary increases, depending on their qualifications and achievements in the workplace. Applicants can get some relevant information about CG Govt Jobs on this page. If you are interested in participating in CG Govt Jobs, sign up for the 12th Pass Jobs Chhattisgarh Govt Jobs provided in this article. He has provided a lot of information about the latest work of the Chhattisgarh Government. If you're looking forward to learning more about the latest and upcoming CG government work, sign up for CG Job Alert. By registering with CG Job Alter, you will receive government job listings in the Chhattisgarh State Notice when officially approved by the Chhattisgarh Government Board of Directors.
Frequently Asked Questions
Who can apply for govt jobs in Chhattisgarh?
The Recruitment board of the Chhattisgarh Government provides a bunch of opportunities under various sectors. i.e., Banking, Railway, Police, Defence, PSU, PSC, etc. The aspirants who meet the recruitment board's eligibility criteria can apply for Govt Jobs in Chhattisgarh.
What is the minimum qualification required to apply for CG Govt Jobs?
There are various boards under CG Govt that provide jobs for 10th Pass, 12th Pass, ITI, Diploma, Graduates, and Engineers. The aspirants who hold the minimum qualification of 10th Pass are eligible to apply for Government Jobs in Chhattisgarh.
What is the Minimum Age limit required for CG Govt Jobs?
Every organization under the CG government will issue various job posts based on their requirements. On the same line, each post will have a different age limit. For all positions, the Age limit is 18 years. And maximum can depend on the vacancy count & respective board. So, As an aspirant, you must undergo the age limit declared by the board.
What is Age Relaxation for CG Govt Jobs?
It is nothing but the relaxation of the upper age limit. The age relaxation depends on the respective recruitment board in CG State.
What is the selection process for CG State Govt Jobs 2021?
Firstly, there will be a written exam, and after clearing that, you will become eligible for an Interview.
Is it possible to change the filled details once the CG Govt Jobs application form is submitted?
Yes, the CG state officials will allow them time to edit the submitted details.

Oliveboard is a learning & practice platform for premier entrance exams. We have helped over 1 crore users since 2012 with their Bank, SSC, Railways, Insurance, Teaching and other competitive Exams preparation.
  Oliveboard Live Courses & Mock Test Series