How to Clear SSC CPO Exam on the First Attempt– The answer to the question "Can SSC CPO be cleared on the first attempt?" or "How to clear SSC CPO Exam on the first attempt?" can be given not by anyone else but the person asking the question themselves. Any exam, be it SSC CPO, SSC CGL or even UPSC can be cleared on the first attempt depending on the determination and tenacity of the aspirant.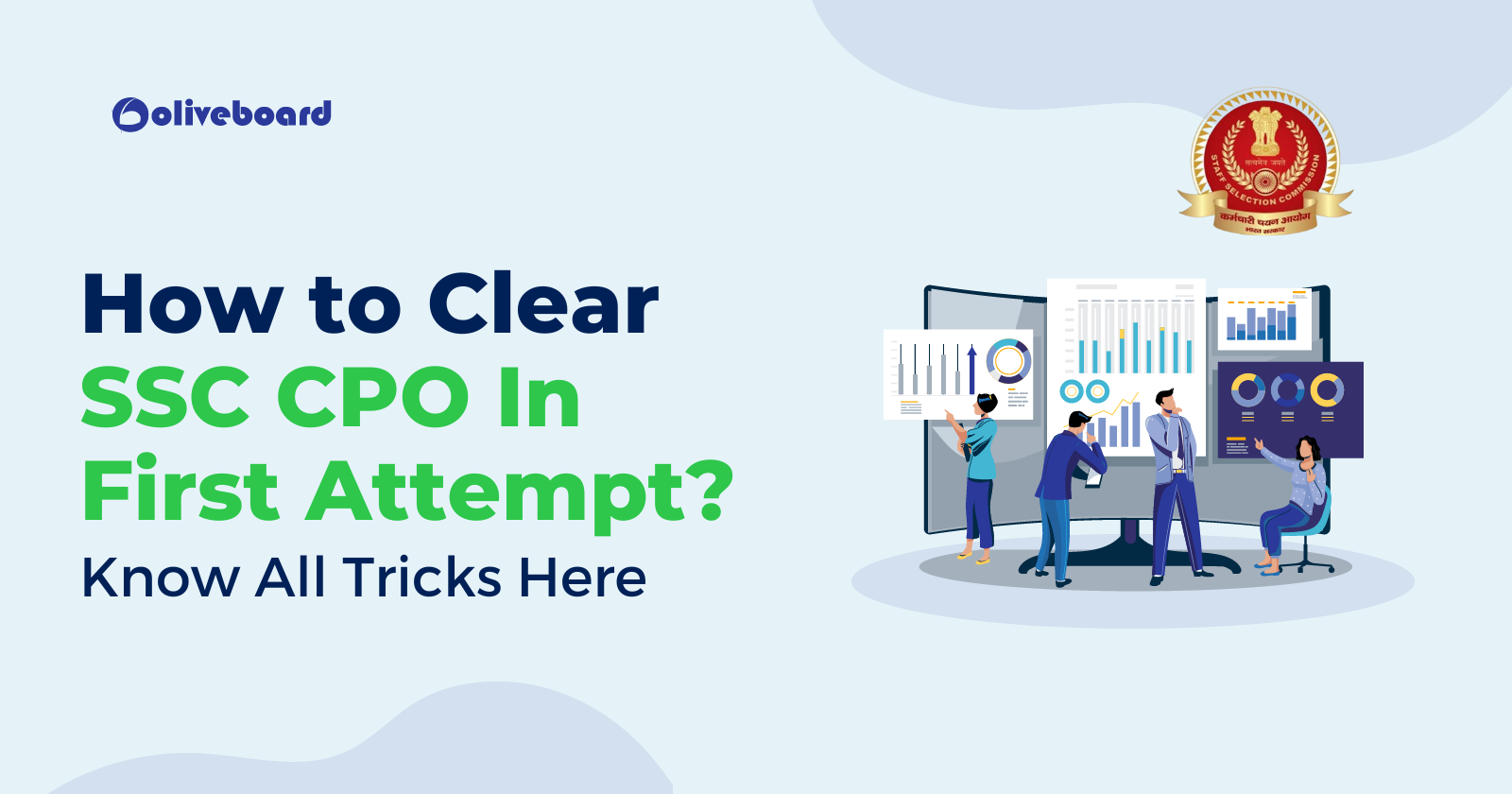 SSC CPO Details- Exam Pattern and Selection Procedure
SSC CPO has two phases. The first phase is the written exam. The second phase is the Physical Endurance Test
SSC CPO Selection Procedure
The SSC CPO selection process involves the following stages:
Written Examination – Paper I (Prelims)
Physical Standard Test / Physical Endurance Test
Written Examination – Paper II (Mains)
Medical Examination Test
Document Verification
Final Selection
Exam Pattern
1. SSC CPO 2022 Exam Pattern For Paper-I
| | | |
| --- | --- | --- |
| Sections | Number of Questions | Marks allotted |
| Quantitative Aptitude | 50 | 50 |
| English Comprehension | 50 | 50 |
| General Intelligence and Reasoning | 50 | 50 |
| General Awareness | 50 | 50 |
| Total | 200 | 200 |
2. SSC CPO 2022 Exam Pattern For Paper-II
| | | |
| --- | --- | --- |
| Section | Number of Questions | Marks Allotted |
| English Comprehension | 200 | 200 |
How to clear SSC CPO Exam on the First Attempt – Written Exam
Reasoning
This section tests the candidate's logical and reasoning skills. It requires daily practice with a good variety of questions to cover a majority of topics. You will also need to practice judging which questions to attempt and which to leave in order to manage time and negative marking. With all these requirements met, the reasoning section can become one of the highest-scoring sections for you in this exam.
General Awareness
General Awareness is a section that most candidates overlook. Hence, it is a section that determines the performance for most. Paying equal attention to this section as the others will easily boost your score. Preparing for general awareness is easier as the questions tend to be repetitive.
Candidates are advised to go through the past 10 Years' papers, as this will help in familiarizing with the pattern of questions and frequently repeated topics.
Standard GA books are recommended. NCERT books may be referred but are not recommended due to excess content that is difficult to cover.
It is always best to start with the most basic and factual parts of General Knowledge. Memorization of important facts is necessary. This can be dates, capital cities, inventors, etc.
Current affairs and dynamic GK questions contribute about 10-15 questions to the section. For this newspapers, magazines and the latest GK digests are essential materials that should be studied.
This section is straightforward as the candidate will either know the answer or will not know the answer.
English
The English section can be broadly divided into three parts.
| | | |
| --- | --- | --- |
| Comprehension | Grammar | Vocabulary |
Reading comprehension will require the candidate to improve their reading and comprehension skills. This can be achieved by regularly reading editorials from newspapers like The Hindu, blogs, and magazines.
Reading will automatically improve grammar but for strengthening the base concepts books like those of Wren and Martin are the best. Practice grammar, sentence construction, error spotting, tenses, etc. with reference to the topics covered for the exam.
Vocabulary can also be improved through reading and keeping a dictionary on hand to learn any new and difficult words that you may encounter.
Learning 200-300 most commonly used words along with their synonyms and antonyms will help tremendously. Also, focus on one-word substitutions, idioms, and phrases, as these are easier to score in.
Reading daily newspapers, especially editorials, marking down the difficult words, and searching for their meaning will help in enhancing your vocabulary.
Follow Oliveboard's YouTube channels for dedicated SSC Study content.
Quant
Quantitative ability is a section that can be easy to score in with sufficient practice. It will require the candidate to have fast calculation skills. It will be particularly useful to practice mental maths for the same.
A stronghold on basic arithmetic and algebraic concepts and formulae is required for this section. In particular, topics such as algebra, geometry, coordinate geometry, trigonometry, and mensuration will require attention.
Shortcuts and tips are needed for this section. Particularly for solving questions from topics like profit-loss, percentages, etc. This will help reduce the time spent solving and provide answers faster and more accurately.
It will be best to build up the basics with the help of standard mathematics texts and then move on to solving timed tests to analyze areas of weakness and strengths.
How to Clear SSC CPO on First Attempt – General Tips
Create a timetable
Create a timetable by keeping in mind the days left for the exam and sticking to the schedule. Make sure you pay attention to all the areas, especially your weak areas.
Practice
One needs to attempt as many quality mocks as one can and analyze them afterward. Note down the mistakes when you make them and later on observe what kind of questions you are getting wrong and then work on them.
Start noticing how many questions in a mock are you able to solve in the given duration. From then onwards, work on your speed and accuracy.
Previous years' papers
Previous years' papers play a significant role in the preparation. Make sure you have attempted at least the previous 5 years' actual papers.
Revision
You need to revise the topics at regular intervals otherwise you will just end up forgetting them. Revision is one of the most important things if you want to clear this exam.
How to Clear SSC CPO Exam on First Attempt- PET
Physical Endurance Test For Male Candidates

Physical Endurance Test For Female Candidates

The candidate is required to clear both the written and the physical endurance tests to be selected. Thus, it is vital to keep both physical and mental health in top shape to give the best performance.
This will require a strict exercise and diet regimen. The candidate should make sure to train in the categories of PET to avoid difficulty in performing on the day of the exam.
Conclusion
SSC CPO is a highly competitive exam. You need to follow the right techniques and the right strategy to crack SSC CPO on the first attempt. Once you have made a proper strategy and stick to your schedule with laser focus, you will achieve success.
Best of luck!
Also Read:
Clear SSC CPO – Frequently Asked Questions
When will the SSC CPO be conducted?
Paper I for SSC CPO 2022 will be conducted in November 2022.
How is SSC CPO conducted?
SSC CPO has two types of tests- written and physical endurance test or PET. Candidates will first sit for Paper I which is a CBT. Selected candidates will appear for the PET. Candidates who clear the PET will appear for Paper II which is solely based on the English language.
How many vacancies are there for SSC CPO?
In 2022, 4,300 vacancies have been released for SSC CPO.
When will the SSC CPO application form be available?
The SSC CPO 2022 application form has been made available from the 10th of August 2022. The last date to fill out the form is 30th August 2022. Candidates can fill out the application from here.
DOWNLOAD THE OLIVEBOARD APP FOR ON-THE-GO EXAM PREPARATION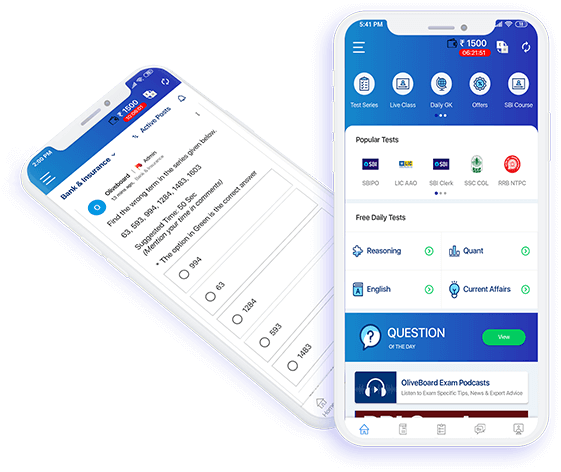 Video Lessons, Textual Lessons & Notes
Topic Tests covering all topics with detailed solutions
Sectional Tests for QA, DI, EL, LR
All India Mock Tests for performance analysis and all India percentile
General Knowledge (GK) Tests
Free videos, free mock tests, and free GK tests to evaluate course content before signing up!

Oliveboard is a learning & practice platform for premier entrance exams. We have helped over 1 crore users since 2012 with their Bank, SSC, Railways, Insurance, Teaching and other competitive Exams preparation.