The answer to the question "can SSC CPO be cleared in the first attempt?" or "how to clear SSC CPO Exam in the first attempt" can be given not by anyone else but the person asking the question themselves. Any exam, be it SSC CPO, SSC CGL or even UPSC can be cleared in the first attempt depending on the determination and tenacity of the aspirant.
1.SSC CPO 2020 Exam Pattern For Paper-I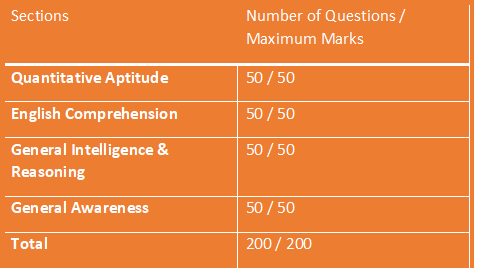 2. SSC CPO 2020 Exam Pattern For Paper-II

3. SSC CPO Selection Procedure
The SSC CPO selection process involves the following stages:
Written Examination – Paper I (Prelims)
Physical Standard Test / Physical Endurance Test
Written Examination – Paper II (Mains)
Medical Examination Test
Document Verification
Final Selection
4. How to clear SSC CPO Exam in the first attempt with section wise strategy 
4.1 Reasoning
Your logical thinking and quick decision-making abilities will be tested in this section. You need to practice a lot of questions daily in order to hone your skills. You have to develop the skill to judge which questions to solve and which questions to leave for later otherwise you will end up wasting a lot of time on one question.
It is one of the highest scoring sections in the exam.
Attempt a free mock and analyse your performance with AI – click here
4.2 General Awareness
This section tends to be ignored by aspirants as its syllabus is vast but this is the deal making or deal breaking section. A good score in this section will put you into the list of toppers. The questions in this section tends to be repetitive hence going through past 10 years' papers is immensely beneficial. Some standard GA books should be read. Reading NCERTS are helpful and will fetch you good marks but this is generally not suggested as NCERTs are vast and will take a significant time.
Start with the static GK portion of the exam and read the standard books. Some important facts have to be memorised. This section takes very less time as you either know the answer or you don't. There is not much thinking or not any calculation involved in this section.
Around 10-15 questions are asked from current affairs and dynamic gk portion. You need to be updated with the news and important events happening around you and in the world.
4.3 English
The English section can be broadly divided into three parts.

For comprehension, you need to sharpen your reading skills. One needs to study high quality articles from reputed newspapers, blogs and magazines.
For grammar, read any standard grammar book for concept building. Practice error spotting, sentence improvement and other types of questions which tests your grammar.
For vocabulary section, you need to learn 200-300 most commonly used words along with their synonyms and antonyms. One-word substitutions and idioms and phrases also play a large part in scoring good marks in this section.
Reading daily newspapers, especially editorials, and marking down the difficult words and searching their meaning will help in enhancing your vocabulary.
Follow Oliveboard's YouTube channels for dedicated SSC Study content.
4.4 Quant
One needs to possess fast calculation skills.
One needs to learn the short tricks or the faster way of solving a particular question to save time.
One needs to have clarity of basic concepts.
One needs to pay special attention to Algebra, Geometry, Coordinate Geometry, Trigonometry, and Mensuration.
Follow any standard mathematics book to build your basic concepts then move on to mock tests and specialised books like books for arithmetic and advance maths.
5.GENERAL TIPS
5.1 Create a timetable
create a timetable by keeping in mind the days left for the exam and stick to the schedule. Make sure you pay attentions to all the areas especially your weak areas.
5.2 Practice
One needs to attempt as many quality mocks as one can and analyse them afterwards. Note down the mistakes when you make them and later on observe what kind of questions you are getting wrong and then work on them.
Start noticing how many questions in a mock are you able to solve in the given duration. From then onwards, work on your speed and accuracy.
5.3 Previous years' papers
Previous years' papers play significant role in the preparation. Make sure you have attempted at least previous 5 years' actual papers.
Attempt  free mock test based on past year papers – Click here
5.4 Revision
You need to revise the topics at a regular interval otherwise you will just end up forgetting them. Revision is one of the most important things if you want to clear this exam.
6. Phase-II: Physical Standard Test (PST)/ Physical Endurance Test (PET)
Physical Endurance Test For Male Candidates

Physical Endurance Test For Female Candidates

One needs to be physically fit to be selected. Even if you clear the written examination but fail in the physical test, you won't be selected so you can deduce the importance of being physically fit. The candidates must be in good mental and bodily health and free from any physical defect likely to interfere with the efficient performance of the duties.
SSC CPO is a highly competitive exam. You need to follow the right techniques and the right strategy to crack SSC CPO in the first attempt. Once you have made a proper strategy and stick to your schedule with laser focus, you will achieve success.
7.Enroll For SSC CPO Online Course
SSC CPO online course includes
Video Lectures to learn concepts
10 SSC CPO Tier I Mock Tests + 5 Tier II Mock Tests
Sectional Tests
Topic Tests
All the very best and  stay tuned with Olive board for more such informative articles.