Coastal States of India: India's coastline and various seaports located alongside form an important topic for the UPSC CSE preparation. This blog post covers all the important points about it. In this blog, we will provide you with brief details about the coastal states of India & the major sea ports.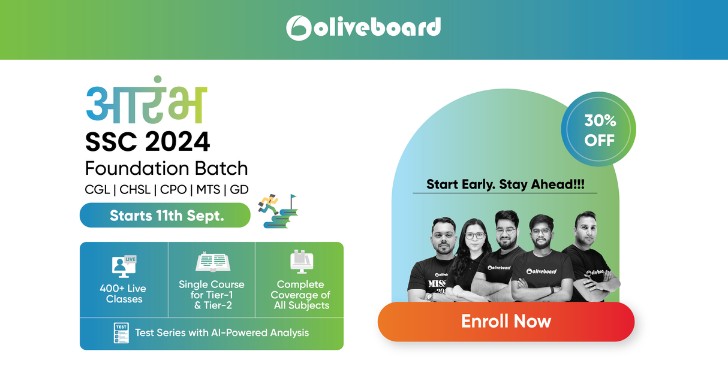 Coastal States of India
– – India has the 18th longest total coastal length among all world countries.
– The Indian coastline stretches over 7516.6 kilometers of land and thus, makes India one of the biggest peninsulas in the world.
– The coastal length of mainland India (except Andaman & Nicobar islands and Lakshadweep islands) is 5422.6 Km. The coastal length of all islands taken together is 2094 Km.
– It runs over 9 states and 4 union territories and is bound by the Arabian Sea on the west and the Bay of Bengal in the east.
– The western coastal states are Gujarat, Maharashtra, Goa, Karnataka, and Kerala.
– The eastern coastal states are Tamil Nadu, Andhra Pradesh, Orissa, and West Bengal.
– The 4 union territories lying on the coastline are Daman & Diu, Puducherry, Lakshadweep Islands, and the Andaman & Nicobar Islands.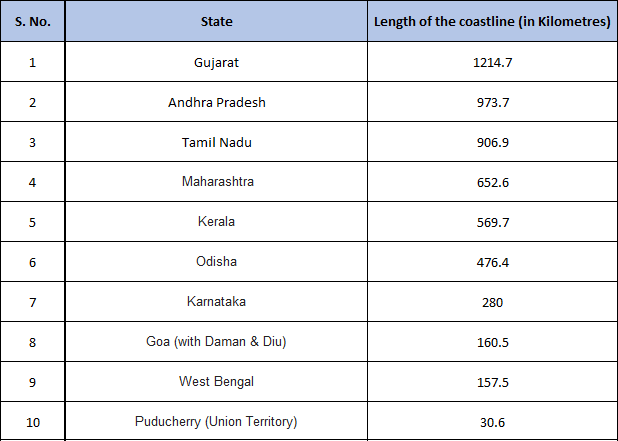 1. Gujarat
Important ports of Gujarat are – Alang, Kandla, Mandavi, Okha, Porbandar, Veraval, Jafarabad, Pipavav, Bhavnagar, Dahej, Magadalla, Hazira, Mandvi (Surat), Mundra,

and Maroli.
Major port: Kandla
The Kandla port was formed with the intention to decongest the Mumbai port.
It is located in the Gulf of Kutch and is the largest port in India when measured by the volume of cargo handled.
Intermediate ports: Okha, Porbandar, Pipavav,

and Bhavnagar.
2. Andhra Pradesh
Important ports of Andhra Pradesh are —  Visakhapatnam, Kakinada, and Machlipatnam 
3. Tamil Nadu
Important sea ports of Tamil Nadu are – Chennai, Ennore,

and Tuticorin.
The second largest port in India, Chennai Port (or Madras Port) primarily handles fertilizers, general cargo, iron-ore, and petroleum products.
It is one of the oldest ports in India.
Located north of Chennai, Ennore port was established to reduce congestion at Chennai Port. It is also India's first corporate port.
Tuticorin Port is officially known as VO Chidambaranar Port and is an artificial deep-sea harbor.
The port handles the trade of coal, food grains, salt, sugar, petroleum products, and edible oils and carries out major trade with the neighboring country of Sri Lanka.
Kanyakumari, which is the southernmost tip of the Indian mainland

is located here.
4. Maharashtra
Important ports in Maharashtra are – Jawaharlal Nehru Port, Mumbai Port, Dharamtar, Mora, Redi, Jaitapur, and Rewas.

Jawaharlal Nehru Port is the largest container port in India. It was formerly known as Nhava Sheva port.

Mumbai Port handles one-fifth of India's foreign trade with predominance in dry cargo and mineral oil from the Gulf countries.
5. Kerala
The important ports of Kerala are — Cochin, Kanhangad, Kollam, Kottayam, Kalichanadukkam, and

Vizhinjam international seaport.
The export of tea and coffee and the import of chemical fertilizers and mineral oil is

handled by the port.
6. Odisha
Most important port – is

Paradip which is an artificial deep-water port.
Coal, iron ore, and other dry cargoes are handled at the port. It has a cold handling plant, a railway system, and a national highway that connects it to the road networks of the rest of the country.
Other smaller ports – Astaranga, Kirtania,

and Dhamra.
7. Karnataka
The important ports of Karnataka are – New Mangalore, Belekeri, Tadadi, Honnavar, Bhatkal, Kundapura, Hangarakatta, Malpe, and Padubidri.

The new Mangalore port exports commodities such as granite stones, cashew, manganese, and coffee and imports products like LPG, timber, cargo container, and others.

Panambur is the site of a seaport called New Mangalore Port.
8. Goa
Marmagao is the major port of Goa.

Mormagao Port is the leading iron ore exporting port of India with an annual throughput of around 27.33 million tonnes of iron ore traffic.
9. West Bengal
The Ganges and the Brahmaputra rivers form the Sundarban Delta near the Bay of Bengal.

Haldia is one of the most important p

ort of the state.
It is located in the Hooghly River and it is the most important center

of jute industries.

It is also known as the 'Gateway of Eastern India'.
Major Sea-ports of India
A port is a location on a coast or a shore that contains one or more harbors where ships can dock. The locations of the ports are selected to optimize access to land and navigable water that can be used for commercial purposes and provide shelter from waves and winds.
List of Major Ports in India:
| | | |
| --- | --- | --- |
| Name of Ports | State | Major Export |
| Kochi Port | Kerala | Tea, Coffee, Spices, etc |
| Ennore Port | Tamil Nadu | Iron ore, petroleum, coal, and chemicals |
| Haldia Port | West Bengal | Jute, steel, iron ore, etc |
| Kolkata Port | West Bengal | Iron ore, tea, coal, steel, etc |
| Kandla Port | Gujarat | Textile, manganese, machinery, leather, chemical products, etc |
| Mangalore Port | Karnataka | Iron ore |
| Marmagoa | Goa | Iron ore |
| Mumbai Port | Maharashtra | Textile, manganese, machinery, leather, chemical products, etc |
| Jawaharlal Nehru port | Maharashtra | Textile, chemicals, pharmaceuticals, carpets, etc |
| Paradip Port | Odisha | Iron ore, iron, and aluminium |
| Tuticorin Port | Tamil Nadu | Salt, fertilizer, petroleum, coal, etc |
| Vishakhapatnam Port | Andhra Pradesh | Coal, alumina, oil, and coals |
| Chennai port | Tamil Nadu | Rice, textile, leather, goods, etc |
Important Ports in India Zone-wise
Zone
State
Port
Features
Eastern Coast
Tamil Nadu
Chennai
It is an artificial port and the Second busiest port.
Western Coast
Kerala
Kochi
Sited in the Vembanad lake and use for exports of spices and salts.
Eastern Coast
Tamil Nadu
Ennore
It is India's First corporatized port.
Eastern Coast
West Bengal
Kolkata
India's only major Riverine portSituated on the Hugli river, it is also known as Diamond Harbour
Western Coast
Gujarat
Kandla
It is known as Tidal Port and is acknowledged as Trade Free Zone.
It is the largest port by volume of cargo handled.
Western Coast
Karnataka
Mangalore
It deals with the iron ore exports
Western Coast
Goa
Mormugao
It is situated on the estuary of the river Zuari
Western Coast
Maharashtra
Mumbai Port Trust
It is the largest Natural Port and harbour In India.It is the busiest port in India.
Western Coast
Maharashtra
Jawaharlal Nehru Port Trust (JNPT) also known as Nhava Sheva, Navi Mumbai
It is the largest Artificial PortIt is the largest Container Port in India.
Eastern Coast
Odisha
Paradip
It is a natural harbour.
Deals with the export of iron and aluminium.
Eastern Coast
Tamil Nadu
Tuticorin
It is a significant port in southern India that handles petrochemical and fertiliser products.
Eastern Coast
Andhra Pradesh
Visakhapatnam
Iron ore is sent to Japan through this port, which is India's deepest. There are facilities for building and maintaining ships.
Bay of Bengal
Andaman & Nicobar Islands
Port Blair
The port was connected to the Indian subcontinent by ship and air. This port is located between the Saudi Arabian and US Singaporean shipping lanes.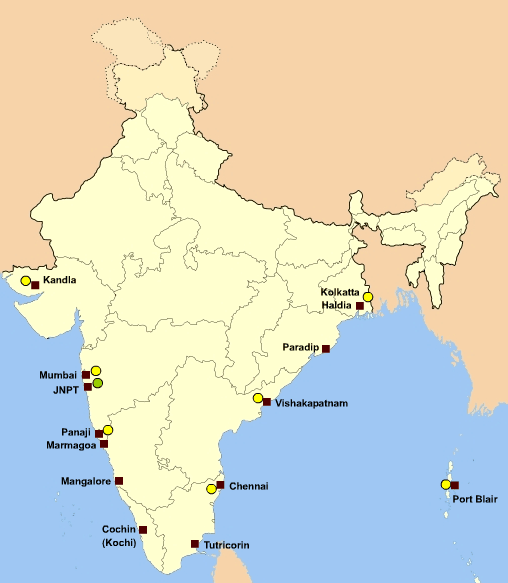 Hope this post comes in handy for your preparation! Comment with your suggestions below. All the best!
Advertisements

Frequently Asked Questions:
Which is the number 1 port in India?
Mumbai is the number 1 port in India. Its based on its size and shipping traffic.
Which is the most new port in India?
The newest port in India is located in Maharashtra. The name of the port is Vadhavan port.
How many seaports are there in India?
There are totally 13 major seaports in India and more than 180 minor seaports.
Which is the oldest port in India?
The oldest port in India is Kolkata port.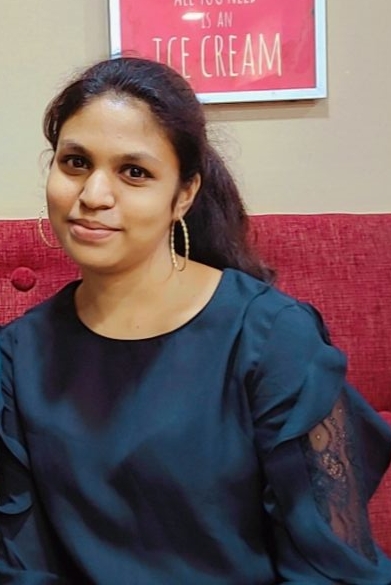 Sindhuja is a passionate content writer with a strong background in preparing for various state exams and defence examinations. Drawing on her own experiences as an aspirant, she brings valuable insights and expertise to her writing. With a keen understanding of exam patterns, syllabus, and effective study techniques, Sindhuja creates engaging and informative content to assist fellow aspirants in their preparation journey. Her dedication to accuracy and clarity ensures that candidates find convenience and reliability in her work. As a content writer, she aspires to empower others with the knowledge and guidance needed to excel in their respective exams and achieve their dreams.
  Oliveboard Live Courses & Mock Test Series