Inspiring Entrepreneur Success Stories
Many people come from small towns to big cities in search of better opportunities and with a hope to make it big in their lives. And more often than not, the only thing that they have by their when they start out in these big cities is –talent and resilience.
Although there are many, in this post, we bring to you the 7 most prominent rags to riches stories of India. These stories are nothing short of inspiring and prove one fact over and over again – everything is possible; if you have the will to accomplish it!
1.  Dhirubhai Ambani – The Man Who Made Reliance Industries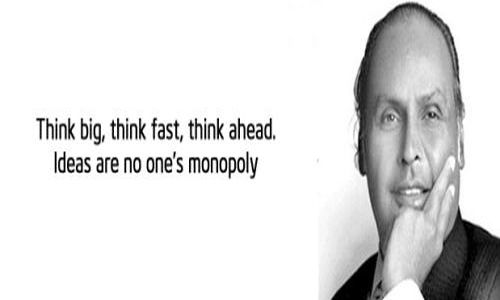 Son of a school teacher born in the Gujarati town of Chorwad, Dhirubhai started his entrepreneurial journey by selling bhajias. After completing his matriculation at the age of 16, he moved to Aden, Yemen and worked there as a gas-station attendant, and as a clerk in an oil company.
He returned to India in 1958 with Rs 50,000 and set up a textile trading company. In 1992, Reliance became the first Indian company to raise money in global markets. Reliance also became the first Indian company to feature in Forbes 500 list. Dhirubhai Ambani was named the Indian Entrepreneur of the 20th Century by the Federation of Indian Chambers of Commerce and Industry (FICCI).
2. Karsanbhai Patel – The Man Behind 'Washing Powder Nirma'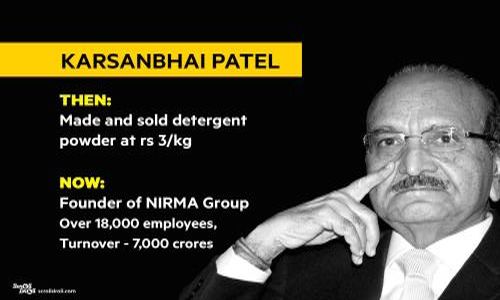 Karsanbhai Patel used to make detergent powder in the backyard of his house in Ahmedabad and then sold it from door to door. He used to give a money back guarantee with every pack that was sold. When the cheapest detergent in the market was priced at Rs. 13/ kg  he offered his detergent powder for Rs. 3/ kg. Thus, he was able to successfully target the middle and lower middle income segment.
The company that started in 1969 with just one man, today employs around 18,000 people and has a turnover of more than 7,000 crores. According to Forbes, in 2005 Karsanbhai Patel's net worth was $640 million and it's going to touch the $1000 million mark soon
3. Kalpana Saroj – The Unbreakable Woman ( CEO, Kamani Tubes)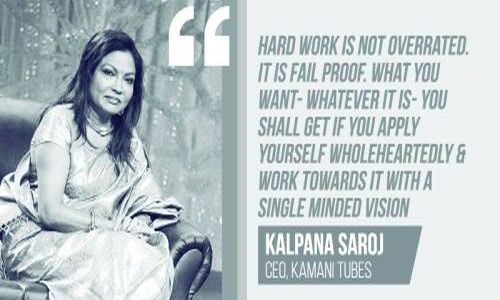 She is described as the original "Slumdog Millionaire" of India. Born to a Dalit family, she was subjected to all kinds of injustice and being a girl only added to her miseries. She was married away at the age of 12, faced mental and physical abuse at the hands of her in laws.
She attempted suicide after being ostracized by the villagers. At the age of 16, she moved back to Mumbai to live with her uncle. She started working in a garment factory to support her family. Using government loans for scheduled caste people, she successfully started a tailoring business and then a furniture store.
She went on to build a successful real estate business, and came to be known for her contacts and entrepreneurial skills. She was on the board of Kamani Tubes when it went into liquidation in 2001, and after taking over the company, restructured it and brought it back to profit.
Kalpana Saroj was awarded the Padma Shri for Trade and Industry in 2013. She was appointed to the board of directors of Bhartiya Mahila Bank, a bank primarily for women, by the Government of India
4. Ramesh Babu – The Barber With A Rolls Royce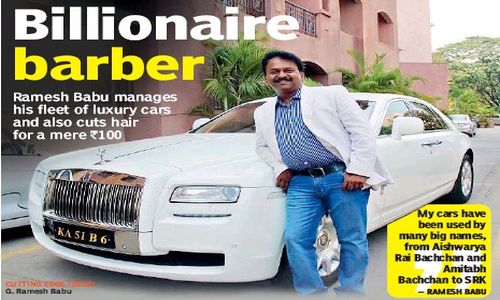 A passionate barber and a hard worker in the literal sense of the word. His story is one of the most inspiring. He ran a car rental business on the side. With his meager savings he bought a Maruti car in 1994.
By 2004, he had a fledgling car rental business with seven regular cars. In 2014 he has a fleet of 200 cars. What is even more extraordinary is the 75 luxury cars on the fleet- a range of Mercedes, BMW's, Audi's, five and 10 – seater luxury vans and, his ultimate pride, a Rolls Royce.
He says he got into luxury cars rental business because that was something that no one else was doing.
5. Patricia Narayan – FICCI Woman Entrepreneur of the Year 2017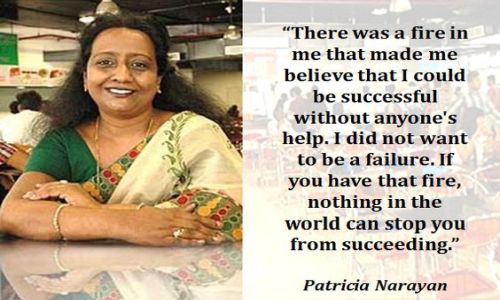 She is the lady who went on from earning 50 paise a day to owning a chain of restaurants.
She started by making pickles, jams and squashes at home. Her endeavor was successful and soon she found herself to be economically independent. Her first step of becoming of an entrepreneur was when she decided to sell bajjis, cutlets, samosas, fresh juice, coffee and tea Marina beach.
She is a burning example of how to take advantages of hard times instead of being used and controlled by them. From battling against helplessness, getting rid of failed marriage and drug addict and abusive husband, and taking care of two small kids, she not only managed to pursue he passion but also laid the foundation of success on it by establishing the chain of restaurants.
6. Narayan Murthy: The man behind global giant Infosys
 
Narayan Murthy was born in a Middle-class family. He wanted to be an engineer and successfully cleared the entrance exam of the Indian Institute of Technology. However, he couldn't get into the college as his father could not afford the fees.
He joined a local engineering college and got a degree in Electrical Engineering. After that Narayan joined IIT Kanpur for his Master's degree and decided to pursue a career in IT.
Today he's the co-founder of a multinational corporation, Infosys and is known as the father of Indian IT Sector and is listed among the 12 greatest entrepreneurs in Forbes Magazine and has also been honored the Padma Vibhushan and Padma Shri Awards.
7. Sunil Bharti Mittal: Connecting India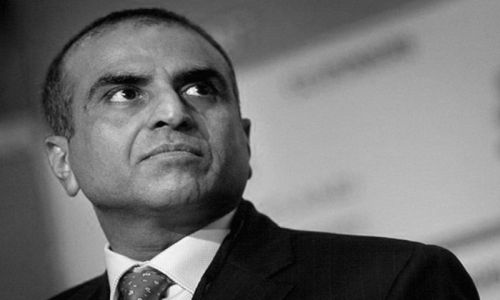 Sunil Mittal hails from Punjab. He started working at a tender age of 18 before graduating from Punjab University.
Due to lack of money, Mittal used to travel in trucks along with his consignments. He put in 16-18 hours of work every day and stayed at small, inexpensive hotels when he travelled.
Today, he's a well-known Entrepreneur, Philanthropist and the Founder and Chairman of Bharti Enterprises, which has diversified interests in telecom, malls, real estate, insurance, food, agriculture and hospitality among other things.
Stories of personal perseverance, the ones where heroes overcome severe obstacles and achieve dizzying heights of success, have been around since the beginning of time but they never get old. They inspire us and inflame our passions, making us believe we too can follow suit.

The most comprehensive online preparation portal for MBA, Banking and Government exams. Explore a range of mock tests and study material at www.oliveboard.in
  Oliveboard Live Courses & Mock Test Series