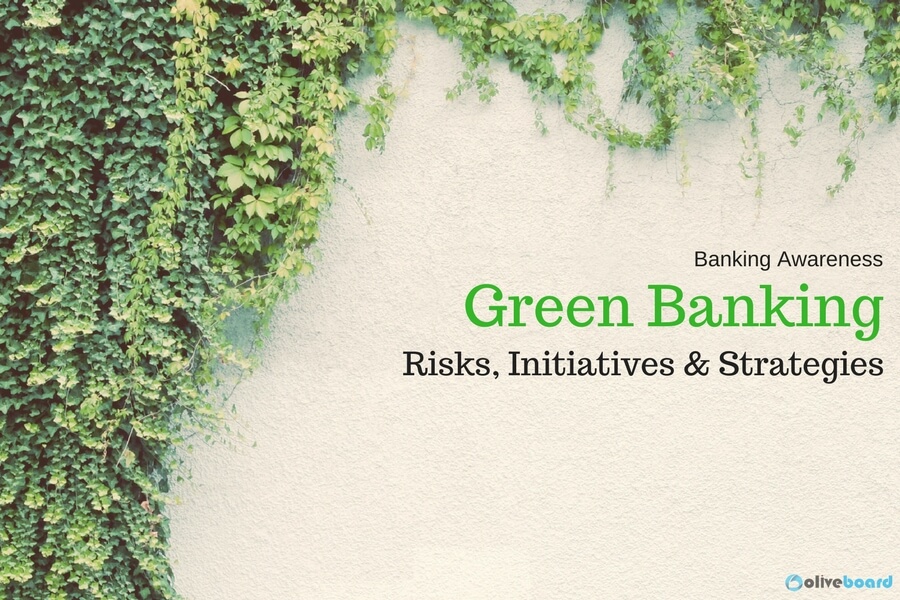 Dear Aspirants,
'Green Banking' is yet another important topic under Banking Awareness. You can expect questions from this topic in your bank exams' general awareness section.
We suggest you download the following as a PDF to use it as a handy guide during your banking awareness preparation.
What is Green Banking?
Green Banking is an umbrella term that refers to the practices & guidelines that make banks sustainable in environment, economic & social dimensions by promoting eco-friendly activities & reducing carbon footprints from banking activities.
What are the risks involved?
Reputation Risk
If any actions (direct or indirect) of banks are viewed as environmentally or socially damaging, the banks are prone to reputation risks. For example, banks financing environmentally hazardous projects.
Legal Risk
If banks don't comply with the relevant environmental regulations, they could face legal risks. Banks could also face risks of direct vendor liabilities for costs of cleaning up the damages, in case they possess assets that cause pollution.
Credit Risk
The changing climatic conditions may pose a direct or indirect cost to the bank. Sometimes extreme weather conditions affect the economic assets financed by the banks; this could lead to high incidence of credit default. This could also happen when banks are lending to companies or business that get affected due to the environment regulations.
Green Banking Initiatives in India
The State Bank of India (SBI)
SBI is the first bank in India to promote green banking by launching green banking policies and promoting green projects. SBI has also set up windmills in the states of Tamil Nadu, Gujarat & Maharashtra that produce 15 MW power.
IDBI
IDBI provides services to its clients in the field of Clean Development Mechanisms (CDM)
Yes Bank
Yes Bank has launched projects in areas of clean technology & alternative energy
HSBC Bank
HSBC Bank has devised targets to reduce the impact of its operations on the environment.
Punjab National Bank
The PNB has taken several measures to reduce emission & energy consumption
Kotak Mahindra Bank
The Kotak Mahindra Bank had launched the 'Think Green' campaign and took several initiatives under it like encouraging its customers to sign up for e-statements and reduce paper consumption. Kotak also tied up with grow-trees.com to plant one sapling on behalf of their customers for every e-statement.
Bank of Baroda
BOB funds projects which help in earning carbon credits such as Biomass, windmills, and solar panel projects. The also funded some commercial projects as part of their green banking initiatives.
IndusInd Bank
The IndusInd Bank has installed solar powered ATMs in different cities across India, to save energy and reduce the emission of CO2.
Canara Bank
Canara Bank has adopted several eco-friendly initiatives such as mobile banking, telephone banking, solar-powered biometric operations and internet banking as part of their contribution towards green banking.
ICICI Bank
ICICI Bank had launched a 'Go Green' campaign for greener communication with customers, green engagement and offering green products & services.
HDFC Bank
HDFC Bank has taken several initiatives under green banking for effective use of paper, energy efficiency & reducing carbon footprints.
Practice latest banking awareness questions. Click on the banner:

Green Banking Strategies
Following are some of the strategies that banks can adopt to further their contribution in green banking:
Mass Transportation
Banks can provide transportation facility to bank officials who work in the same branch.
Paperless Banking
Banks can adopt paperless banking and go digital. A lot of banks are already shifting to CBS or ATM platforms and providing their consumers electronic banking services & products.
Carbon Credit Business
Every nation needs to work towards reducing emission of greenhouse gases and carbon to protect the environment. Emissions are certified by Certified Emission Reductions also known as carbon credit.
Energy Consciousness
Banks can install energy efficient equipment in their branches across the country & transform green banking in waste management, hardware & energy efficient tech products and donate energy efficient equipment to hospitals & schools.
Financial Products
Banks can offer green loans on low rate of interests.
Social responsibility
Banks, like other business entities, have a social responsibility toward the society. They can initiate various initiatives for the welfare of the social sector like maintenance of parks, planting trees and pollution checkup camps.

We hope the above article gives you a brief about Green Banking and the various initiatives taken by Indian banks to contribute toward green banking. Download this as a PDF to use it as a handy guide for your banking awareness preparation.
Further Reading
  Oliveboard Live Courses & Mock Test Series