To bring your A-level game on the d-day of CLAT, it is important that you have had an ample amount of practice beforehand. This is exactly what Mock tests for CLAT bring to the table. Taking a mock test in a time-bound manner under a simulated exam-like environment can give you a taste of what it would be like on exam day. It helps you understand the demands of the exam while also giving you feedback on your preparation.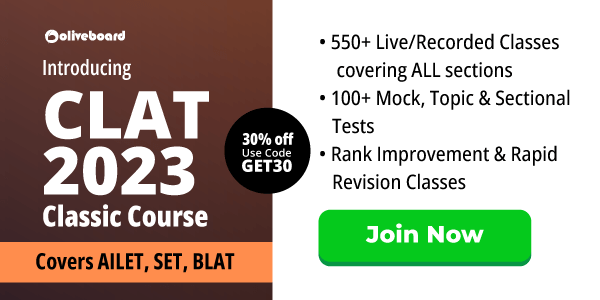 Introduction
Quality mock tests for CLAT is designed to give you the taste of the actual examination by replicating the pattern of the paper after a careful analysis of the past years' question papers. The syllabus is kept the same and so is the pattern and type of questions asked. (Take a look at this and compare the trends with this free paper.) This means you get to test and better yourself before the grueling competition does.
Moreover, an ample amount of practice is essential to crack any competitive examination, especially the time-bound law entrance examinations like CLAT, AILET, etc.
However, in order to utilize your practice and taste of examination developed by mock tests for CLAT, you need to know how to analyze its scores. Understand that even if you give 100 mocks but fail to analyze them for your strengths and weaknesses and fall short of fine-tuning a strategy, the 100 mocks would be of no use. This blog will give you an idea of how to analyze the scores of mock tests for CLAT.
Note – What you score in mock tests for CLAT is not representative of your actual test score on the d-day. It merely gives you an idea of what is going right and wrong for you. Hence, whether you score 20 or 120 on a mock test should not dishearten you. The score needs to be analyzed and we are hereby teaching you how!
"I fear not the man who has practiced 10,000 kicks once, but I fear the man who has practiced one kick 10,000 times."

Bruce Lee
General Overview of your test-taking ability
The general overview of your test-taking ability will help you curate a dedicated strategy as per your strengths and weaknesses. This is necessary because understanding whether you are falling short on time management or on conceptual clarity will help you utilise your time before the competitive examination in an efficient way.
Hence, once you have the score card with you, ask yourself the following questions –
For questions that you left unattempted – Was it because of the lack of time or lack of knowledge?
If it is because of the lack of time, i.e., if you had more time to solve them, you'd have, you need to work on your time management either by working more efficiently section-wise or by finding faster methods to solve the questions. However, you'd need to spend more time on gaining conceptual clarity with the topics concerned, if the questions were left unattempted because of a lack of knowledge.
For questions that you marked incorrectly, was it a silly mistake or lack of knowledge?
Sometimes you end up making inadvertent mistakes because of poor time management or under extreme stress of a competitive environment. Remember that the stress is only going to get worse throughout the d-day. You can't depend on that day to magically cure everything. One failed attack causes days of hunger. Similarly, for you, one silly mistake can ruin an improvement striving spree of days. Slap yourself hard for silly mistakes. The solution here is to concentrate on the moment now, and practice in enough simulated environments.
However, again if the incorrect answer is the result of a lack of knowledge, you should want to read and practice more.
For questions that you marked correctly, is it possible to do this in a better and faster way?
Now some might be satisfied if they are getting a good score on the mock tests for CLAT. however, remember that till the day you're practising there is still scope for improvement. Work on more efficient strategy and solving techniques so that you've more time in hand for seemingly difficult questions. You'll thank us later!
Section-wise analysis of mock tests for CLAT
Have you heard of the Pareto principle? Also known as the 80-20 rule, according to the Pareto principle, for any given event, 80% of outcomes (or outputs) result from 20% of all causes (or inputs). Section-wise analysis of mock tests for CLAT is a large part of this 20% input pie. How so?
The score trends of sectional tests or sections in full-length Mock tests will help you identify your areas of strengths and weaknesses. This can help you
decide which areas need further work and focus. Your strengths will fetch you 80-90 marks, the rest will almost always lie in your weak areas.
reduce negative marking for incorrect responses.
build your time-management schedule for the d-day, i.e., how much time is to be allotted to which section to reach your optimum.
Hence, you need to track your sectional score and underlying trends. Buy a notebook or a diary or if you are tech-savvy, use a spreadsheet of your choice.
Mention a few details at the top –
Date (on which the mock test was taken) –
Sectional or Full-length (mention the section, if sectional) –
Time-taken –
Final score –
Negative marking –
Unattempted –
Now, make a table with the following pointers –
Which topics did you find difficult?
Which topics gave you the maximum yield?
Which topics consumed a lot of your time –

To arrive at the final answer (correct) –
To arrive at the final answer (incorrect) –
And still remained unattempted –

Which topics did you pay maximum attention to and still were not able to score decently?
Revise the trends and fine-tune your sectional preparation strategy accordingly.
Analyzing mock tests for CLAT to find the best techniques and strategies
Now, this comes at a later stage of the preparatory cycle. You're done with the entire syllabus. You've taken sectional tests and even some mock tests. You're fairly comfortable with your test-taking strategy. You're finishing on time. But as Derek Dennis has famously, and rightly so, said "…there is always room for improvement. We can't stop working to get better every day."
Now is the time you work on getting that "edge". There is always more than one way to solve a problem. Think creatively. Utilise your mock tests to experiment with the ways and find out the best fit for you. Here you can "make mistakes" and learn from them.
You'll also be able to develop your own techniques for solving problems. For example, there are several techniques used to crack SBI PO or CAT quant section which can be successfully employed in CLAT as well. They are slightly advanced and require practice to perfect. But that's exactly the space provided by mock tests for CLAT prep, right?
Start employing new techniques that you learn in mock tests after an ample amount of practice individually. Now answer the following questions to understand whether they suit your style –

Is the solving method more usual than the usual method?
If yes, you need more practice applying the new method. However, this depends on the ROI (return on investment) of the time invested in learning the new method.
Did it take more time than usual?
If yes, you should try practising it more. If however, it still does not improve, the ROI is extremely poor. Drop the method immediately in such a case.
Were you able to arrive at the correct answer?
Lastly, if you're not able to arrive at the correct answer at the end of everything, the entire practice is futile. CLAT is an examination of as much accuracy as it is of efficiency and so is any other competitive examination in India. Tread carefully!
Weekly & Monthly analysis
As important as it is to analyse each mock test separately, you should also be able to visualize the scores as a unit, be it weekly or monthly. And each unit must be an improvement over the previous. The idea is to culminate in a full-proof strategy at least a month before the d-day of CLAT. The unit has to be decided individually depending on when you're starting the preparation (2 years, 1 year, 6 months or 3 months before CLAT examination day).
Divide the units of time you've left before the examination. Be it a unit of a month, 3 weeks or even a week works fine.
Upon reaching the end of each unit, sit with all your scores and the trends diary for all the mock tests for CLAT taken during the unit.
You should be able to visualize-

which mistakes you overcame by practising over the time,
Which mistakes are still left with you, and
Which strategy for the amelioration of the mistake has not been employed so far.

Set goals for the next unit.
Looking for a Mock Test? Find out now by taking a free mock test
This is how you should analyze your scores on mock tests for CLAT. For more help with your CLAT preparation, tune in to Oliveboard. For tips and tricks on preparing for other law entrances, check this. Ciao!

Oliveboard is a learning & practice platform for premier entrance exams. We have helped over 1 crore users since 2012 with their Bank, SSC, Railways, Insurance, Teaching and other competitive Exams preparation.
Oliveboard Law Exams – Live Courses & Mock Test Series