Indian Council of Medical Research (ICMR) is going to conduct direct recruitment
for the post of Assistant. According to the official notification, ICMR has planned
to conduct a Computer-based MCQs test on 3 rd January 2021 for the same.
This test will consist of four sections – General Intelligence, General Awareness,
Quantitative Aptitude and English Language. One needs to prepare all the four
sections well to warrant selection in the esteemed institution and hence, to help
you in this regard, we are going to discuss how to prepare for ICMR Exam
English section in this blog.
To get direct updates to your mailbox, register here.
Preparing for ICMR Exam English section:

As per the official notification, there will be a total of 20 questions in the English
language section. And you will be tested for your knowledge on the following
sub-sections in English language:
1) Correct usage
2) Comprehension ability
3) Writing ability etc
Let us see these sub-sections and how to prepare for each of them effectively
Questions based on usage –
These questions will primarily test your grammar skills and vocabulary. You can expect questions similar to the ones listed below:
Identifying error(s) in the given sentence: These questions test one's ability to find out error(s), if any, in a sentence provided, thus helping make the sentence error-free. The grammatical error(s) may be based on one or more of the following aspects of English grammar –
Parts of speech (Noun, Adjective, Conjunction etc)
Tenses
Errors based on participle (present; past) and modifier (words, phrases or clauses that function as an adjective or adverb)
Errors based on number (singular; plural), person (first, second and third) etc
Infinitive ('to+ verb in base form'; indicates action/verb) and gerund (looks similar to present participle of verb; acts as a noun)
Subject-Verb agreement
One may also find errors based on vocabulary – there may be a word incorrectly used; one that does not fit in the context of the sentence.
Sample Question –
Once back in (A) the sunshine, she (B) tamped down the
top (C) to concealed the nest (D).
(a) A
(b) B
(c) C
(d) D
(e) No error
Answer key – (d)

You may also see a few questions asking you to fill in the blanks with
appropriate word(s). These questions also expect you to be thorough with
basics of grammar.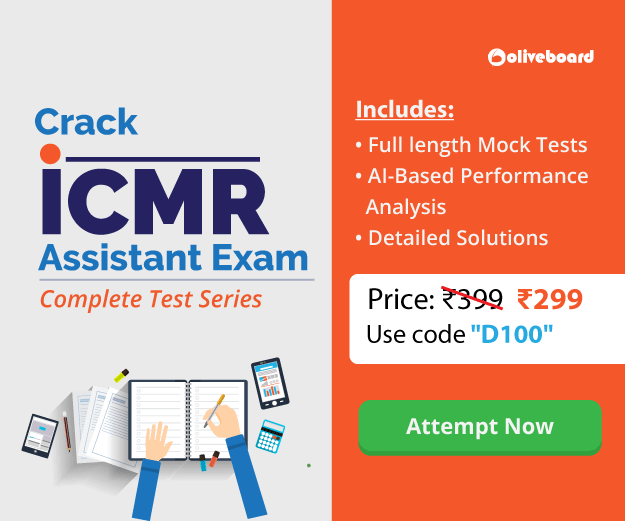 Sample Question –
Although a vaccine seems to be in sight, health officials
are __ of a grim winter.
(a) Caring
(b) Administering
(c) Warning
(d) Tell
(e) None of the above
Answer key – (c)
Questions based on Voice (Active and Passive) and Speech (Direct and Indirect):
You may find some questions in ICMR exam english section, asking you to convert the given sentence (in active voice) into passive voice or vice versa. Likewise, there can be questions asking you to convert the speech of the sentence. These questions can earn valuable marks if prepared well.
Sample Question –
Convert the given sentence into passive voice.
Q. Many animals regularly eat toxic food without suffering reactions.
(a) Most animals regularly ate toxic food without suffering reactions.
(b) Many animals evidently eat toxic food without reactions suffering.
(c) Toxic food is eating by many animals regularly without causing reactions.
(d) Toxic food has been eaten by many animals regularly without causing reactions.
(e) Toxic food is eaten regularly by many animals without suffering reactions.
Answer key – (e)
You will find questions largely similar to the ones discussed above – the structure of the questions may be tweaked a little bit; but the concepts remain the same! So, once you are clear with the above topics, you can be rest assured to successfully solve any grammar-based question.
How to prepare for these types of questions –
First and foremost, go through the basics of grammar. Make sure you are well-versed in important topics like Parts of Speech, Subject-Verb Agreement, Tenses etc.
Go through the rules and syntax of sentences while converting the voice. Having these rules at the back of your mind really helps in eliminating the options when attempting these questions.
There are many sources available online that you can refer to. Oliveboard provides a downloadable Grammar booklet free of cost!
To improve vocabulary, the best way is to read and read as much as possible! Reading at least one newspaper daily would be a good source to get acquainted with good vocabulary (Moreover, this will also prove handy when preparing for the current events in General Awareness section of the Exam)
You can also attend video classes on Grammar. These will prove beneficial because you will get to listen to expert faculty. Reading + Listening = Mastering any language!
Questions based on comprehension –

This is the second type of questions that you can find in the ICMR Exam English
section. In these questions, you will be given a passage followed by some
questions that need to be answered based on what the passage says. 'Reading'
and 'comprehension' are the only two steps you need to think about when
solving such questions.

How to prepare for these types of questions –

Work on increasing your reading speed and enhancing attention span
Improve vocabulary as there may be a couple of questions based on identifying synonyms and antonyms
Just as discussed above, read as much as possible; about as many diverse subjects as possible – this will ensure confidence during the actual exam
You can assign some time (daily) to practise solving RC questions – you can also think about different types of questions based on the passage you read. This practice will ensure full concentration while reading and at the same time, full understanding of the subject in hand.
Questions based on writing ability –

These types of questions test your ability to write about a given topic and hence
the chances of them appearing in the MCQ test are slim. You would be given a range of topics and be expected to express your views about the same in your own words (with a prescribed word limit) – i.e., essay writing. There may be a question on letter writing as well, in a similar manner.

How to prepare for these types of questions –
For letter writing, have a look at the standard format to writing Formal and Informal type letters. (Referring to the ones recommended by Oxford is advisable here.) Having these structures at the back of one's mind helps express one's ideas more easily and effectively.
For essay, one needs to be confident in terms of knowing the subject matter; and reading is the only way one gets to know about various subjects. Hence, it is advisable to read articles on varied topics/subjects like Culture, Geography, Polity and Governance, Science and Mathematics, History etc from readily available sources like newspapers, magazines; and government sources like PIB, Economic Survey, India Year Book etc.
After this, you need to start practising writing itself! Make a habit of writing on a different topic everyday – make sure to use your own words to express what you think about the subject matter. After you finish writing, you can ask your family or friends to evaluate it; this exercise is really important because you get to learn your strengths and weaknesses (if any). This will help in improving your writing the next time you try.
Evaluate your preparation –
Mock tests are an inseparable part when preparing for any competitive exam. So, make sure you attempt at least one mock per week before going for the actual exam. Oliveboard offers one mock test absolutely free of cost!  link to Oliveboard ICMR Test series
Analyse your performance after each mock. Make good use of the AI- enabled analysis tool offered by Oliveboard – this makes it easier to figure out the areas where you need to improve. You also get valuable tips on how to increase your overall score – taking you a step further in reaching your goal!
Well, that's it from our side for this particular preparation strategy for ICMR exam english preparation.
Stay tuned for more such blogs!
All the best!


Oliveboard is a learning & practice platform for premier entrance exams. We have helped over 1 crore users since 2012 with their Bank, SSC, Railways, Insurance, Teaching and other competitive Exams preparation.
  Oliveboard Live Courses & Mock Test Series