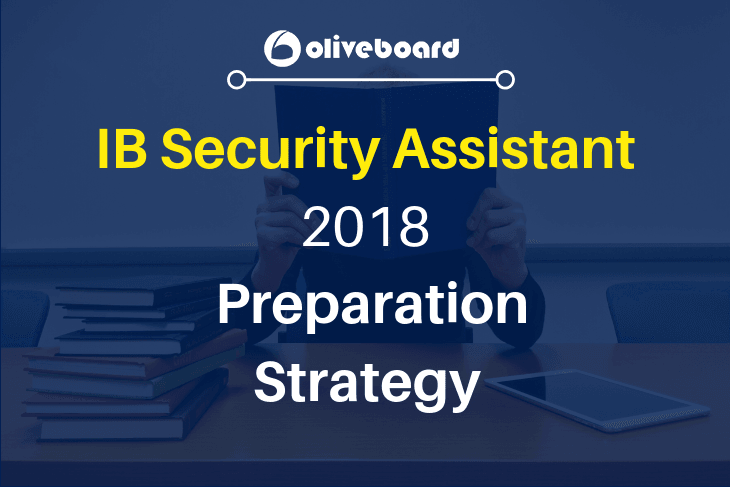 The Ministry of Home Affairs (MHA) recently released the IB Security Assistant Exam 2018 Notification. The Notification has announced a whopping 1054 vacancies all over India for the post of IB Security Assistant (Executive). The recruitment process involves Tier I, Tier II and Tier III. In this article, we are going to provide you the exam preparation strategy of Tier I for IB Security Assistant Exam, but before that let's have a glance at the exam pattern:
IB Security Assistant Exam 2018 –  Exam Pattern
Tier

Subject
No. of Questions
Marks

Time

 

TIER I

(Written Exam of Objective type MCQs)

General Awareness

40

100

2 Hours

Quantitative Aptitude

20

Logical/analytical ability

20

 English language

20

 

 

TIER II

(Descriptive)

a) Translation of a passage of 500 words from local language / dialect to English and vice versa.

–

40

1 Hour

 

b) Spoken ability (to be assessed at the time of Tier-III exam

10

–

 

TIER III

Interview / Personality Test round

 

50

–
Preparation Strategy for IB Security Assistant Exam 2018: Tier 1
In Tier 1, there would be cut-off marks (out of 100) as under:
| | | |
| --- | --- | --- |
| UR – 35 | OBC – 34 | SC/ST – 33 |
(all Ex-servicemen would be treated in their own category viz., UR/OBC/SC/ST)
There are 4 sections in Tier 1 (General Awareness, Quant, Logical/Analytical Ability and English) of total 100 marks, out of which you need to score 35 to clear the cut off. The focus should be to clear the cut-off first and then attempt the rest. But don't settle with just clearing the cut-off because the final merit list would be prepared on the basis of combined performance in Tier 1 & Tier 3 exam. So, aim to score more with 100% accuracy as there'll be negative marking of 1/4th mark for each wrong answer. Having said that, let's move to the subject-wise preparation strategy:
Tier 1: General Awareness
As you can see from the exam pattern, General Awareness carries maximum weightage. This is one of the easiest section to score more if you have studied well. The General Awareness section is typically divided into two parts including the Static GK and current affairs. Check Detailed Syllabus to know the topics covered in them.
The best way to keep pace with current affairs is to regularly read newspapers. The idea behind reading a newspaper is to understand and be completely aware regarding the current affairs that are happening or taking place in the country. Also, keep checking Oliveboard's Free Daily Current Affairs and Quizzes for IB Security Assistant Exam 2018.
Practice 2500 General Awareness Questions on Oliveboard
Recommended Newspapers: The Hindu, or Indian Express, or Economic Times
Try to highlight topics or articles that are relevant for your examination.

You can even write down the details of any news article and quickly go through it before exam.

Revise every week to keep your memory fresh regarding all the issues.
Tier 1: Quantitative Aptitude
Books and Resources
R. S. Agarwal – Quantitative Aptitude for Competitive exams

Kiran Publication's Quantitative Aptitude Chapter-wise Solved Papers

Arun Sharma's book – How to Prepare for Quantitative Aptitude for CAT
How to Prepare – Quantitative Aptitude
While it is important to learn all the concepts across all the topics of Quantitative Aptitude, it is equally important to learn them in an order. Most quant topics are interdependent, meaning, you need to know concepts of one topic to understand or solve another.
Start with Basics: Brush up you high school math concepts using NCERT textbooks (8th to 10thgrade).

Improve your Calculation Speed: Learn tables up to 20 and square roots up to 30 and cube roots up to 20. Also, follow and practice the one-liner approach for quicker addition, subtraction, multiplication and division.

Mock Tests: Practice tests including questions of varying difficulty levels to prepare you for any kind of question in the exam. Also, always analyse your mock attempt, identify the weak areas and fix them.
Attempt Oliveboard's Free Topic Tests of Level 1, 2, and 3 for IB Security Assistant 2018 Exam
Tier 1: Logical/Analytical Ability
Books and Resources
How to Crack Test of Reasoning: In all Competitive Exams by Arihant Publications

R. S. Aggarwal's "Verbal and Nonverbal Reasoning"

M K Pandey's Book – Analytical Reasoning
How to Prepare – Logical/Analytical Ability
Start by learning the concepts of each topic that is likely to appear in the upcoming IB Security Assistant Exam. If you're new to Logical/Analytical Ability section or if you aren't very good at it, there's no need to worry. You have enough time to brush up the basics.

Prioritize the Reasoning questions. Start with the easy questions and then move onto difficult ones.

There are numerous tricks for Reasoning which have been given the above-mentioned Reasoning books and resources. Master these tricks by solving as many questions as possible for different question types.
Give at least one Mock Test every other day at the start and then increase the frequency of mock test to 1 every day as the exam day comes close.
Analyse your mock test performance and identify your weak and strong areas.

Revision is important to retain the concepts learnt. Revise each concept 2-3 times before the exam. It's also important that you practice Topic Tests after revising each topic to master it and then move to Sectional Test and finally to Full Mock Tests.
Practice Free High Level Reasoning on Oliveboard
Tier 1: English Language
Books and Resources:
Arihant Publication' s "Objective General English" by SP Bakshi

"Word Power Made Easy" book by Norman Lewis

Corrective English – by AK Singh
How to Prepare – English Language
Buy a good standard English book and always keep it at your disposal. We would suggest a complete guide for English questions asked in IB Exam. It should have sufficient practice questions. If not more, start practicing or reading the chapters for 30 minutes a day.

Read a good English newspaper such as The Times of India. It will help you in improving your overall English skills. You can read it without getting bored and it might help you in improving your General Awareness skills too. Read for around 1 hour a day whenever you find time. This will boost your preparation in English for IB Security Assistant Exam 2018.

Make a note of all important English Grammar rules. There are around 40-45 of them. Proficiency in these general English rules will make you able to solve 40-50 % questions. Revise these rules daily and practice questions based on them. Generally questions of type " Find Error" and "Improvement" come in this category.

For Vocabulary based topics like Antonyms and Synonyms, revision is the key. Start alphabetically with A and move on to Z. Read the words you come across and revise them. You may need to note down some difficult words for revision as and when you find time. Devote 20-30 minutes for Vocabulary everyday.

For Idioms, Phrases and One word type questions it is important to learn and revise. Daily revision for 15 minutes is very important otherwise you may forget in the real exam.

Practice all previous year questions that have come in past IB Security Assistant Exam and other IB exams. You will become comfortable with the level of questions generally asked.

For Cloze test, reading is paramount. If you are habitual of reading , you know how to join sentences and what is the tone of the sentence. Practice has an important role to play in these kind of questions. Practice at least 3 Cloze tests from today to be a master before the exam.

After you have prepared and practiced the next important stage comes which is Online Mock Tests. You may come to know about your preparation level only after attempting online mock tests. With Online Mock tests you get an exam like atmosphere and your performance is gauged against thousands of other aspirants. Take 20 online Mock Tests  also before appearing in real exam. Mock tests also help you in time management which is one of the biggest factors in your success.
A good online test series comes with sufficient Sectional Tests. Attempt English Sectional Tests and look how many questions are you getting correct. Also find out the time taken by you in completing 25 questions. You should also analyse your weak areas for which you need improvement.
Remember the following formula for your success:
Success in IB Security Assistant Exam 2018 = Good preparation resources + Learning concepts + Practicing questions from books + Previous year questions practice + Topic Tests + Sectional Tests + Full Mock tests + Time Management + Finding and resolving Weak areas + Confidence in yourself.
That is all from us in this blog on IB Security Assistant Exam 2018 Notification. We hope you find the information useful. Please note, Oliveboard will be providing its Quality Mock Tests for the IB Security 2018 Exam. You can start your Exam preparation right now by taking a Free Mock test.
All the Best!