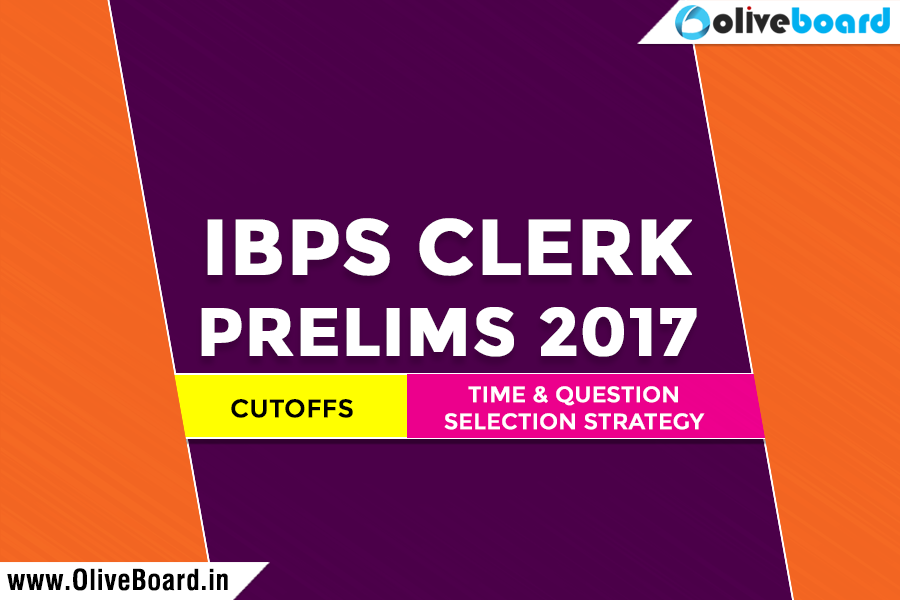 With less than a week to go for the IBPS Clerk prelims exam 2017, we are sure that your preparation levels are on an all time high. While it is necessary to work hard, it is also important to work smart. Here we bring to you the previous year's cutoffs, time strategy and question selection strategy for the examination to help you prepare more efficiently.
IBPS Clerk Prelims : Previous Year's Prelims Cutoff Marks

IBPS Clerk Prelims : Time Strategy Used By Some Toppers
Let's take a look at what some of the toppers have been doing with their time allocation across sections. 


We checked the toppers'(Top 5% or >95%ile) time allocation along with average attempts and this is broadly what many of them used as their approximate time allocation during exam (NOTE: What works for some may not work for others. Use this only as a guideline & not as a target):- 
 
1) English: 11 minutes
2) Reasoning: 23 minutes
3) Numerical Ability: 26 minutes
Based on your strengths & weaknesses, you can change this to suit your strategy. Use this only as a guideline if you are unsure of your allocation. If you have a better time strategy that is working for you, continue using the same and you need not deviate. Only practice will help you develop a strategy that works for you. 
Visit here to take the free test & start developing your own time taking strategy.  
IBPS Clerk Prelims : Question Selection Strategy
Clerk prelims are a virtual speed test most as it is difficult to attempt all 100 questions in 60 minutes. Hence it is important to choose the right questions to attempt.
How to devise your own question selection strategy?
1) Attempt any IBPS Clerk Prelims test on Oliveboard.  2) Once you complete the test, click on the "Weak Areas" chart next to each test. 3) Make the following classification:
Strong Topics: types of questions which you should attempt first in every section
Slow but  Accurate Topics: topics where you are good but can improve speed 
Weak Topics: types of topics which you should attempt only if you have time after attempting others. 
Note that this analysis will be different for each individual. Instead of taking a lot of mock tests over the next few days, spend more time on analysis. It is what you do between mock tests that will define your improvement and not how many tests you give. 
Click here to take the free test & identify your weak areas. 
Hope this helps you prepare more efficiently in these last few days before the examination.

All the best!