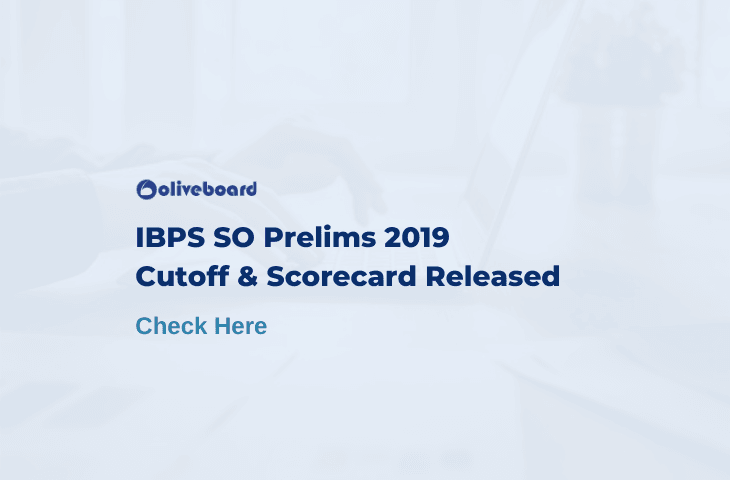 The Institue of Banking Personnel Selection (IBPS) conducted the prelims round of examination for the selection of Specialist officers Pan India on 28th & 29th November 2019. All the selected candidates in the prelims round will be eligible for the mains round which is scheduled to be conducted on 25th January 2020. Candidates appeared in the preliminary round will now be able to check the IBPS SO Prelims Cutoff 2019-20 and the scorecard. This blog will be a direct link that is made available for the candidates to download their IBPS SO Prelims scorecard. So, without any further ado, let's start with the blog.
Prepare For IBPS SO Mains With a Mock Test
IBPS SO Prelims Cutoff 2019-20 – Important Dates
Commencement of Scorecard download date: 14th Jan 2020
End of Scorecard download date: 25th Jan 2020
IBPS SO Prelims Cutoff 2019-20 – Scorecard Download Link
Click on the link below to view the IBSP SO Prelims scorecard as released by the IBPS authorities.
Download IBPS SO Prelims Scorecard here
IBPS SO Prelims Cutoff 2019-20: Category-wise
| | |
| --- | --- |
| Category | Cutoff Marks |
| General (Gen) | 81.50 |
| Scheduled Caste (SC) | 73.25 |
| Scheduled Tribe (ST) | 64.50 |
| Other Backward Classes (OBC) | 79.50 |
| Visually Impaired (VI) | 57.38 |
| Hearing Impaired (HI) | 28.13 |
| Intellectual Disability (ID) | 45.38 |
| Orthopaedically Challenged (OC) | 71.25 |
IBPS SO Prelims Cutoff 2019-20: Section-wise
IBPS SO Prelims Cutoff 2019-20 – Mains Preparation Strategy
To help you with your Exam preparations for IBPS SO Mains we have brought to you a compiled set of notes for IBPS SO (IT Officer & Agriculture Officer). Click on the link below and study from notes to prepare the particular course for the mains exam.
IBPS SO Study Notes For IT Officer
Here is a list of topics that will be covered in our free study notes, all you have to do is login and get the access. Then you can easily prepare for the mains round.
Basic concepts of computer system
Computer Network Models
Overview and General System architecture
Lower (Physical, Data-link, and Network) Layer of OSI model
Computer Instructions and Digital logic circuits
Upper (Transport, Session, Presentation, and Application) Layer of OSI model
K-maps and Combinational circuits
Network Security
Memory Organization
Data Structure Overview
Microprocessor
Array and Linked lits
Operating system and its type
Stack and Queue
Component and function of Operating system
Tree and Graph
Process Management
Searching and Sorting
Memory Management
Introduction to Software Engineering and SDLC models
I/O management
SDLC models (Part 1)
File Management
SDLC models (Part 2)
Virtualization and Security
Project Planning and Risk Management
Introduction of DBMS, its languages and Keys
Software Requirement and Specification (SRS) and Software Design
Entity-Relation (E-R) Model
Software Maintenance and Software Testing
Relational Model
Data Warehouse
Normalization, Joined, and Transaction in DBMS

Programming Language C

File and system structure, Indexing and Hashing
Object-Oriented Programming language (C++ and Java)

Overview of SQL commands

Programming Language UNIX
Overview of Computer Network.
Get Complete IT Officer Study Notes here
IBPS SO Study Notes For Agriculture Officer
Get Complete Agriculture Officer Study Notes here
These notes and complete free and accessible at any time. Study the topics and their description just by clicking on the link here.
That is all from us in this blog, we hope that the ibps so study material provided here proves useful to you and you achieve your dream of becoming a specialist officer in a public sector bank. ALL THE BEST!!
Also, Check: