Very often we hear the term cyclone and the first thought we get is it is not good news. Well, you are not completely wrong but this also should be accompanied by important information. Recently, India is hit by a cyclone called Amphan which has caused mass destruction across the city of Kolkata and many parts of Bengal. And Odisha can be in the way of the cyclone. Well, we are bringing you this article to give you complete information about Amphan Cyclone. Here we will cover important Amphan Cyclone updates.
Register Here & Get Daily Updates On Upcoming Exams & Courses
Let's start the article to know more about it:
1. What is a Cyclone, Why is it called so?
When we talk about cyclones, one very important thing is the location. Wondering how? Well, let me tell you. if the storm is originating in the Atlantic Ocean and the Northeast Pacific, it's called a hurricane.
If the exact same type of storm occurs in the Northwest Pacific, then this is called a typhoon.
And if we find the similar storms in the South Pacific side and the Indian Ocean, these are called tropical cyclones.
Did You Learn Something New?  Yes? then let's continue!
Cyclones are referred to as forming a spinning air blowing at a high speed with a center having low-pressure. This part is also called the 'eye' of the cyclone. Now the interesting fact here is the center is the calmest part in the hole cyclone.
Now let's see a few important facts on Amphan Cyclone!
2. What is Amphan? – The Super Cyclone
Amphan is a powerful tropical cyclone that has caused widespread damage over East India and Bangladesh. It is the strongest tropical cyclone to strike the Ganges Delta since Cyclone Sidr of the 2007 season and the first super cyclonic storm to occur in the Bay of Bengal since the 1999 Odisha cyclone.
It has widely impacted the life cycles and the properties of the locals over the last few days. Do you know? Amphan which s pronounces as Um-Pun means the Sky. The name was designated bt Thailand in 2004.

2.1 How is it Formed?
The first tropical cyclone of the 2020 North Indian Ocean cyclone season, Amphan originated from a low-pressure area persisting a couple of hundred miles east of Colombo, Sri Lanka, on 13 May 2020. Tracking northeastward, the disturbance organized over exceptionally warm sea surface temperatures.
The Joint Typhoon Warning Center (JTWC) upgraded the system to a tropical depression on 15 May while the Indian Meteorological Department (IMD) followed suit the following day. On 17 May, Amphan underwent rapid intensification and became an extremely severe cyclonic storm within 12 hours.
On 13 May, an area of low pressure developed over the Southeastern Bay of Bengal about 1020 km (635 mi) to the southeast of Visakhapatnam in the Indian state of Andhra Pradesh. The area of low pressure was located within a favorable environment for further development with good equatorward outflow, warm sea surface temperatures, and low vertical wind shear. Over the next couple of days, the system became more marked as it gradually consolidated further, with bands of deep atmospheric convection wrapping into the system's low-level circulation center.
Amphan made landfall near Bakkhali, West Bengal with winds of 155 km/h (100 mph).
2.2 Few Important Facts on Amphan Cyclone
Wind Speed of Amphan when it made the landfall – 155-165 kmph
Wind Speed in Kolkata when it made landfall around 2:30 PM on 20th May – 80-90 kmph
Max. Wind speed in Kolkata – 112 kmph Alipore, 133 kmph at Dum Dum Airport
the source: Wikipedia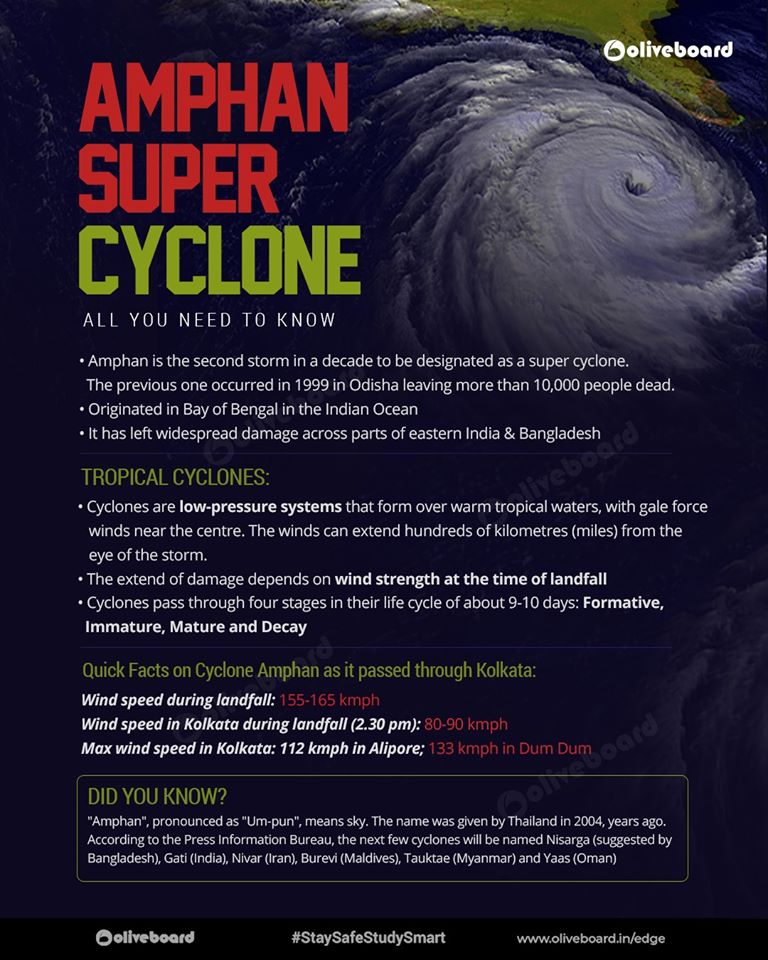 3. Latest Important Amphan Cyclone Updates
PM Modi announces a 1000 crore interim relief fund for Amphan hit West Bengal.
PM Modi is undertaking the Aerial tour of Cyclone hit Kolkata to assess the damage done.
Families who lost their loved ones in the cyclone to get 2 lakhs INR while the ones injured to get 50,000/- INR.
Indian Meteorological Department has raised concern on expectations of wind raising to a speed of 35-45 km/hr over Meghalaya and West Assam between 22nd May and 23rd May.
NDRF teams undertaking the rescue operations.
Meghalaya and West Assam are being put on Alert.
Chief Minister of Odisha Naveen Patnaik has assured Mamata Banerjee of all the possible help.
Modi held the review meeting with Bengal CM and Governor Jagdeep Dhankar.
Amphan cyclone has now weakened over North Bangladesh and is very likely to fall into a low-pressure area.
Delhi CM Arvind Kejriwal extended helping hand to West Bengal through a tweet.
Found the information interesting? You can get more information like this. Read ahead to know more!
4. Become an All-Rounder – Attempt Daily Current Affairs Quiz 
Current affairs need no introduction neither does its importance when it comes to banks and government exam preparations. This section plays the most important role in helping you clear the exams. Current Affairs is one topic which is as vast as it could be although most exams prefer the last 5-6 months of current affairs, there is still a lot to cover.
To help you prepare the current affairs more effectively, we have brought you a daily GK Quiz. This can help you test all that you have learned and assess yourself. What is more interesting is that it is completely free!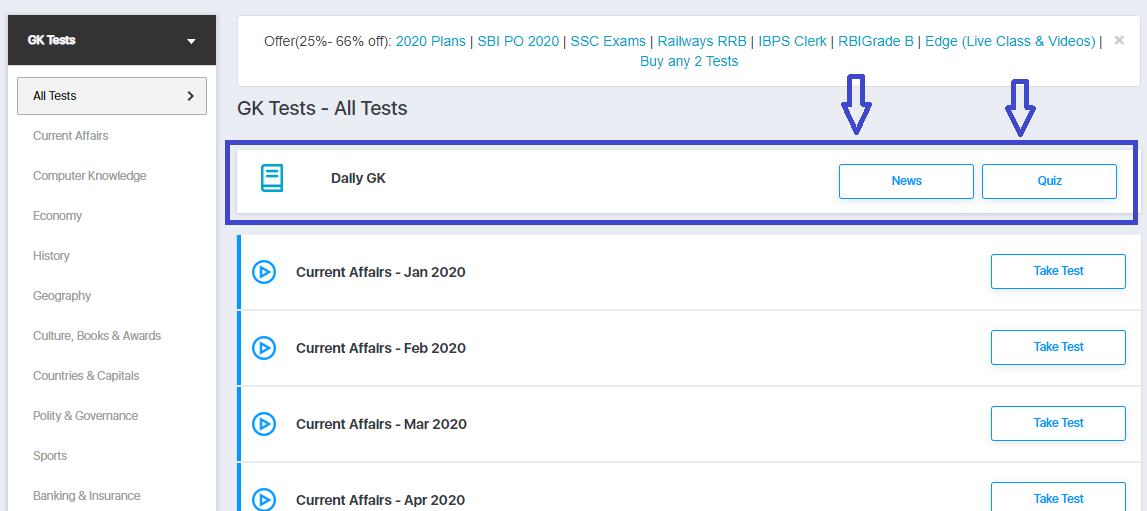 You also get the daily current affairs news which is curated by experts to help you so that you do not miss out on any topic. So what are you waiting for? Boost your current affairs now!
Click here To Register & Access the Daily GK Quiz
That is all from us in this article, important Amphan Cyclone updates. Register here and learn daily current affairs and attempt free GK Quiz to learn the latest information and stay up to date with the Current Affairs.
Also, Check:
Oliveboard's discuss forum – For any more query, you can directly join our telegram channel. Our experts will definitely help you.