The Insolvency and Bankruptcy Code, 2016 (IBC) is the bankruptcy law of India that seeks to consolidate the existing framework by creating a single law for insolvency and bankruptcy. In this article let us know in detail all about the Insolvency & Bankruptcy Code (IBC) and also the Insolvency & Bankruptcy Board of India (IBBI). Let us get started. 
Insolvency and Bankruptcy Code: Know All About It
Insolvency & Bankruptcy
Insolvency: It is a situation where individuals or companies are unable to repay their outstanding debt.
Bankruptcy: It is a situation whereby a court of competent jurisdiction has declared a person or other entity insolvent, having passed appropriate orders to resolve it and protect the rights of the creditors.
It is a legal declaration of one's inability to pay off debts.
Insolvency and Bankruptcy Board of India (IBBI)
It was established in 2016 under the Insolvency and Bankruptcy Code, 2016 (Code).

It is a key pillar of the ecosystem responsible for the implementation of the Code that consolidates and amends the laws relating to reorganization and insolvency resolution of corporate persons, partnership firms, and individuals in a time-bound manner for maximization of the value of assets of such persons, to promote entrepreneurship, availability of credit and balance the interests of all the stakeholders.

It includes 10 representatives i.e. representatives from the Reserve Bank of India, Ministry of Finance, law, and corporate affairs.
The IBBI board includes:
Chairman

Three members of the government

One member from RBI

Five members are nominated by the Central Government of which three functions as full-time members.
Insolvency and Bankruptcy Code
Insolvency and Bankruptcy Code (IBC) is the new bankruptcy law that seeks to consolidate the existing framework by creating a single law for insolvency and bankruptcy.

IBC, 2016 will override other existing laws on matters pertaining to Insolvency and Bankruptcy.
Salient Features of the IBC, 2016
It applies to companies, partnerships, and individuals.

Under IBC debtor and creditor both can start 'recovery' proceedings against each other.

An entity can seek insolvency proceedings against a company even if the repayment is delayed by just one day.

It is subject to the minimum threshold of ₹1 crore.

Fixed a timeline of 180 days, extendable by another 90 days, to resolve cases of insolvency or bankruptcy.

National Company Law Tribunal (NCLT) to adjudicate bankruptcy cases over companies, limited liability entities while Debt Recovery Tribunal (DRT) to adjudicate cases over individuals and unlimited liability partnership firms.

It allows the debtor itself to initiate the insolvency-resolution process once it has defaulted on a debt.

Prioritization of claims by different classes of creditors and enabling provisions for solving cross border insolvency.
Latest Amendments in IBC
 The Insolvency and Bankruptcy Code (Amendment) Bill, 2020
Requires of a minimum of 10 percent of allottees or 100 individual allottees in a real estate project to initiate insolvency proceedings for real estate projects.

As homebuyers are recognized as financial creditors under the IBC, individual homebuyers could initiate insolvency against a real estate company for delays in possession

The insolvency and bankruptcy board of India (IBBI) has proposed a cap on the maximum number of ongoing insolvency or liquidation proceedings that can be handled by the insolvency professionals.
According to IBBI, an insolvency professional (IP) can handle-
A maximum of 5 assignments if he is handling accounts with a turnover of less than ₹1000 crore.

Four assignments in the case of accounts with a turnover of ₹1000-5000 crore.

Three cases if he is handling ₹5000-10,000 crore turnover accounts

One case if it's a large account of more than ₹50,000 crores.
Transforming Business and the Insolvency System
The Prime Minister mentioned the Insolvency and Bankruptcy Code (IBC 2016) as one of the key legislative reforms that would help aid India's path to self-reliance on a high growth trajectory. The IBC, along with the Goods and Services Tax regime, among other key reforms, were helping in significantly improving the ease of doing business in India and enabling it to emerge as a 'Make for World' platform. He also credited these reforms for a surge in Foreign Direct Investment into India in 2019-2020, to the tune of nearly $74.5 billion, or a significant increase of 20 percent from the previous year.
A key reform step
The IBC has been a far-ranging and structurally significant reform that has transformed insolvency resolution in India. Replacing a rather inefficient bankruptcy law regime.

The IBC has focused on time-bound resolution, rather than liquidation, as an empowering tool to support companies falling within its ambit.

The IBC has successfully instilled confidence in the corporate resolution methodology, and perhaps, more importantly, on creating a possibility for the creditors recouping some of their investments in firms being liquidated or going in for resolution.

Its core implication has been to allow credit to flow more freely to and within India while promoting investor and investee confidence. Despite the suspension of the IBC for a limited duration due to the COVID 19 pandemic, in the short, medium, and long term, it will prove to have been a timely reform.

It will greatly streamline insolvency processes in a sustainable, efficient, and value retaining manner.
India, unfortunately, suffers from a serious backlog in court cases, to the tune of nearly four crore matters pending final judgment. The novel coronavirus pandemic is likely to exacerbate this. The enforceability of contracts has been a challenge. On average, it takes as many as 1,445 days for a contract to be enforced, and that too at a cost of nearly 31% of the claim value. This is simply unacceptable.
Criminal penalties
Along with further streamlining and reinforcing the IBC, the Government of India is also working toward decriminalization of minor offenses. NITI Aayog is playing an active role in this exercise, which will significantly reduce the risk of imprisonment for actions or omissions that are not necessarily fraudulent or an outcome of mala fide intent. Criminal penalties including imprisonment for minor offenses act as major deterrents for investors. The government's intent is to help differentiate between good-faith mistakes and intentional bad faith actions, so as to penalize the former and criminalize the latter.
Moves that will help
Other legislative measures that will further improve the investment climate, including the rolling out of the commercial courts, commercial divisions, and the Commercial Appellate Divisions Act, 2015, to allow district court-level commercial courts, and the removal of over 1,500 obsolete and archaic laws. Together with the IBC, this highlight a major and multi-dimensional effort by the government to provide comfort, relief, and reliability to potential investors.
The IBC is both flexible and dynamic, which makes it impactful, given how forward-thinking the concept of omnibus legislation of its nature actually is. The IBC goes beyond other similar pieces of legislation across the world, and through the Insolvency and Bankruptcy Board of India (IBBI), it has established an unprecedented organization that both regulates and develops insolvency policy and assesses market realities.
Helping MSMEs
The MCA along with IBBI is working diligently on putting in place a Micro, Small and Medium Enterprises (MSME) and non-MSME framework to help expedite this process.
At the same time, given the need for social distancing and the suspension or limitation of physical hearings, a concerted effort should be made to enhance the role of digitally conducting all processes and hearings to achieve greater efficiency in the new normal. Bringing in technology would help ease of access to justice and greatly help ease of doing business from a process and efficiency standpoint as well. The IBC has provided a major stimulus to ease of doing business, enhanced investor confidence, and helped encourage entrepreneurship while also providing support to MSMEs. Its further streamlining and strengthening will surely instill greater confidence in both foreign and domestic investors as they look at India as an attractive investment destination.
Conclusive note on IBC
Two key drivers for the IBC are relatively short time-bound processes, and the focus on prioritizing resolution rather than liquidation. Going forward, there could perhaps be a look at institutionalizing the introduction of a pre-packed insolvency resolution process, the need for which is highlighted by the necessary suspension of the IBC proceedings. This will also help resolve matters expeditiously, outside of the formal court system, and allow resolution even during the COVID-19 altered reality.
This is all in this blogpost of the Insolvency & Bankruptcy code of India. We hope that you like the information provided above and have gained useful insights about the IBC. 
---
RBI Grade B 2020 Online Course 
Oliveboard has come up with RBI Grade B Online Cracker Course for RBI Grade B 2020 Exam. Oliveboard's RBI Grade B Online Course 2020 will be your one-stop destination for all your preparation needs
What all the course offers you:
Course Details
RBI Grade B Cracker is designed to cover the complete syllabus for the 3 most important subjects: GA for Phase 1 and ESI + F&M for Phase 2 exam. Not just that, it also includes Mock Tests & Live Strategy Sessions for English, Quant & Reasoning for Phase 1. The course aims to complete your preparation in time for the release of the official notification.

Features: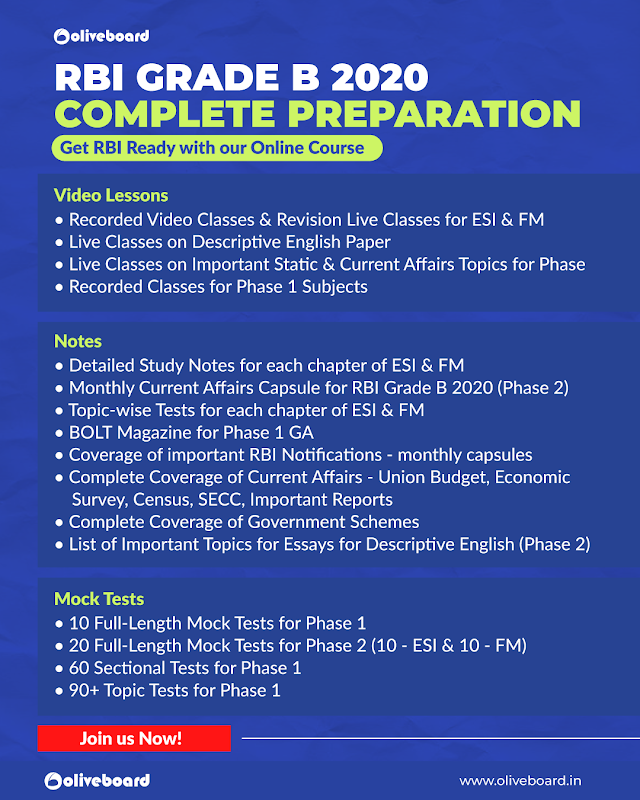 Use Coupon Code 'MY20' to avail a 20% discount on RBI Courses!
---
SEBI Grade A Online Course
For your Complete Phase 1 and Phase 2 Preparations
SEBI Grade A Cracker is a course designed to cover all the subjects under Phase I and Phase II exams.
For Paper 1 of Phase I exam all essential subjects like Quantitative Aptitude, Reasoning, and English will be covered through video lectures.

For Paper 2 of both Phase 1 and Phase 2, the complete syllabus will be covered through video lessons, and notes.

The course will also have strategy sessions and past year paper discussions.

This course has been designed in such a way that it can be covered well before the examination.
Enroll for SEBI Grade A 2020 Online Course Here
Course Features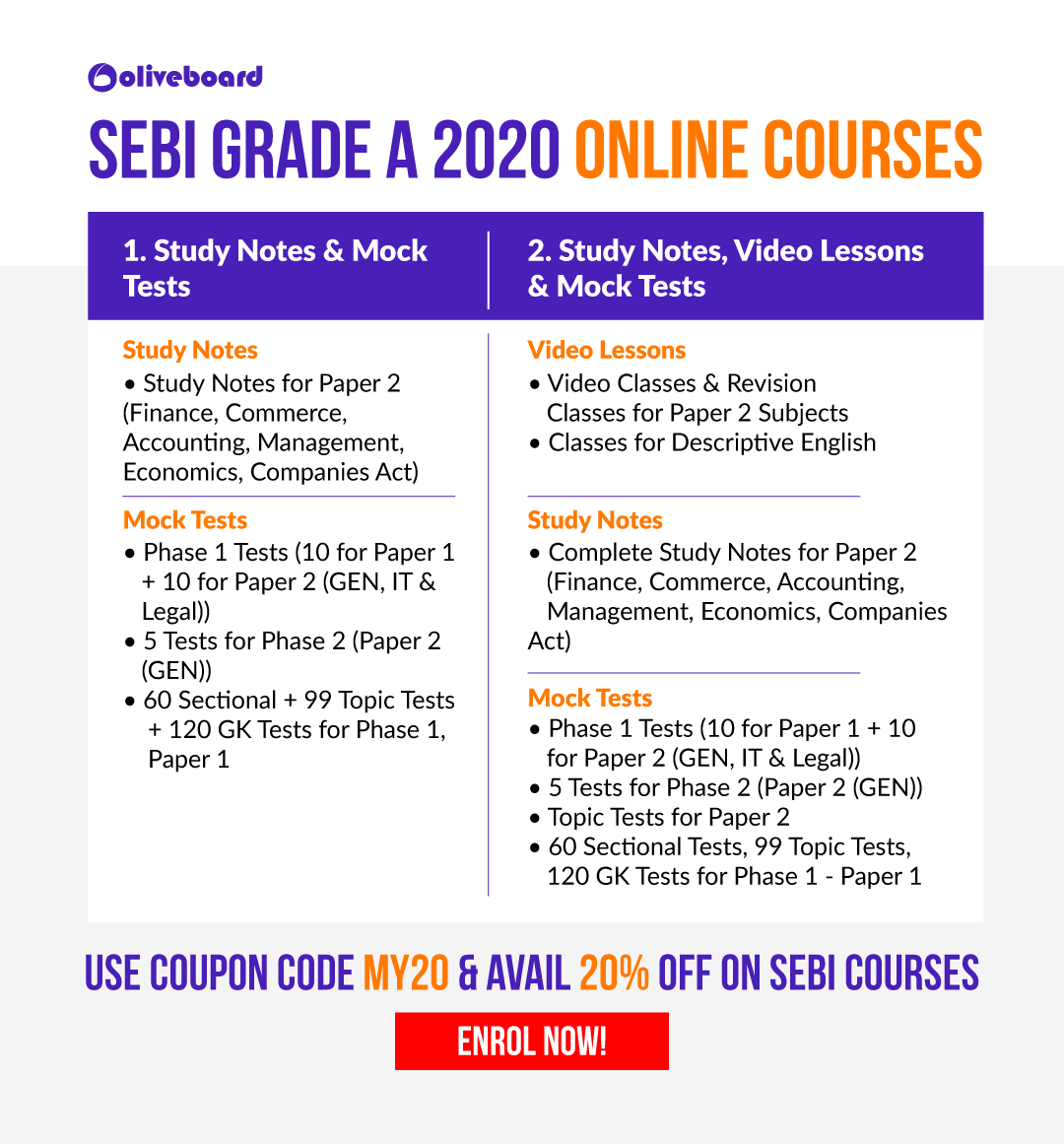 Oliveboard Live Courses & Mock Test Series