NABARD Grade-A Exam is conducted every year for the recruitment of Assistant Managers and we at Oliveboard are here to help you in your preparations for the same. Both Phase 1 and Phase 2 of the NABARD Exam tests the aspirants on the subject of Agriculture and Rural Development. One of the topics in the syllabus is Krishi Vigyaan Kendras. So, therefore in this blog, we will be providing your notes on the topic of Krishi Vigyaan Kendras – NABARD Agriculture Notes. Read and revise it carefully so that you do not miss out on any marks in the upcoming NABARD Exam.
Have a look at the NABARD Gr. A Complete Course Material Here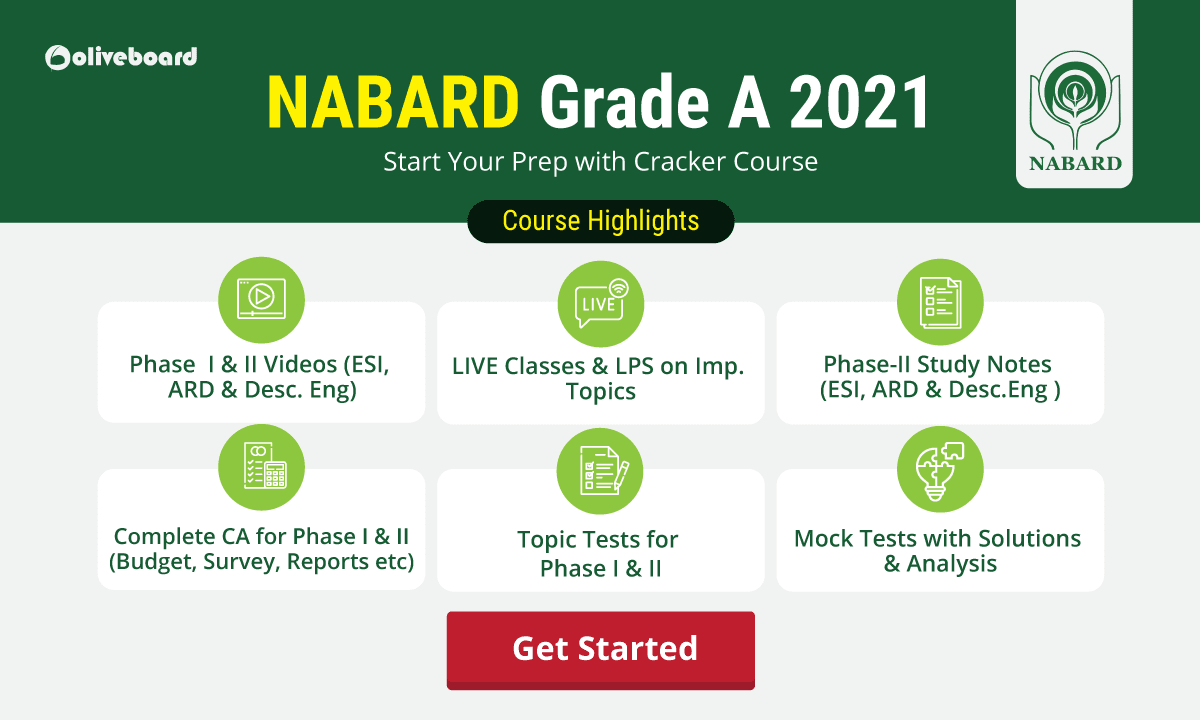 Krishi Vigyaan Kendras – NABARD Agriculture Notes
Krishi Vigyan Kendras (KVK) are agricultural extension centres incorporated by ICAR (Indian Council for Agricultural Research) and its affiliated institutions at the district level to provide various types of farm support to the agricultural sector in India.
KVK, a project of ICAR (Indian Council of Agricultural Research) for testing and transfer of Agricultural technologies at the grassroots level. These centres are located in every state of the country.
These are usually associated with a local agricultural university and serve as an ultimate link between the Indian Council of Agricultural Research and farmers, and also aim to apply agricultural research in a practical and localized setting.

All KVKs fall under the jurisdiction of one of the 11 Agricultural Technology Application Research Institutes (ATARIs) throughout India.
Get Complete ESI & ARD Notes for NABARD Gr. A Exam Here
Krishi Vigyaan Kendras – Agricultural extension
Agricultural extension is the application of scientific research and new technology to agricultural practices through farmer education.

The field of 'extension' now encompasses a wider range of communication and learning activities organized for rural people by educators from different disciplines, including agriculture, agricultural marketing, health, and business studies.

Extension practitioners can be found throughout the world, usually working for government agencies. They are represented by several professional organizations, networks, and extension journals.

Agricultural extension agencies in developing countries receive large amounts of support from international development organizations such as the World Bank and the Food and Agriculture Organization of the United Nations.
Get Complete ESI & ARD Notes for NABARD Gr. A Exam Here
Need for setting up of Krishi Vigyaan Kendras
Indian agriculture faces many challenges, including a high percentage of smallholder farmers, lack of supply chain infrastructure, and extreme weather conditions.

A key strategy in addressing these issues, in addition to policy support and a functioning market, is using technology to better understand and adapt to complex challenges.

However, higher-level research about modern agricultural trends, such as Climate Change and GMOs, takes place in universities. The practical implications of this research, or their relevance to a certain local context, are not readily apparent. 

The same goes for ground-level innovations which are effective in one local context but may not be extensible to others.

Especially in areas with such geographic complexity as India, agricultural extension departments such as KVKs serve to gather, test, and disseminate knowledge between centralized institutions and a geographically-dispersed rural population.
Get Complete ESI & ARD Notes for NABARD Gr. A Exam Here
Criteria for Setting up of KVKs
A KVK can be formed under a variety of host institutions, including agricultural universities, state departments, ICAR institutes, other educational institutions, or NGOs.

The 700 KVKs in operation per the ICAR website are split into 458 under State Agricultural Universities, 18 under Central Agricultural Universities, 64 under ICAR institutes, 105 under NGOs, 39 under state departments or other public sector undertakings, and 16 under other miscellaneous educational institutions. 

A KVK must own about 20 hectares of land for the purpose of testing new agricultural technologies.
Get Complete ESI & ARD Notes for NABARD Gr. A Exam Here
Krishi Vigyaan Kendras – History of KVKs
The ICAR mooted the idea of establishing Krishi Vigyan Kendras (Agricultural Science Centres) as innovative institutions for imparting vocational training to the practising farmers, school dropouts, and field-level extension functionaries.

The ICAR Standing Committee on Agricultural Education, in its meeting held in August 1973, observed that since the establishment of Krishi Vigyan Kendras (KVKs) was of national importance which would help in accelerating the agricultural production as also in improving the socio-economic conditions of the farming community, the assistance of all related institutions should be taken in implementing this scheme.

The ICAR, therefore, constituted a committee in 1973 headed by Dr. Mohan Singh Mehta of Seva Mandir, Udaipur (Rajasthan), for working out a detailed plan for implementing this scheme. The Committee submitted its report in 1974.
The first KVK, on a pilot basis, was established in 1974 at Puducherry (Pondicherry) under the administrative control of the Tamil Nadu Agricultural University, Coimbatore. 
Get Complete ESI & ARD Notes for NABARD Gr. A Exam Here
Krishi Vigyaan Kendras – Responsibilities and Mandate of KVKs
On-Farm Testing – It is responsible for conducting on-farm testing to identify the location specificity of agricultural technologies under various farming systems.
Front-line Demonstrations – It is also entrusted with organizing Front-line demonstrations to establish the production potential of various crops and enterprises on the farmers' fields.
Organizing Training & Capacity Building – It also organizes need-based training for farmers to update their knowledge and skills in modern agricultural technologies related to technology assessment, refinement and demonstration, and training of extension personnel to orient them in the frontier areas of technology development.
Awareness Creation – It is also responsible for creating awareness about improved agricultural technologies among various clienteles through an appropriate extension programme.
Production – It conducts the production of quality seeds, planting materials, livestock breeds, animal products, bio-products, etc., as per the demand and supplies the same to different clienteles.
Education Centre – It needs to work as a resource and knowledge centre of Agricultural Technology to support the initiatives of public, private, and voluntary sectors for improving the agricultural economy of the district.
Get Complete ESI & ARD Notes for NABARD Gr. A Exam Here
Krishi Vigyan Kendras Portal
The Central Government launched the Krishi Vigyan Kendras (KVKs) Portal which helps in monitoring the functioning of KVKs at the National level and in providing timely information and advisory to the farmers.

The aim of the portal is to transfer the technologies developed by the agricultural scientists to the farmers in a fast and effective manner using the web and mobile technology as well as to monitor the activities of Krishi Vigyan Kendras (KVKs)
The objectives of the portal are

To create a platform to monitor the various activities as well as resource utilization by various KVKs;

To create a database of the various programmes organized by the KVKs along with their detailed information and learning resources;

To help the farmers in resolving their queries using the web and mobile technologies;

To provide information about various facilities and activities performed by the KVKs and to provide linkage to other important information such as weather and market information.
Get Complete ESI & ARD Notes for NABARD Gr. A Exam Here
Current Affairs Related to Krishi Vigyaan Kendras – NABARD Grade A & B Exams

The Ministry of Agriculture and Farmers' Welfare and Ministry of Skill Development and Entrepreneurship have signed MoU to conduct skill development training programmes for agriculture and allied sector. These skill development training programmes will be conducted at Krishi Vigyan Kendra (KVKs).
The MoU will help in increasing cooperation between both ministries and help in fulfilling the Government's dream of "Kaushal Bharat-Kushal Bharat".
It will help to increase agricultural productivity, post-harvest management, and fair-prices to the farmers for their produce, lower risk in agriculture, and strengthen and develop other aspects of farmers' income such as horticulture, animal husbandry, beekeeping, dairying, fisheries, etc.
This was all from us in this blog of Krishi Vigyaan Kendras – NABARD Agriculture Notes. We hope that these study notes for "Krishi Vigyaan Kendras – NABARD Agriculture Notes" prove useful to you and you can prepare well for the NABARD Grade A & Grade B Exams.
NABARD Grade A Preparation
It is advisable to take up a topic from ESI and ARD and complete it in a stipulated time without procrastination. Revision is always very very important when it comes to competitive exams like NABARD. Whenever you learn a new topic, do not forget to revise it. The revision will help you in the retention of the basics that you learned and will aid you in recollecting it on the Exam day. 
---
NABARD Grade A Online Course 2021
» Oliveboard offers the best NABARD Grade A Online Coaching for you all which will help you crack the exam with ease in your first attempt.
» NABARD Grade A Online Course would include Online Video Lessons, Detailed Study Notes, All-India Mock Tests, and much more for your exhaustive preparation.
» Oliveboard's NABARD Grade A Online Course 2021 will be your one-stop destination for all your preparation needs.
Why Join Oliveboard?
» Structured preparation @ one place.
» Strengthen your concepts using Videos & Notes.
» Have a grip on topics through Topic Tests.
» Improve speed and accuracy through Full-length Mock Tests.
Course Details
»Phase  I & II Videos (ESI, ARD & Desc. Eng)
» LIVE Classes & LPS on Imp. Topics
» Phase-II Study Notes (ESI, ARD & Desc. Eng)
» Complete CA for Phase I & II (Budget, Survey, Reports, etc)
» Topic Tests for Phase I & II
» Mock Tests for Phase I & with Solutions & Analysis
As they say, start early and stay ahead!
Start Your Preparation with Cracker Course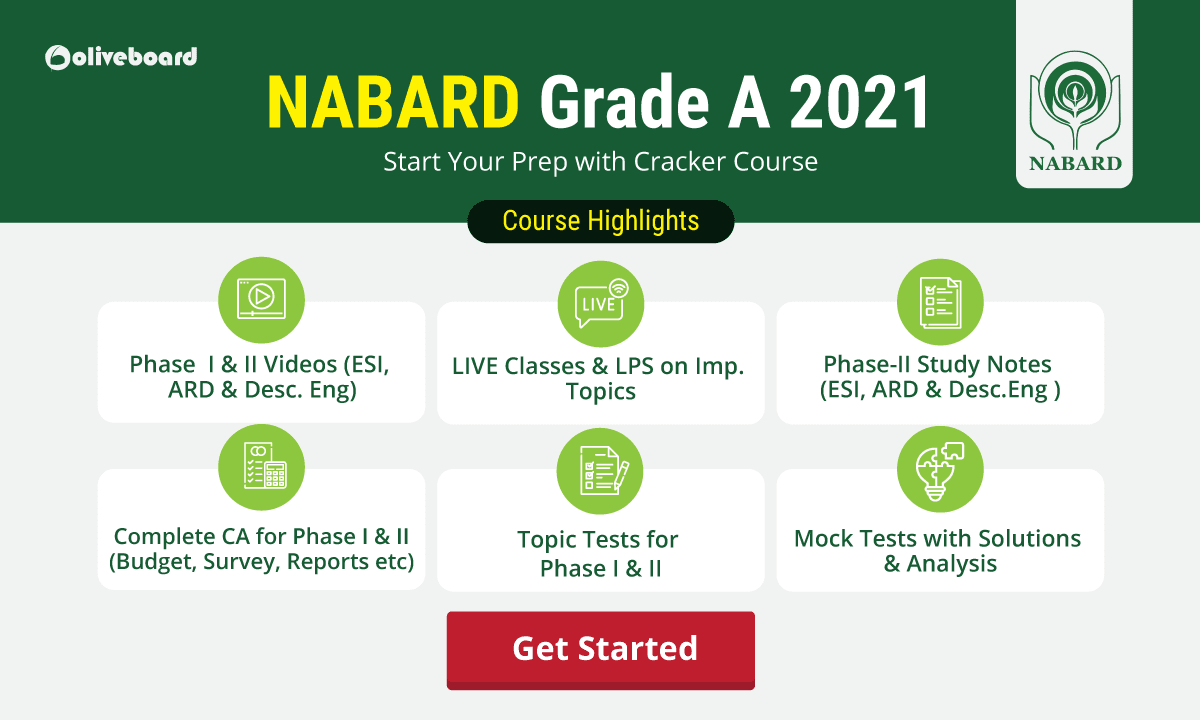 ---
Read More Agriculture and Rural Development (ARD) Study Notes :
You can visit Oliveboard's Discuss Forum to interact with fellow aspirants of Railways exams and learn from your peers.
You can access Oliveboard's Mock Tests and other study materials from your phone. Download Oliveboard Mobile App and prepare on the go!