The syllabus of Management section in both the RBI Grade B and SEBI Grade A exams is more or less same. This comes out as great help for an aspirant who is preparing for both RBI Grade B & SEBI Grade A exams. In this blog of Management Notes for RBI Grade B & SEBI Grade A 2020, we are providing you with Free eBook PDFs of the two most asked topics in Management in the F&M Paper of RBI Grade B exam and Paper of SEBI Grade A exam. 
You can use the link given below to freely download the PDF notes of 1. Communication and 2. Leadership Theories. we hope that you like our free content and get quite some knowledge for both the exams. 
Management Notes for RBI Grade B & SEBI Grade A 2020 – Free eBooks




---
Other Free Study Material
2. Free RBI Grade B Study Material 2020
---
RBI Grade B 2020 | How to prepare for Management Section of RBI Grade B 2020 | Strategy
RBI Grade B 2020 Online Course by Oliveboard 
Oliveboard has come up with RBI Grade B Online Cracker Course for RBI Grade B 2020 Exam. Oliveboard's RBI Grade B Online Course 2020 will be your one-stop destination for all your preparation needs
What all the course offers you:
1. Course Details
RBI Grade B Cracker is designed to cover the complete syllabus for the 3 most important subjects: GA for Phase 1 and ESI + F&M for Phase 2 exam. Not just that, it also includes Mock Tests & Live Strategy Sessions for English, Quant & Reasoning for Phase 1. The course aims to complete your preparation in time for the release of the official notification.

1.1. Features:
Phase I
Phase II

Weekly Live Classes for GK

Special Live Classes on Exam Pattern & Strategy for Quant, Reasoning & English

Sectional + Topic + GK Tests

Weekly Live Classes & 50+ Video Lectures for ESI, and F&M

Live Practice Sessions

Class and Tips for Descriptive Writing

Complete Notes for ESI, F&M
Use Coupon Code 'MY20' to avail 20% discount on RBI Courses!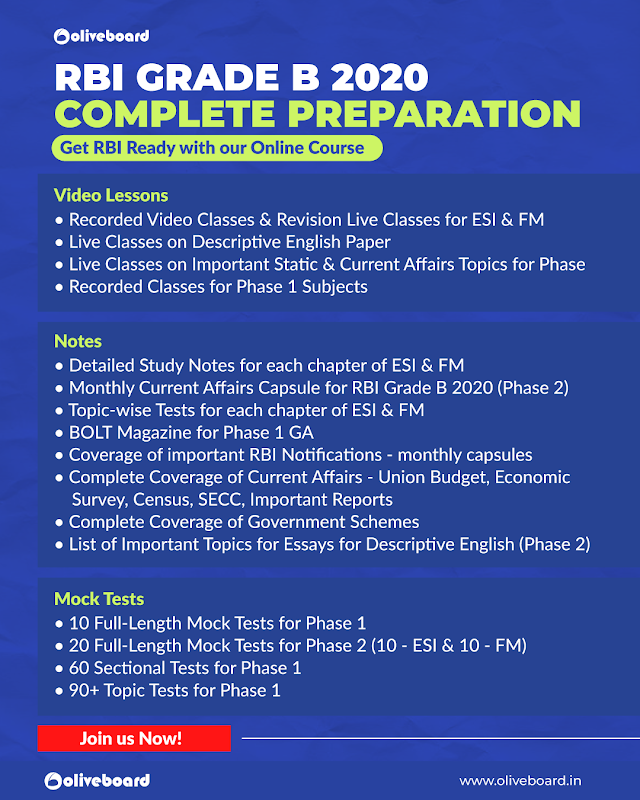 ---
SEBI Grade A 2020 Online Course Material by Oliveboard
SEBI Grade A Online Course 2020
Are you preparing for SEBI 2020 Exam? Worried about Paper 2 Subjects ( Commerce & Accounting, Companies Act, Finance & Management & Economics).
Get complete Video Lectures, Study Notes & Mock Tests for Phase 1 & Phase 2.
For SEBI Paper 1 Practice – Take Free Lock-Down Tests Here.
Take Daily Free Tests for English, Quants, Reasoning and GA – Download Oliveboard App and prepare on the go.
Use Coupon Code 'MY20' to avail 20% discount on SEBI Courses!