IB ACIO Tier 1 is going to be conducted on 18th, 19th & 20th February 2021.  It is now time to give your 200% for the Tier 1 Exam preparation. To give you an EDGE for your preparation we have created a free pdf E-book with the list of 150+ Must Know Idioms for IB ACIO 2021 exam.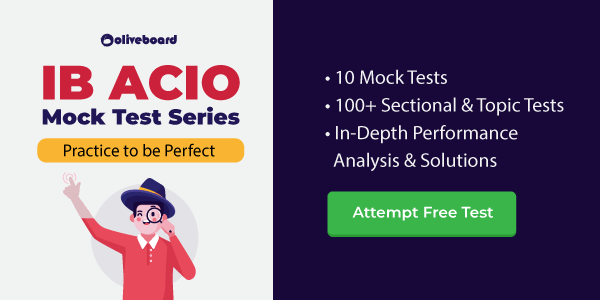 What are idioms?
Idioms are a set of words, whose meaning does not relate to the literal meaning of its words. Idioms have metaphorical meanings and can also be written in absurd grammatical structures.
Many a time, we come across expressions such as, "Barking up the wrong tree" or "Beat around the bush" and the like, that does not make any literal sense. These expressions are called Idioms.
Want to test your grammar knowledge? Test Yourself Here
The candidates appearing for the  IB ACIO 2021 can expect questions from this topic. For instance:
1. That repair cost me an arm and a leg!
(i) Lot of energy
(ii) Lot of time
(iii) A lot of money
(iv) Lot of thought
Solve more questions on Idioms for free
As we know, every mark counts! Therefore it is essential that you learn idioms, so you can be prepared for any kind of questions in the exam that can fetch you brownie points.
To help you prepare better, we have compiled a list of 150+ Must Know Idioms for IB ACIO 2021 Exam, and what's more? You can download the PDF Ebook for FREE through the following link.
To Download More Free Ebooks Click Here & Register Yourself
How to Download Top 150+ Idioms For IB ACIO Exam?
Step 1: Click on the above-given download link. You will be taken to Oliveboard's FREE Ebooks Page.
Step 2: Register/Login on to the Free E-Books Page of Oliveboard (It is 100% free, You just enter your valid email id and a password to be able to download the Top 150+ Idioms For IB ACIO).
Step 3: After Logging in, you can download the Top 150+ Idioms & Phrases ebook for IB ACIO Exam.
150+ Must Know Idioms – Sneak Peek
This Free 100 Must Know Idioms PDF contains the meaning of the idiom along with an example of the same. take a look into the ebook content below -:
1) A hot potato
Meaning: Something that is difficult or dangerous to deal with.
Example: Terrorism is a political hot potato in Afghanistan.
2) A penny for your thoughts
Meaning: Way of asking what someone is thinking.
Example: After several minutes of silence he finally looked at her and said, "A penny for your thoughts, Lily."
3) Actions speak louder than words
Meaning: What you do is more significant than what you say.
Example: He: I am sorry. I'll try to be a better person henceforth.
She: Actions speak louder than words.
4) Add insult to injury
Meaning: To make a bad situation worse.
Example: Their basement was flooded, and then, to add insult to injury, a pipe burst in the kitchen.
5) An arm and a leg
Meaning: A lot of money.
Example: It's the best cruise in the world, but it will cost you an arm and a leg.
6) At the drop of a hat
Meaning: Immediately; without any hesitation
Example: Ellie was always ready to go shopping at the drop of a hat.
Also Check:  

The most comprehensive online preparation portal for MBA, Banking and Government exams. Explore a range of mock tests and study material at www.oliveboard.in
  Oliveboard Live Courses & Mock Test Series