Reserve Bank of India being the central bank of the country is a great organisation to work for. Every year Lakhs of aspirants apply for the RBI Grade B posts as it offers great career opportunities as well as impressive perks & allowances to its officers. The Grade B recruitment notification is expected to be announced in the month of June-July 2019 most probably. It is highly advisable to start with your preparations from now on itself so that when you are suddenly notified of the recruitment notification, you have already covered a prominent portion of the syllabus. The Grade B Exam is conducted in three stages namely Phase I, Phase 2 and the Interview round.
Toppers of the exam have always suggested to carry on the preparations and study for both Phase 1 and Phase 2 simultaneously because the syllabus of the Phase 2 of RBI Grade B is vast and requires thorough knowledge and persistence in studies. The subjects asked in the Phase 2 Exam are Economics & Social Issues, Finance & Management and Descriptive English. So to give you a helping hand in your studies for the Grade B Exam, we at Oliveboard would be providing you study notes on important topics from the syllabus of Phase 2. In this blog we will cover the topic of "Poverty Alleviation & Employment Generation – RBI Grade B Study Notes".
Take a Free Oliveboard Mock Test for RBI Grade B Prelims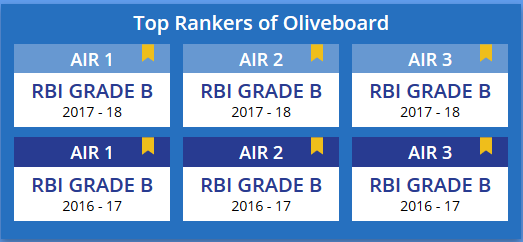 Poverty Alleviation & Employment Generation – RBI Grade B Study Notes
Definition of Poverty
Poverty is defined in a variety of ways world over, but the basic definition is "Poverty is a state in which people are denied the financial resources and essentials to lead a minimum standard of life and well-being that's considered acceptable in society". 
Different Types of Poverty
Poverty alleviation is one of the important goals of Sustainable Development Goals to be achieved by 2030. There are different types of poverty defined viz. Absolute Poverty, Relative Poverty and Multi-Dimensional Poverty.
Below Poverty Line (BPL)
In India poverty is measured on the basis of expenditure to achieve a threshold level of calories intake. This threshold level of expenditure is called the poverty line and the proportion of population living below are considered Below Poverty Line (BPL).
Take a Free Oliveboard Mock Test for RBI Grade B Prelims
Committees Formed for Definition of Poverty Line in India 
Alagh Committee (1979),
Lakdawala Committee (1993),
Tendulkar Committee (2009),
Rangarajan Committee (2012).
In India the responsibility of identifying poor rests with the state Governments.
Poverty Alleviation
The share of the population living in poverty was halved between 1994 and 2012, falling from 45 percent to 22 percent (figure). During this period, an astonishing 133 million people were lifted out of poverty. Moreover, the pace of poverty reduction accelerated over time and was three times faster between 2005 and 2012 – the years for which the latest set of government data are available – than in the previous decade.
At this pace, the fall in extreme poverty in India since 2005, pegged at $1.90 a day, 2011 PPP, matched or exceeded the average rate of decline for the developing world as a whole and the middle-income countries as a group.
Take a Free Oliveboard Mock Test for RBI Grade B Prelims
Poverty Alleviation is taken up in three ways:
1. Rapid Economic Growth: 
Rapid economic growth will increase GDP and it results in improving the conditions of the poor by providing them better opportunities. This is also known as Trickle down effect where the success of the top tier helps in lifting the conditions of the bottom tier.
2. Employment Generation Government Schemes:
Some important govt schemes are
Pradhan Mantri Rozgar Yojana (PMRY) which was introduced in 1993 aimed to create self-employment opportunities for rural youth.
Swarnajayanti Gram Swarozgar Yojana (SGSY)

was introduced in 1999 to organize BPL families to SHGs through bank credit and subsidy.

MNREGA that was introduced in 2005 still run successfully and it is the largest social welfare programme in the world.
3. Government schemes which provides basic amenities
National Food Security Act,
Deen Dayal Antyodaya Yojana, National Social Assistance Programme

,

PM Rural Development Fellowship
4. Direct Benefit Transfer plays an important role in making resources reach the needy.
Govt has also established PDS (Public distribution system) and FCI (Food corporation of India) to ensure food security for poor people and Announcement of Minimum support for farmers which provides them with financial security.
Take a Free Oliveboard Mock Test for RBI Grade B Prelims
World Bank which is associated with poverty reduction suggests some of the key steps to be taken.
Accelerating rural poverty reduction
Creating more and better jobs
Focusing on women and Scheduled Tribes
Creating more "good" locations: where people live largely shapes their prospects in life.
Improving human development outcomes for the poor
Some of the indexes in measuring poverty are
Human Development Index

Gender Development Index

Gender Inequality Index.

Multi-Dimensional Poverty Index
Thus, Poverty is a multi-Dimensional Concept associated with many other social problems and poverty alleviation remains a priority for all the governments of the day.
Take a Free Oliveboard Mock Test for RBI Grade B Prelims
Poverty Alleviation & Employment Generation – RBI Grade B Study Notes
Employment Generation
With more than 62% of its population in the working age group (15-59 years), and more than 54% of its total population below 25 years of age, India has a Demographic Advantage comparing to the other major economies in the world.

Average age of the population in India by 2020 will be 29 years and during the next 20 years the labour force in the industrialized world is expected to decline by 4%, while in India it will increase by 32%.

Indian population mostly employed in unorganised sector are frequently thrown into unemployment for varied reasons and are most vulnerable.

But the domestic prospects of employment as of today are very bleak with unemployment running at all time high from independence. Governments have brought out many programmes to control the situation, but India has an uphill task of meeting the challenges.
Take a Free Oliveboard Mock Test for RBI Grade B Prelims
Major sources of official data on employment in India include:
The National Sample Survey Organization
Census of India
Directorate General of Employment and Training Data of Registration with Employment Exchanges
One of the main allied objectives of these policy programmes is the idea of poverty alleviation, with other emphasise on health, nutrition, a standard of living, education, roadbuilding, infrastructure and rural development.
Take a Free Oliveboard Mock Test for RBI Grade B Prelims
Government Initiatives taken for Employment Generation
Government has taken various steps for generating employment in the country like encouraging private sector of economy, fast tracking various projects involving substantial investment and increasing public expenditure on schemes like
Prime Minister's Employment Generation Programme (PMEGP) run by Ministry of Micro, Small & Medium Enterprises,
Mahatma Gandhi National Rural Employment Guarantee Scheme (MGNREGA),
Pt. Deen Dayal Upadhyaya Grameen Kaushalya Yojana (DDU-GKY) scheme run by Ministry of Rural Development and
Deendayal Antyodaya Yojana- National Urban Livelihoods Mission (DAY-NULM) run by Ministry of Housing & Urban Affairs.
Pradhan Mantri Mudra Yojana (PMMY)

has been initiated by Government for facilitating self-employment. Under PMMY collateral free loans upto Rs. 10 lakhs are extended to small/micro business enterprises and to individuals.

Pradhan Mantri Rojgar Protsahan Yojana

has been initiated by the Ministry of Labour and Employment in the year 2016-17 for incentivizing employers for employment generation. Government pays the entire employer's contribution (12% or as admissible) towards the EPS and EPF for all sectors.

Under Skill India Mission

, Ministry of Skill Development and Entrepreneurship is implementing a flagship scheme known as

Pradhan Mantri Kaushal Vikas Yojana (PMKVY

) 2016-20 with an objective to provide

skilling to one crore people.
Take a Free Oliveboard Mock Test for RBI Grade B Prelims
Some of the issues in India employment generation are
Population Growth

Modernization reducing Manual Labour

lack of adequate fund-allocation for employment generation

Lack of Skilled Labour.

Highly educated but with no skill population.
When compared to China which is more populated, India lags in skilled workers which reduces its competing manufacturing prowess and thus looses a lot of organised sector jobs.
With all the above measures Employment Generation needs to take up pace and help India meet its SDG's and thus come out of poverty.
Take a Free Oliveboard Mock Test for RBI Grade B Prelims
Sample Questions:
Q. Who conducts the periodical sample survey for estimating the poverty line in India?
National Survery Organisation

National Sample Survey Organisation

Sample Survey Organisation

None of the above.
Answer: (2)
Q. Which of the following is an indicator of poverty in India?
Income level

Illiteracy level

Employment level

All of these.
Answer: (1)
Also Read: 
This was all from us in this blog of "Poverty Alleviation & Employment Generation – RBI Grade B Study Notes". We hope that the you find the information given above in the blog of "Poverty Alleviation & Employment Generation – RBI Grade B Study Notes" useful. For more study notes for RBI Grade B, stay tuned to Oliveboard.
If you are a an RBI Grade B aspirant and also a working professional and find it difficult to find enough time for your RBI Grade B Preparations, do not worry at all.
Oliveboard has come up with RBI Grade B Online Cracker Course for RBI Grade B 2019 Exam. 
RBI Grade B Live Course – What is all Included in the Course?
Covers Complete Syllabus for Phase 2 (ESI, F&M) 
Phase 1 (GA)
Weekly Live Classes and video lectures for ESI, and F&M
10 Live Practice Sessions 
Complete Notes for ESI, F&M
Weekly Live Classes for GK

10 (Phase 1)

+

25 (Phase 2)

Mock Tests 
Read the blog for complete details of the Cracker Course.
You can enroll for the course using the link given below:
[gdlr_button href="https://www.oliveboard.in/rbi-online-coaching/?ref=blog" target="_blank" size="large" background="#1b5df1″ color="#ffffff"]Enroll here for RBI Grade B 2019 Cracker Course[/gdlr_button]