The Rajasthan Subordinate and Ministerial Services Selection Board conduct the Rajasthan Patwari Exam. The board announced the Rajasthan Patwari Exam Date as the 23rd and 24th of October 2021 on its official website to recruit candidates for the positions of Patwari. . With the help of a proper study plan, it is easier to crack this exam. In this blog, we will provide you with the Rajasthan Patwari Exam Strategy, which will help you analyze how you can attempt the exam and what your preparations should be.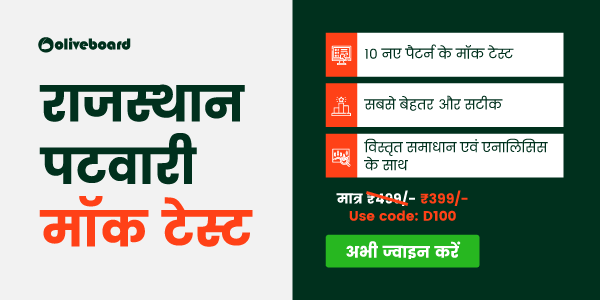 Rajasthan Patwari Exam Pattern:
First of all, let us get a clear idea of the Exam pattern:
The RSMSSB Patwari Exam is divided into a written test with objective questions and an interview round. The applicants must have a thorough awareness of the Patwari selection procedure for the year 2021 and the RSMSSB selection process.
The Rajasthan Patwari exam pattern has been published for the recruitment cycle by RSMSSB. Earlier, the exam was divided into two parts: preliminary & mains exams. However, this year onwards, there will be a written test followed by an Interview.
| | |
| --- | --- |
| Stage 1 | Written test |
| Stage 2 | Interview |
Detailed Exam Pattern:
| | | |
| --- | --- | --- |
| Subject | Number of Questions | Number of Marks |
| General Science, History, Polity and geography of India, General Knowledge, Current Affairs | 38 | 76 |
| Geography, History, Culture, and polity of Rajasthan | 30 | 60 |
| General Hindi and English | 22 | 44 |
| Mental ability and reasoning, basic numerical efficiency | 45 | 90 |
| Basic Computer | 15 | 30 |
| Total | 150 | 300 |
Note:
The questions will be of objective type.
The test will be bilingual i.e., English & Hindi, except for General English.
There will be a negative marking of 1/3rd for each wrong answer.
Rajasthan Patwari Exam Preparation: General Tips and Tricks
Here are a few tips and tricks to clear the Patwari Exam.
Make Time Table– Many students apply for any exam but then do not study systematically. For systematic study you need a proper time table. So first of all prepare a Study Plan covering all the topics asked in the exam.
Cover the entire syllabus – During the initial days of your preparation, make sure you go through each and every topic mentioned in the syllabus above.
Mock Tests: Join a mock test series for better understanding of the actual exam level, test series can immensely help you in acing this exam. Systematically place the mock tests in your study plan and do a thorough analysis of the mock test.
Make a list of your weak and strong topics – You must make a list of strong and weak topics every week. Update the list on a weekly basis and try to reduce the number of topics you are weak in.
Read good books: There are plenty of books available in the market, but reading all of them will be of no use. Refer to the standard books only. If you have notes from your coaching institute, then refer to them for your preparation.
Follow Current Affairs on A daily basis – Make sure you follow current affairs on a daily basis as the news can be about anything regarding any history related event as well and you can expect a static GK question from that particular topic. For instance, the recent addition of a Harappan site to UNESCO World Heritage Site and more.
Read Often, revise More often: One thing that sets toppers apart is the habit of revision. For this exam, revision is the key, you have to remember whatever you are reading.
Online Courses: Online courses can be of great help when it comes to competititve exams. You can buy any good online course for your preparation. The online courses provide you guidance, practice questions, and doubt solving facilties.
Previous Year Question Papers: Go through the previous year question papers, It will help you to get a better idea of the level of exam and the kind of questions asked.
Rajasthan Patwari exam Preparation- 2021 books
Subject
Preferred Books by toppers
General Science, History, Polity and Geography of India
General Knowledge 2021 by Lucent Publication
General Studies by Manohar Pandit
History, Polity, and Geography of Rajasthan
Rajasthan Patwari Chayan Pariksha (14 Solved Papers Evam 10 Practice Sets) by Prabhat Prakashan
Patwari General Hindi
Samanya Hindi by Arihant Publication
General English
Objective General English by S.P Bakshi
Mental Ability and Reasoning, Basic Numerical Efficiency
Quantitative Aptitude for Competitive Examinations by Abhijit Guha
A Modern Approach to Verbal and Non-verbal Reasoning by RS Aggrawal
Basic Computer
Objective Computer Awareness by R. Pillai
Patwari (Rajasthan) with free Objective and Computer Booklet by Rai Publication
Rajasthan Patwari Previous Year Cutoff:
To get a better idea of the cutoff marks in the Patwari exam, here we are providing you the official cutoff marks. Analyze these marks, and plan your strategy accordingly.
| | | |
| --- | --- | --- |
| Category | Cut off-Non-Scheduled Areas | Cut off-Scheduled Areas |
| General (Male) | 105.51 | 95.24 |
| General (Female) | 82.25 | 78.52 |
| General (Widow) | 0.1769 | 2.598 |
| General(Divorced Female) | 17.546 | 39.64 |
| OBC (Male) | 104.51 | NA |
| OBC (Female) | 82.25 | NA |
| OBC (Widow) | 0.1769 | NA |
| OBC(Divorced Female) | 17.546 | NA |
| EBC(Male) | 104.51 | NA |
| EBC(Female) | 80.54 | NA |
| EBC(Widow) | 0.1769 | NA |
| EBC(Divorced Female) | 17.54 | NA |
| SC (Male) | 104.51 | 91.77 |
| SC (Female) | 80.54 | 77.28 |
| SC (Widow) | 0.1769 | 2.598 |
| SC(Divorced Female) | 17.54 | |
| ST (Male) | 104.51 | 71.47 |
| ST (Female) | 82.25 | 61.45 |
| ST (Widow) | 0.1769 | 2.598 |
| ST(Divorced Female) | 17.54 | 0.807 |
| Saharia Scheduled Caste (Female) | 19.50 | NA |
| Saharia Scheduled Caste (Widow) | NA | NA |
Rajasthan Patwari Course Highlights:
Here are the course highlights.
Course start date
6th Sept 2021
Course End Date
16th Oct 2021
Exam Date
23-24 Oct
Validity
Till the Exam
Language
Hindi
Subjects
General Hindi & English
General Awareness & Rajasthan special
Numerical & Mental Ability Test
Computer
Classes
120+ Class
Rajasthan Patwari- Selection Batch–Features
Here are the important feature of the Patwari Course:
शीघ्र रिवीजन के लिए 120+ लाइव क्लासेस
नए पैटर्न पर आधारित 10 मॉक टेस्ट
5 पिछले वर्षो के सॉल्वड पेपर्स
नवीनतम पैटर्न और सिलेबस आधारित लाइव क्लासेस
हिंदी माध्यम में लाइव क्लासेस
सभी विषयों का सम्पूर्ण कवरेज
एक्सपीरियंस फैकल्टी द्वारा लाइव क्लासेस
प्रत्येक लाइव क्लास के बाद उसका PDF
वन लाइनर जीके/जीएस अति महत्वपूर्ण प्रश्न, पिछले 6-12 महीनों के करेंट अफेयर्स का ई-बुक
Frequently Asked Questions (FAQs)
What is the pattern of the Rajasthan Patwari exam? 
The Rajasthan Patwari Exam is objective-based.
What is the minimum qualification for the post of Rajasthan Patwari? 
The candidates must be graduate in any stream from a recognized university or have a degree or diploma in computer application or any other equivalent degree duly approved by the government.
How many questions are asked in the Rajasthan Patwari exam? 
There are a total of 150 objective-type questions in this exam. 
What is the salary of Rajasthan Patwari? 
The Rajasthan Patwari receives a minimum basic pay of Rs.24,300/-
What is the probation period for this post?
The selected candidates have to undergo a probation period of 2 years.
What is the job profile of Rajasthan Patwari?
The Rajasthan Patwari job includes maintenance and preparation of village land records, dispute settlement of farmers, assist the Tehsildar, collect taxes, etc.