The Monetary Policy Committee of the Reserve Bank of India left the repo rate unchanged at 4% in its monetary policy committee meeting. The MPC maintains an accommodative stance. This was the first MPC meeting of the financial year 2021-22. MPC has kept the repo rate has remained at 4% since the August 2020 MPC meeting. Mr Shaktikanta Das, Governor of RBI, had said in his address that "The MPC also decided to continue with the accommodative stance as long as necessary to sustain growth on a durable basis and continue to mitigate the impact of COVID-19 on the economy while ensuring that inflation remains within the target going forward." Let us have a look at RBI Monetary Policy Highlights – 7 April 2021.
Get RBI Grade B Free Study Notes & Mock Tests
RBI Monetary Policy Highlights – 7 April 2021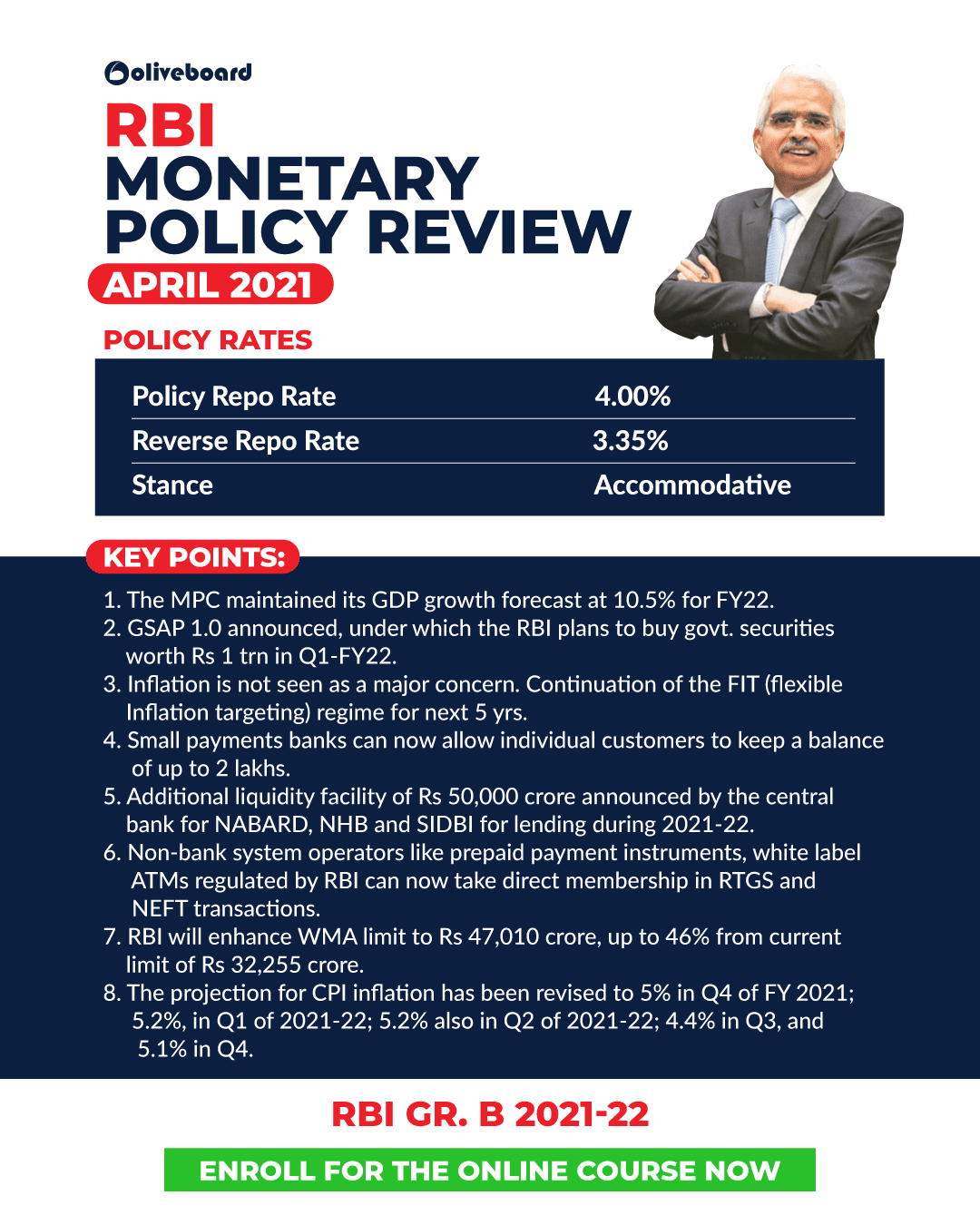 RBI Monetary Policy Review  – April 2021
Policy Rates
---
Key Points
1. The MPC maintained its GDP growth forecast at 10.5% for FY22.
2. GSAP 1.0 announced, under which the RBI plans to buy govt. securities worth Rs 1 trillion in Q1-FY22.
3. Inflation is not seen as a major concern. Continuation of the FIT (flexible Inflation targeting) regime for the next 5 yrs.
4. Small payments banks can now allow individual customers to keep a balance of up to 2 lakhs.
5. Additional liquidity facility of Rs 50,000 crore announced by the central bank for NABARD, NHB and SIDBI for lending during 2021-22.
6. Non-bank system operators like prepaid payment instruments, white label ATMs regulated by RBI can now take direct membership in RTGS and NEFT transactions.
7. RBI will enhance the WMA limit to Rs 47,010 crore, up to 46% from the current limit of Rs 32,255 crore.
8. The projection for CPI inflation has been revised to 5% in Q4 of FY 2021; 5.2%, in Q1 of 2021-22; 5.2% also in Q2 of 2021-22; 4.4% in Q3, and 5.1% in Q4.

This is all from us this time for RBI Monetary Policy Highlights for the month of April 2021. We will update you about the decisions of the MPC in the upcoming bi-monthly monetary policy committee meeting. Till then stay tuned to Oliveboard.

---
RBI Grade B Online Course 2021-22 by Oliveboard
Oliveboard offers the best RBI Grade B Online Coaching for you all which will help you crack the exam with ease in your first attempt.
Do join for your RBI Grade B 2021-22 exhaustive preparation.
Go through free RBI Grade B study materials PDFs and take up RBI Grade B Free mock tests online.
Oliveboard's RBI Grade B Online Course 2021-22 will be your one-stop destination for all your preparation needs
1. Course Details
RBI Grade B Cracker is designed to cover the complete syllabus for the 3 most important subjects: GA for Phase 1 and Objective + Descriptive portions of ESI + F&M for Phase 2 exam. 
Not just that, it also includes Mock Tests & Live Strategy Sessions for English, Quant & Reasoning for Phase 1. The course aims to complete your preparation in time for the release of the official notification.

1.1. Features:
RBI Grade B 2021-22
Crash Course Offerings
Video Lessons & Study Notes

Mock Tests

90+ Video Classes for ESI & FM

LIVE + Revision Sessions for ESI & FM

10+ Descriptive English Classes

Detailed Study Notes ESI & FMCurrent Affairs Capsules & Past Year Papers

6 Descriptive Mock Tests (ESI & FM)

30 Objective Mock Tests (15 – ESI & 15 – FM)

10 Full-Length Mock Tests for Phase 1

Topic Tests for each chapter of ESI & FM (1 Markers & 2 Markers)
 *We will get your ESI & FM descriptive answers evaluated!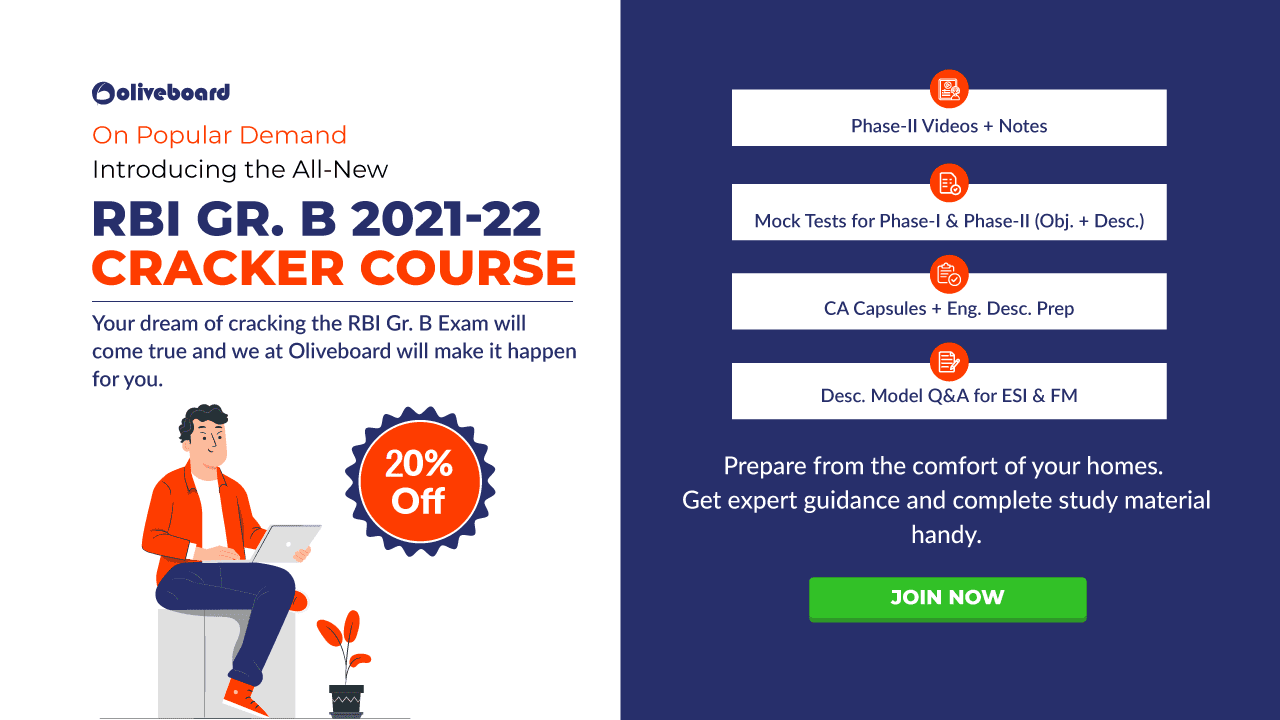 ---
1.2. How to enroll for the RBI Grade B Online Course 2021-22?
Sign up or log in using the link given below. You will be redirected to the payments page. Read the course offerings and subscribe to RBI Grade B 2021-22 Cracker Course. 
Now that you are aware of the RBI Grade B Online Classes, why wait?
Get Started with RBI Grade B 2021-22 Online Course comprising Video Lessons, Detailed Study Notes & All-India Mock Tests for Phase-1 & Phase-2.