The Monetary Policy Committee of the Reserve Bank of India kept the repo rate unchanged at four per cent. RBI Governor Shaktikanta Das said the committee unanimously voted to keep rates unchanged and decided to maintain its accommodative monetary policy stance to support growth amid the pandemic. He also said the Indian economy was entering into a "decisive phase" in the fight against Covid-19. Let us have a look at RBI Monetary Policy Highlights – 4 December 2020.
RBI Monetary Policy Highlights – 4 December 2020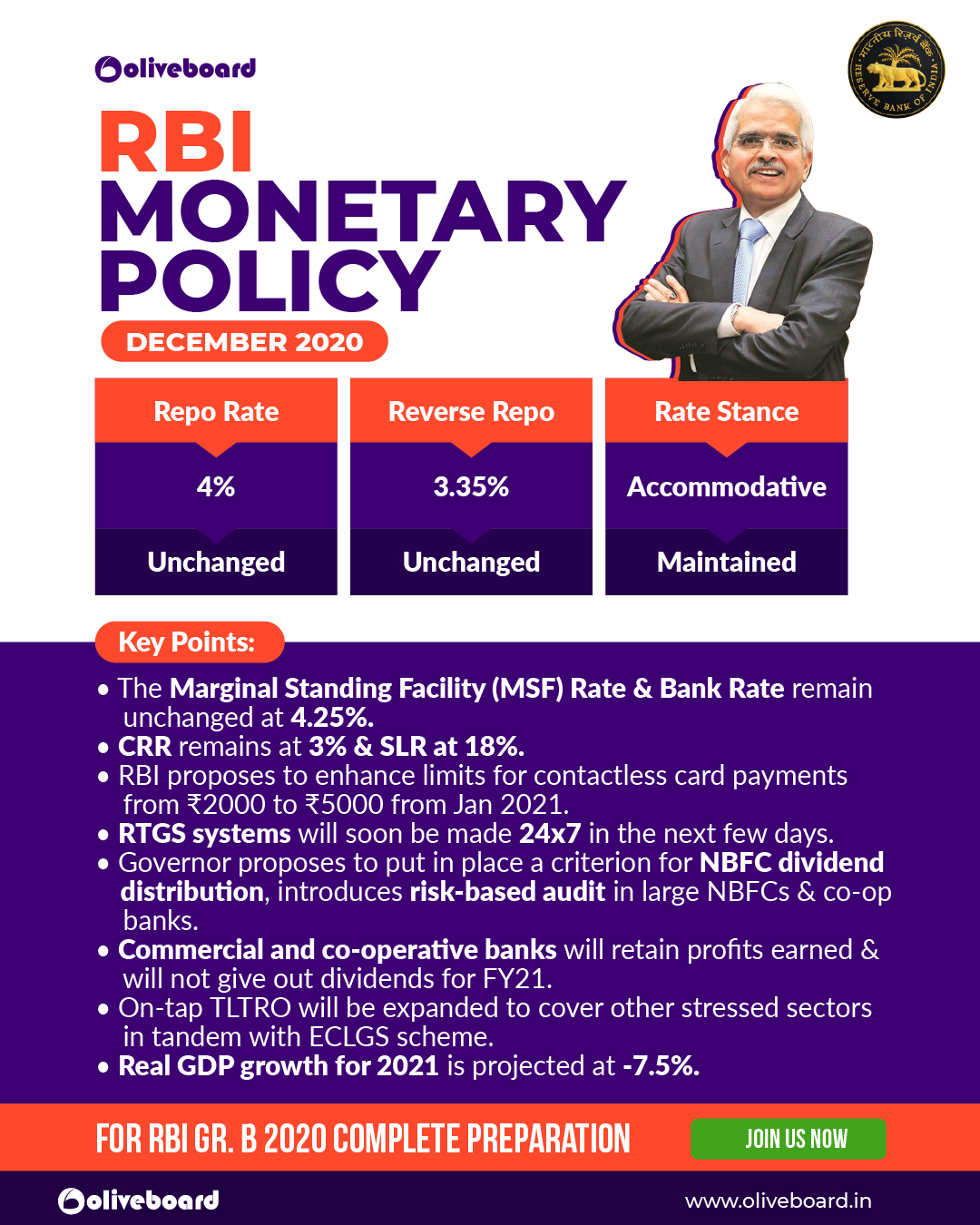 Download RBI Grade B Free Study Material PDF 
---
RBI Monetary Policy Highlights – 9 October 2020
RBI Monetary Policy Review Oct 2020
Policy Rates
| | |
| --- | --- |
| Policy Repo Rate | 4.00% |
| Reverse Repo Rate | 3.35% |
| Marginal Standing Facility Rate | 4.25% |
| Bank Rate | 4.25% |
Reserve Ratios
Key Highlights:
1. New Members Inducted in the Monetary Policy Committee:
Monetary Policy Committee inducted three new independent members, Shashanka Bhide, Ashima Goyal and Jayanth R Varma.
2. Key Policy Rates Unchanged
Base rate unchanged and the policy stance accommodative. The August-2020 MPC decided not to change the benchmark Repo Rates and continued with the 'Accommodative' stance. 
3. GDP Prediction for the year 2020-21
For the year 2020-21 as a whole, real GDP is expected to decline by 9.5%, with risks tilted to the downside. If, however, the current momentum of upturn gains ground, a faster and stronger rebound is most probable.

GDP growth for the April-June quarter 2021-22 fiscal projected at 20.6%.
4. Retail inflation projected at 6.8% for the September quarter.
MPC projections indicated that inflation would ease closer to the target by Q4:2020-21.

CPI inflation is projected at 6.8 per cent for Q2:2020-21, at 5.4-4.5% for H2:2020-21 and 4.3% for Q1:2021-22," stated the policy statement.

In other words, with inflation expected to fall within RBI's comfort band — that is, 4%, +/- 2 percentage points — in the second half of the year, there could be a repo rate cut in the coming months.
4. Real Time Gross Settlement fund Transfer
RTGS fund transfer system for real-time fund transfer to become 24X7 from December.
5. Retail Bank Loans
The threshold for aggregate exposure of retail bank loans to one counterparty increased to Rs 7.5 crore from Rs 5 crore.
6. Targeted long-term repo operations (TLTRO)
On-tap targeted long-term repo operations (TLTRO) to be conducted, with tenors of up to three years for Rs 1 lakh crore at a floating rate linked to the policy repo rate up to March 31, 2021.
7. Rural Economy
By persevering in the pandemic, the rural economy looks resilient. Early estimates suggest that foodgrains production is set to cross another record in 2020-21.
8. MGNREGA
Job creation under the Mahatma Gandhi National Rural Employment Guarantee Act (MNREGA) has provided incomes and employment in rural areas.
9. PMI
The manufacturing purchasing managers' index (PMI) for September 2020 rose to 56.8, its highest mark since January 2012, supported by an acceleration in new orders and production.

The services PMI for September at 49.8 remained in contraction but has risen from 41.8 in August. These expectations are also reflected in RBI's growth projections which suggest that GDP growth may break out of contraction and turn positive by Q4.
10. Cost of Borrowing
The weighted average cost of borrowings by the central government during the first half of the 2020-21 at 5.82% was the lowest in the last 16 years. The weighted average maturity of the outstanding stock of the centre had also been the highest so far.
11. Borrowing for Central & State Governments
The RBI assured that the borrowing programme of the centre and states for rest of 2020-21 would be completed in a non-disruptive manner without compromising on price and financial stability.

In pursuit of this objective, the limit for Ways and Means Advances (WMA) for the centre is kept higher at Rs 1.25 lakh crore compared to Rs 35,000 crore of the previous year.

Also, the 60% increase in WMA limit for states in the first half of 2020-21 has been extended for a further period of 6 months till March 31, 2021.
The RBI will maintain comfortable liquidity conditions and will conduct market operations in the form of outright and special open market operations. The size of these auctions will be increased to Rs 20,000 crore and it is expected that the market participants will respond positively to this initiative.
Sources Referred: 
https://facelesscompliance.com

RBI Website
---
RBI Monetary Policy Highlights – 6 August 2020
Here are 10 highlights of the RBI's Bi-monthly Monetary Policy.
The MPC kept repo rates unchanged at 4%, reverse repo rate unchanged at 3.35% and maintained accommodative stance.

MPC voted unanimously in favour of the status quo.

RBI said the space for further monetary policy action is available but advisable to be judicious.
2. Loan restructuring for MSME
The RBI recognised the need for continued support to MSMEs' meaningful restructuring.

"It has been decided that, in respect of MSME borrowers facing stress on account of the economic fallout of the pandemic, lending institutions may restructure the debt under the existing framework, provided the borrower's account was classified as standard with the lender as on March 1, 2020. This restructuring shall be implemented by March 31, 2021," said RBI.
3. Inflation in focus
Inflation stays high, said RBI governor. "Domestic food inflation has remained elevated across economies ever since the coronavirus outbreak," said RBI governor Shaktikanta Das.

However, he added that agriculture sector prospects have improved with the good monsoons and rise in Kharif sowing area.

MPC projected retail inflation to remain elevated in Q2. However, it added that a more favourable food inflation outlook might emerge on good farm produce.
4. Sombre growth outlook
RBI said that the real GDP growth of the country may remain in a negative zone in the first half and overall FY21.

The output of core industries in June contracted for the fourth successive month though with a considerable moderation.

The Reserve Bank's business assessment index (BAI) for Q1FY21 hit its lowest mark in the survey's history. The manufacturing PMI remained in contraction, shrinking further to 46.0 in July from 47.2 in the preceding month.

However, high-frequency indicators of services sector activity for May-June indicate signs of a modest resumption of economic activity, especially in rural areas, although at levels lower than a year ago.
5. Resolution framework for COVID-19-related stress
The RBI announced providing a window under the Prudential Framework to enable the lenders to implement a resolution plan in respect of eligible corporate exposures without a change in ownership, and personal loans, while classifying such exposures as Standard subject to specified conditions.

"Such conditions are considered necessary to ensure that the facility of this resolution window is available only to the COVID-19 related stressed assets. Besides, the crucial aspect of maintaining financial stability has also been suitably factored in," RBI said.

The framework shall not be available for exposures to financial sector entities as well as central and state governments, local government bodies (e.g. municipal corporations) and anybody corporate established by an Act of Parliament or State Legislature, said RBI.

Only those borrower accounts shall be eligible for resolution under this framework that was classified as standard, but not in default for more than 30 days with any lending institution as on March 1, 2020.

The accounts should continue to remain standard till the date of invocation. The resolution plan may be invoked anytime till December 31, 2020, and shall have to be implemented within 180 days from the date of invocation, RBI said.

Lenders shall have to keep additional provisions of 10% on the post-resolution debt.

The Reserve Bank is constituting an Expert Committee under the chairmanship of K.V. Kamath which shall make recommendations to the RBI on the required financial parameters.
6. Increase in permissible loans against gold Ornaments and jewellery
RBI allowed an increase in the permissible loan to value ratio (LTV) for loans against pledge of gold ornaments and jewellery for non-agricultural purposes from 75% to 90%. This relaxation shall be available until March 31, 2021.
7. Additional liquidity facility for NHB, NABARD
RBI said it will provide an additional standing liquidity facility (ASLF) of Rs 5,000 crore to NHB – over and above Rs 10,000 crore already provided – for supporting housing finance companies (HFCs). The facility will be for a period of one year and will be charged at the RBI's repo rate.

Besides, RBI will provide an additional special liquidity facility (ASLF) of Rs 5,000 crore to NABARD for a period of one year at the RBI's policy repo rate for refinancing NBFC-MFIs and other smaller NBFCs of asset size of Rs 500 crore and less to support agriculture and allied activities and the rural non-farm sector.
8. Creation of innovation hub
Areas such as cybersecurity, data analytics, delivery platforms, payments services, etc., remain at the forefront when we think of innovation in the financial sector, RBI said.

To promote innovation across the financial sector by leveraging on technology and create an environment that would facilitate and foster innovation, RBI will set up an Innovation Hub in India.

The Innovation Hub will act as a centre for ideation and incubation of new capabilities which can be leveraged to create innovative and viable financial products and/or services to help achieve the wider objectives of deepening financial inclusion, efficient banking services, business continuity in times of emergency, strengthening consumer protection, etc, said RBI.

The Innovation Hub will support, promote and hand-hold cross-thinking spanning regulatory remits and national boundaries.
9. Online dispute resolution for digital payments
RBI underscored that as the number of digital transactions rises significantly, there is a concomitant increase in the number of disputes and grievances.

It said that the central bank will require Payment System Operators (PSOs) to introduce Online Dispute Resolution (ODR) Systems in a phased manner.

"To begin with, authorised PSOs shall be required to implement ODR systems for failed transactions in their respective Payment Systems. Based on the experience gained, ODR arrangements will be extended

to other types of disputes and grievances," RBI said.

RBI will issue instructions in this regard later today.
10. Scheme of offline retail payments using cards and mobile devices
The RBI proposed to allow a pilot scheme for small value payments in off-line mode with built-in features for safeguarding the interest of users, liability protection, etc.

The central bank said the instructions in this regard will be issued shortly.

"Based on experience gained, detailed guidelines for the roll-out of the scheme will be announced in due course," RBI said.
Source: MoneyControl
---
RBI Monetary Policy Highlights – 6 August 2020 – In Short
The Reserve Bank of India's Monetary Policy Committee has announced key decisions.  Here are the highlights:
1. Key Decisions
Repo rate unchanged at 4%

Reverse repo rates unchanged at 3.35%

Accommodative stance maintained

Allows one-time restructuring of corporate loans

LTV ratio for gold loans relaxed to 90% from 75%

Introduces the mechanism of Positive Pay for all cheques of value Rs 50,000 and above

Additional special liquidity facility of Rs 10,000 crore to be provided to NABARD & NHB
2. On Forex
The ratio of forex reserves to external debt has increased from 76% to 85.5%

Forex reserves rose by USD 56.8 billion in FY21 so far from April to July

Forex reserves now stand at USD 534.6 bn or 13.4 months of import on inflation

MPC expects headline inflation to remain elevated in Q2FY21

MPC expects headline inflation to ease in the second half of FY

Inflation pressures evident across all sub-groups

More favourable food inflation may emerge on bumper rabi crop

High pump prices of fuel could impart cost pressure

Inflation base effect favourable in H2

External demand expected to remain anaemic due to pandemic

 
3. Outlook on the current scenario 
For 2021, real GDP growth is expected to be negative

Space for further monetary action is available but advisable to be judicious

MPC will remain watchful w.r.t. inflation dynamics to further use space available on the monetary side when appropriate

250 bps rate cut is working through the system

Portfolio inflows to EMs have resumed and EM currencies have appreciated

Early signs of revival in May/June subdued in July due to renewed surge in Covid-19 cases

High-frequency indicators have levelled off after resumption of local lockdowns

Producer sentiment on input prices remains muted

Supply chain disruptions persist with implications on prices of food & non-food items

Protein-based food items could be a pressure point

OMOs, Twist, LTRO & TLTRO measures being sterilised via reverse repo ops
Source: CNBCTV18
RBI Grade B Cracker Course 2020
Get Video Lectures, Study Notes & Mock Tests for Phase 1 & Phase 2.
Use Coupon Code MY20 to Avail 20% Discount