Read the success story of Chowdam Siva, who took seven years to accomplish his dreams. His journey remains difficult due to financial issues at home, but instead of giving up, he motivated himself. He says you are the only person to fight your problems, don't expect anything from others.
Chowdam Siva Krishna's Inspiring Story
Got Central bank of India PO and attended 9 interviews (3 of IBPS PO and remaining of SBI PO and Manipal PO). I completed my B.tech in 2013, after that I started my preparation for GATE but for some reason, I abruptly stopped my preparation. After that my aim shifted towards getting a govt. job (through SSC or banking). I didn't join any coaching center as I was overconfident at that time. I only had a 2G mobile. I downloaded some PDFs from some bank websites and used to connect the mobile to my laptop. I used to read those PDFs only.
For quant, I used RS Agarwal in 2013, a conventional book, for remaining I used to solve model papers. I wrote my first exam RRB PO in September 2013 but couldn't qualify for the interview. In 2014, I got to know about mock tests before that I bought some model papers and prepared from those. I have appeared in 9 interviews so far from 2015.
---
Oliveboard Bolt series E-books:
---
Apart from my preparation, I had one bad experience in 2017-18. I am the only son of my parents. My father's income was only Rs. 6000 (before my b.tech his income was around Rs. 12000). In December 2017, my father had sudden stomach pain. After taking him to the hospital, we got to know that he has some serious gall bladder infection, and he needed the operation in 48 hours. The operation cost was Rs. 60,000, and at that time we had only Rs. 13000 at our home. That day I cried alone in the hospital. I shared my situation with my friends and they helped me in collecting the remaining amount.

I stayed almost 3 weeks in the hospital, few relatives came and went but no one helped me because they have their own problems. I have no right to blame them. This experience changed my perception of life. It taught me that "you are the only person to fight your problems, don't expect anything from others".

On 20th May, when the result came, I felt very happy after seeing this line, "we are glad to inform you…..you are provisionally alloted for CENTRAL BANK OF INDIA". After this news, everybody who discouraged me while preparing wished me congratulations and told "we knew you will get a job one day. I appeared in 3 IBPS PO interviews so far.
Every time I was getting +13 +12 marks above from the written cutoff but my interview score was always less from the cutoff but this time I got a +1 mark from the written cut-off but my interview went very well and got 78/100 in the interview and got a selection.
---
DOWNLOAD THE OLIVEBOARD APPFOR ON-THE-GO EXAM PREPARATION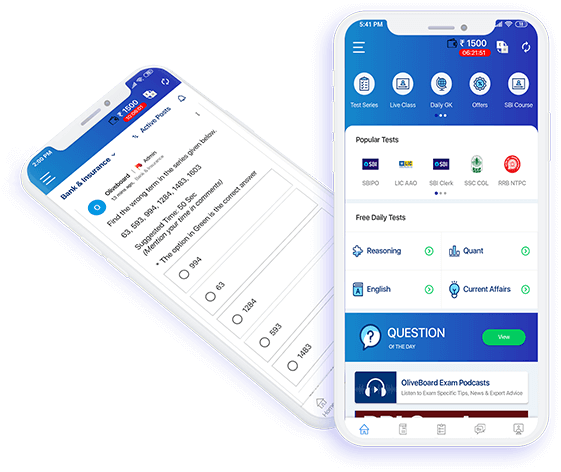 Video Lessons, Textual Lessons & Notes
Topic Tests covering all topics with detailed solutions
Sectional Tests for QA, DI, EL, LR
All India Mock Tests for performance analysis and all India percentile
General Knowledge (GK) Tests
Free videos, free mock tests and free GK tests to evaluate course content before signing up!

---
Preparation Strategy Of Chowdam Siva Krishna
GA: I followed daily Oliveboard Monthly news, MCQs. And I also took help from a few different websites for monthly capsules.
English: Please make a habit of reading daily, because the flow will come to you only by reading editorials, articles.
Quant: First, strengthen your basics by referring to Oliveboard videos from YouTube. And after that practice a lot of questions from mock papers.
Reasoning: Clear your basics for syllogisms, inequalities, directions, then analyze the mock tests. It will help you to score more in this section. Practice at least 2 puzzles daily.
For Expert Help on Reasoning topics, Register here
I used to plan a weekly schedule in this way because focusing one thing at a time makes things clear.
Monday, Tuesday, Wednesday only quant section, and on Thursday, Friday I read Reasoning, Saturday for English grammar, practicing essays, and letter writing. And every day I devoted some time to GA and reading English newspapers. On Sunday, I used to attempt a mock test and used to analyze it. Write mock tests before 10 days of the exam regularly (daily 2 prelims or 1 main mock test on an alternate day basis, and 1 whole day for Mains Analysis because it takes time) and the flow is important.
Mock tests: Go for Oliveboard or Practice mock. The analysis is very important, only writing mock tests will not improve your score.
Register to Take a Free All India Test
How Chowdam Siva Dealt With His Exam Stress
For banking aspirants, stress is mainly due to 1. Insecure about the future 2. Comparisons made by relatives with others 3. Growing age 4. Marriage/love 5. Financial-related/current job pressure if you are working in a Pvt. Company And there are so many other reasons from which we create stress around ourselves. But these problems make you stronger day by day.
They will teach you what you are capable of. Generally, if I over stress for any reason, I drink a lot of water (because the brain needs a lot of oxygen when you are under stress, so drink a lot of water and eat some fruits and go for a walk) and music is also a stress-buster in depression. From the very next day, I start freshly again. Make small targets so that you build your confidence level after completion of every small task.
Don't follow a lot of sources because they make you confused. And one more big distraction is mobile and TV. Stay away from social media like WhatsApp, FB ( some of us remain under control) but most of us get addicted to these apps. So be careful about distractions. You only have to be involved in your preparation which will make you happy.
Thank you.
Get Free Ebooks
You can download 200+ ebooks important for SSC, Banking, Railway, Insurance, and other government exams here.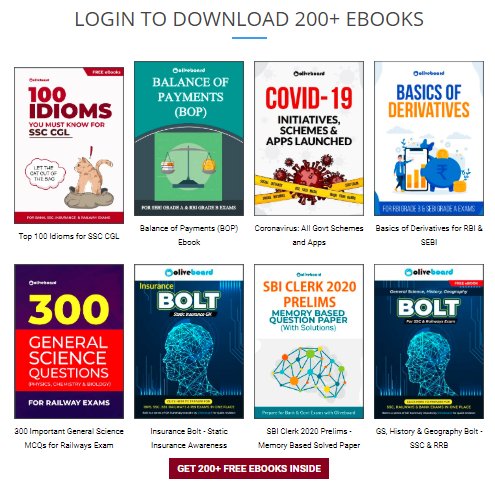 ---
Recommended Readings
---