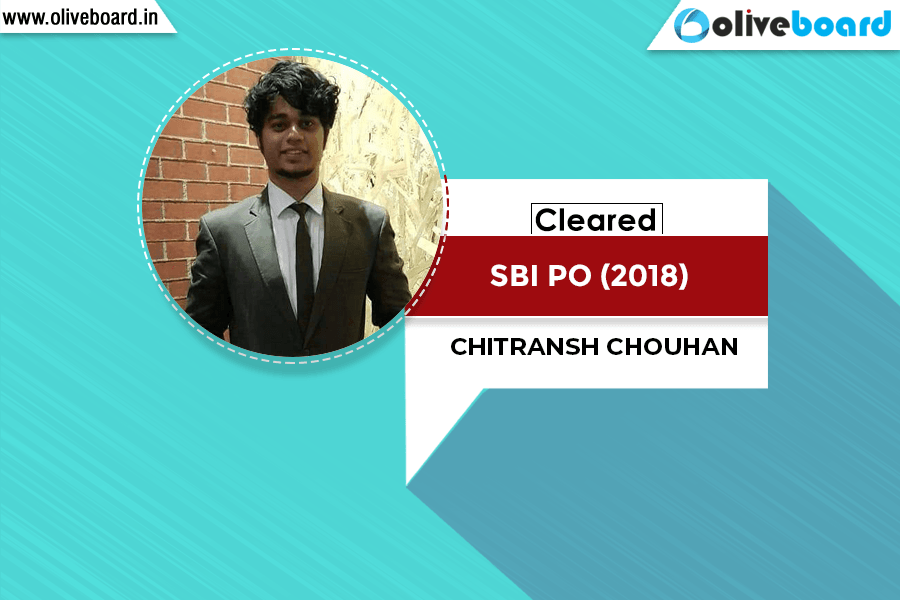 Read the Success Story of Chitransh Chouhan in his own words below to know his preparation strategy for success.
"If you really want to do something, you'll find a way. If you don't, you'll find an excuse."
Similarly Chitransh found his way and left no stone unturned to achieve his dreams.
Introduction:
I was an engineering graduate of batch 2018, which implied I was a fresher with respect to SBI PO 2018 process and naturally it was my very first attempt. I had little to no time to prepare from scratch and no clue about the exam pattern. Also, the process started hot on the heels of my University examinations, with a gap of only one month. So I reckoned it was time to rely on my strong points and polish them via rigorous mock tests. After googling "Best SBI PO test series", 'Oliveboard' popped up a lot of times. Eventually, I opted for Oliveboard mock test series for both SBI PO prelims and mains.
Take Oliveboard's Free All India Test here
Preparation Tips:
Quants:
I didn't have good speed in Quantitative Aptitude section, since I didn't have time to practice a bulk of questions and improve my speed. So my first reaction to quantitative section was to pick out easily doable questions as quickly as possible and solve them with above 90% (if not 100%)  accuracy. Moreover I would like to advise aspirants to practice variety of questions to be well prepared for the exam. Oliveboard mock tests were extremely helpful for me to prepare for the exam within limited time period.
Reasoning:
Same strategy goes with the reasoning section, where I picked out easy puzzles and solved them first. The selection of questions here is important and should be fast enough. Again practice, practice and practice is the only solution to all the problems.
For Expert Help on Reasoning topics, Register here
English:
About my strategy, English section was my strength, so I always tried to score high in that section and hold my own in other sections, just to land me good scores and  get me through high cut offs. Having said that I would like to advise all the aspirants to read some good newspapers daily and watch news channels which will help to improve the English section. You can also refer Oliveboard New Pattern English tests which are especially designed to improve your English section.
GK/GA :
Try and over last 6 months data from various sources and keep making notes so you can revise at the last moment.

Interview:
Be confident and dress elegantly.Most important be honest during the interview process and you are good to go.
Role of Oliveboard:
Oliveboard mock tests' difficulty level and experience was on par with the actual examination. The test series really lets you know about your weak areas, gives detailed solution for every question and every other detail you might want to know about your performance. It was extremely helpful for me to prepare for the exam.
I wish all the very best to all the aspirants.
That's all from us. We hope you liked the Success Story of Chitransh Chouhan. Take SBI PO 2019 Test Series and start your preparation now!
Take Oliveboard's Free All India Test here
Read more success stories.
Be a part of our Telegram community of goal-oriented aspirants who aim for just one thing and that is- SUCCESS!
How to Join Oliveboard Telegram Group
Step 1: Install Telegram in your Mobile Phones / Open Telegram on your desktop
Step 2: Search obbanking or click Here for Web Version
Step 3: Join the Group
Step 4: Start Posting and make the most of it!
  Oliveboard Live Courses & Mock Test Series