Read the success story of Samiksha Agarwal who tried until she succeeded in clearing RBI Grade B 2021. Here in this blog post, she shares with us how she managed to successfully clear the exam. Read on to get a better overview of her subject-wise and phase-wise preparation strategy.
Topper Strategy & Success Story of Samiksha Agarwal
Read on to understand the detailed preparation strategy of Samiksha Agarwal in her own words.
Introduction & Native State
I am Samiksha Agarwal. I was born and brought up in Agra, Uttar Pradesh. I always aspired to pursue my career in public services.
My preparation journey has been a roller coaster ride. With lots of ups and downs, I kept taking up multiple exams, failing, getting up again, failing again, till I finally managed to pave my way to become an RBI Grade B Officer.
---
RBI Grade B Preparation Strategy
My Approach for Phase 1 Exam
General Awareness (GA)
I referred to the Affairscloud and Oliveboard for my GA preparation. I majorly focussed on the last 3 months GA prior to the phase 1 exam and gave a cursory reading to another 3 months of current affairs prior to 3 months. REVISION IS THE KEY!
---
Quants, Reasoning and English
As my basics were clear, I jumped on to the practice mode. I used daily quizzes posted on various platforms. However, if you are a newbie, it becomes pertinent to first clear your basics.
For eg: You can go through the video lessons available on various online platforms for building your fundamentals for Quants, Reasoning and English.
After you have finished covering the basics for these phase 1 subjects, you can move on to taking mock tests for phase 1.
---
My Approach for Phase 2 Exam
Economics & Social Issues (ESI)
Having prepared for the UPSC exam helped me a lot. I had my basics in place for the Economics & Social Issues (ESI) therefore I didn't prepare much for the static portion of ESI.
But for the aspirants who are starting from scratch should first clear their basics by reading NCERTs of economics (Class 11 & Class 12).
Subsequently, you can refer to any one of the sources mentioned here:
1. Indian Economy by Ramesh Singh
3. Mrunal Sir's handouts and lectures
4. Oliveboard's Complete Course
For the dynamic part (current affairs), again monthly capsules available on various online platforms came in handy. The focus should be on major government schemes, reports, indices.
PT365 released by VisionIAS for the economy and social issues would provide comprehensive coverage.
---
Finance & Management (FM)
Management: Let's first talk about management as it is static in nature. You should go according to the syllabus. You can take the help of the online coaching material study material for the same. Try to understand and make short notes of topics mentioned especially for the topics of Leadership, Motivation and their models, Corporate Governance etc. Questions asked from the management section are very basic in nature.
Finance: For finance, some portion would be covered in ESI sources too. Here also, your syllabus will come to the rescue. Go topics as mentioned in the syllabus and make your own notes. Affairscloud will cover finance related news too.
Reading newspapers daily is desirable keeping in mind the introduction of descriptive in phase 2.
English Descriptive: I think knowledge of ESI and reading the newspaper will help here. Stick to basics. Working on grammar and adhering to the word limit should sail you through this section.
---
Role of Oliveboard in My Success
I used Oliveboard for practising for the QRE daily quizzes.
I also took their mock interview. It was really an interactive session.
---
Tips for RBI Grade B Exam Aspirants
Everybody wants to be successful but only a few could achieve what they really wanted.
Because of the rat race of these competitive exams, a single failure can shatter the morale of a hard-working aspirant.
Here are some life-saving tips from my personal experience:
1. Always prepare for 3-4 similar exams (having overlapping syllabus or matching your interest) to land yourself in a better position. Precisely do not put all your eggs in one basket.
2. Be positive ( jo hota hai ache ke liye hota- though not always). But yes, even after failing, cry your heart out, get up and start studying with that same zeal again…yeh dil maange more!
3. Read, listen, watch not just the course material/syllabus related stuff but also movies, books, tedtalk. It will make you a better person.
4. Work hard in silence let your success be your voice ( jb dur dur se rishtedar call krenge).
Always remember good times are about to come. If you really want something to happen, the whole world conspires so that your wish comes true. So just keep working hard!
All the best everyone!
We hope that you were able to gain some useful insights from the success story of Samiksha Agarwal. Keep visiting Oliveboard for more such articles, preparation strategies, the latest government exam information and much more.
Download RBI Grade B Free Study Material PDF Here
---
RBI Grade B Online Course 2022 by Oliveboard
If you are someone who is aiming to crack RBI Grade B Exam and are confused about how to go about the preparation, Oliveboard has come up with RBI Grade B Online Cracker Course to help you ace the RBI Grade B exam for serious aspirants. Read below what is included in the Course.
Oliveboard offers the best RBI Grade B Online Coaching that can help you prepare comprehensively for the exam. Oliveboard's RBI Grade B Online Course 2022 will be your one-stop destination for all your preparation needs.
Go through free RBI Grade B study materials PDFs and take up RBI Grade B Free mock tests online.
1. Course Details
RBI Grade B Cracker is designed to cover the complete syllabus for the 3 most important subjects: GA for Phase 1 and Objective + Descriptive portions of ESI + F&M for Phase 2 exam.
Not just that, it also includes Mock Tests & Live Strategy Sessions for English, Quant & Reasoning for Phase 1. The course aims to complete your preparation in time for the release of the official notification.

1.1. Features:
RBI Grade B 2022 Crash Course Offerings
Video Lessons & Study Notes

Mock Tests

90+ Video Classes for ESI & FM

LIVE + Revision Sessions for ESI & FM

10+ Descriptive English Classes

Detailed Study Notes ESI & FMCurrent Affairs Capsules & Past Year Papers

6 Descriptive Mock Tests (ESI & FM)

30 Objective Mock Tests (15 – ESI & 15 – FM)

10 Full-Length Mock Tests for Phase 1

Topic Tests for each chapter of ESI & FM (1 Markers & 2 Markers)
*We will get your ESI & FM descriptive answers evaluated!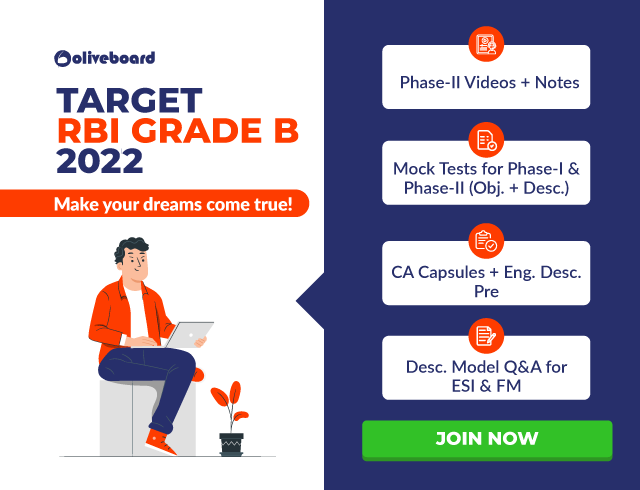 ---
1.2. How to enroll for the RBI Grade B Online Course 2022?
Sign up or log in using the link given below. You will be redirected to the payments page. Read the course offerings and subscribe to RBI Grade B 2022 Cracker Course.
Now that you are aware of the RBI Grade B Online Classes, why wait?
Get Started with RBI Grade B 2022 Online Course comprising Video Lessons, Detailed Study Notes & All-India Mock Tests for Phase 1 & Phase 2.
Use Coupon Code 'LAUNCH' & Get 20% off on RBI Courses
---
Connect with us on
  Oliveboard Live Courses & Mock Test Series