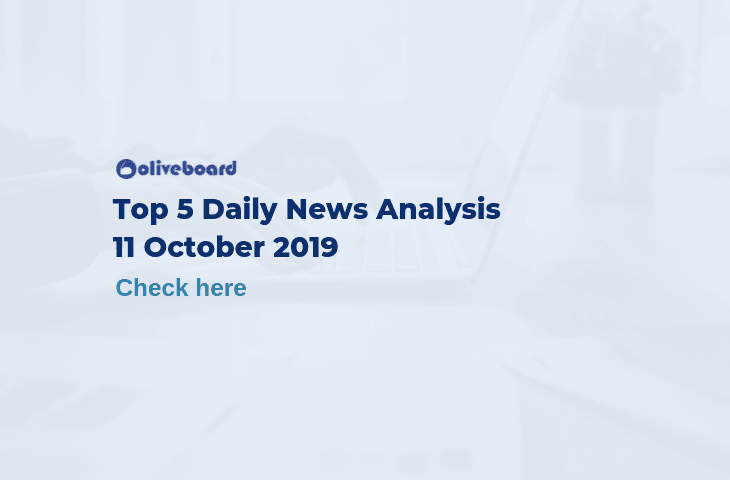 Welcome to the new day! and we are back with the Top 5 Daily News- 11 Oct 2019 covering the fresh updates and major headlines. This blog is written keeping in mind the utility with the upcoming competitive examinations. Prepare for exams like RBI Grade B, IBPS PO, IBPS Clerk, SSC CPO, LIC Assistant, etc. For more advanced exam practice, live video sessions, and live practice sessions, join Oliveboard Edge.
Join Oliveboard and learn from the Experts
Top 5 Daily News- 11 Oct 2019
Rajnath Singh Holds talks with French Counterparts
The 2nd edition of Annual dialogue between India with France took place. The talk is conducted in Paris, France.
The current defense secretary for India is Ajay Kumar.
The 2 nations agreed to expand the scope and complexity of existing regular bilateral joint exercises: SHAKTI, VARUNA, and GARUDA.
SHAKTI – Indian Army
VARUNA – Indian Navy
GARUDA – Indian Air Force
'Garbage Cafe' opened in Ambikapur in Chhattisgarh
Garbage cafe has been opened in Ambikapur city of Chhattisgarh. This will be run by Ambikapur Municipal Corporation.
This is opened with the initiative of providing free food to poor people and rag pickers in exchange for plastic waste. 1 kg of plastic will earn them lunch and 0.5 kg of plastic waste will give them Breakfast.
The collected plastic waste would be then turned to granules which will be used in the construction of roads.
Ambikapur is Chhattisgarh's first Dustbin free city. The city has also ranked on 2nd position in the cleanest city ranking by Swachhta.
Kerala signs MoU with Bahrain
Kerala Startup Mission (KSUM) an initiative by Kerala Government for supporting the startup ecosystem in the state, has tied up with Bahrain Economic Development Board (EDB) for the support of technology startups.
The MoU would help promote innovation in their respective markets in financial technology, information and communication technology (ICT) and related emerging technologies.
KSUM CEO – Saji Gopinath
Bahrain Currency – Bahraini Dinar
Bahrain Capital – Manama
Singapore will ban ads promoting sugary drinks in a bid to tackle Diabetes
Singapore has decided to ban ads promoting unhealthy sugary drinks in a bid to tackle diabetes, which will make it the first country to do so.
Product deemed 'less healthy' will now have to display labels grading their nutritional and sugar content.
Additionally, the most unhealthy ones will be barred from being broadcast on any channel.
It will continue to explore the possibility of Sugar tax or ban.
Nobel Prize for Literature 2018 and 2019 announced
After not announcing the Noble Prize in 2018 for Literature, the committee has announced a Nobel in this category in 2019.
The recipients for the awards are as follows.
Olga Tokarczuk (2018) – She is a Polish Novelist and Activist. She won the award for Flights – "for a narrative imagination that with encyclopedic passion represents the crossing of boundaries as a form of life." She was awarded the Nobel Prize in Literature 2018 category.
Peter Handke (2019) – He is an Austrian Author. He was awarded the Nobel Prize in Literature category 2019 "for an influential work that with linguistic ingenuity has explored the periphery and the specificity of human experience."
Watch the complete News Analysis with Abhishek Sir here.
That is all from us in today's blog for Top 5 Daily News- 11 Oct 2019. For more fresh updates and Exam related contents keep following this space.
Prepare for Bank, SSC, Insurance, Railway Exams with Oliveoard Edge
Also Check: