Union Public Service Commission Civil Services Exam or UPSC CSE is a national level exam and is considered as one of the toughest examinations of UPSC. UPSC is a central committee that holds this exam to recruit the candidates for the post of IFS, IAS, IPS, and other groups A and B posts. Preparing for UPSC is a tough task and it is vital for aspirants to have good notes from which they can prepare. In this article, you can download UPSC NCERT notes PDF & NCERT notes for UPSC PDF download for free.
Laxmikant Polity Notes UPSC PDF – Indian Polity Notes PDF
You can download revision notes for UPSC for Polity here. These PDFs and eBooks are available for free. You need to register here and get unlimited access for 500+ ebooks.
The links for Indian Polity notes for UPSC PDF is given below.
| | |
| --- | --- |
| Topic | Download Link |
| Laxmikant Polity Notes – Chapter 1 | Click Here |
Sneakpeak into the eBook – NCERT Notes UPSC PDF
The sample image for the polity notes UPSC PDF, UPSC NCERT Notes PDF download is given below. You can also checkout practice questions for UPSC Exam below.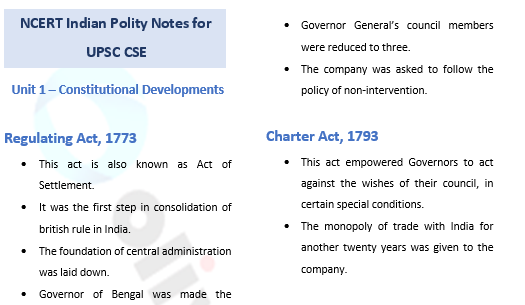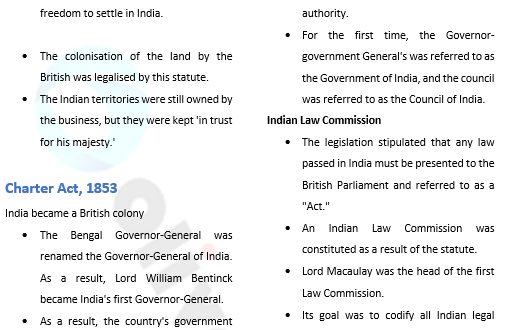 Regulating Act 1773 – UPSC
This act is also known as Act of Settlement.
It was the first step in consolidation of british rule in India.
The foundation of central administration was laid down.
Governor of Bengal was made the Governor General of Bengal, four-members council was formed to assist him.
Governors of Bombay & Madras became subordinates to him.
Supreme Court Calcutta was estb. In 1774, had one chief justice and 3 judges.
SC was independent of the Governor General and the council.
MCQ for UPSC Prelims PDF – Polity MCQ UPSC
Supreme Court at Calcutta established under which of the following act?
A. Regulating act of 1773
B. Pitt's India act of 1784
C. Charter act of 1793
D. Charter Act of 1813
2. Which of the following Act of British India designated the Governor-General of Bengal?
A. Charter Act of 1793
B. Pitt's India Act of 1784
C. Regulating Act, 1773
D. Charter Act of 1813
3. Which of the following British Act introduces Indian Civil Service as an open competition?
A. Charter Act of 1793
B. Charter Act of 1853
C. Charter Act of 1833
D. Charter Act of 1813
Consider the following statements:
1. The Constitution of India defines its 'Basic structure' in terms of federalism, secularism, fundamental rights and democracy
2. The Constitution of India provides for 'judicial review' to safeguard the citizens' liberties and to preserve the ideals on which the Constitution is based
Which of the statements given above is/are correct?
A. 1 only
B. 2 only
C. Both
D. None of the above
Subjectwise NCERT Notes for UPSC PDF Download
Apart from polity, you can also download other subject notes in PDF for UPSC. These will be updated regularly. You can also check here to follow daily, weekly and monthly Current Affairs for UPSC.
History Notes UPSC Exam
To be updated soon.
Economy Notes UPSC Exam
To be updated soon.
Conclusion
Check this blog regularly to get latest eBooks and PDFs for UPSC Civil Services Exam. You can download many eBooks from the link given above. You can also check out UPSC Syllabus and exam pattern in detail from Oliveboard website. See you soon. All the best!

The most comprehensive online preparation portal for MBA, Banking and Government exams. Explore a range of mock tests and study material at www.oliveboard.in
  Oliveboard Live Courses & Mock Test Series