UPSSSC PET 2021 notification is now out. Students who have already registered for UPSSSC PET 2021 must be fully updated about their upcoming exam, including the UPSSSC PET job profile and UPSSSC PET salary. UPSSSC PET exam is held to select applicants for further examinations for recruitment to Group C category posts for various positions. Candidates who pass the UPSSSC PET will be eligible to attempt the test for Group C jobs, depending on the number of vacancies available and their performance in the UPSSSC PET. The last date for the UPSSSC PET 2021 application is 28 June 2021.

A short glimpse of UPSSSC PET Salary 2021
The UPSSSC PET Exam announcement, which was released on 24 May 2021, included information on UPSSSC PET Salary. The details contain the entire data on the pay scale, grade pay, and other relevant information regarding the UPSSSC posts.
According to the official notification, the UPSSSC PET exam is held for posts with a salary of more than PayScale category 1- 5200 to 20200, Grade Pay Rs 1900 and less than Pay Scale 2- Rs 9300 to 34800, Grade Pay Rs 4600. Aside from the basic pay, there are different allowances and incentives such as Dearness Allowance, house rent allowance, and travel allowance, which results in an in-hand income of Rs 3500.
UPSSSC PET Pay Scale (According to roles)
The following is the wage structure for various UPSSSC PET Job Profiles:
Lekhpal's earnings: Rs 21700-69100 with grade pay of Rs 2000
Ladies Medical Practitioner: Rs 21700-69100, grade pay Rs 2000, Rs 19900-63200 plus grade pay of Rs 1900
Agricultural Junior Engineer: Rs 21700-69100. grade pay Rs 2000 Rs 19900-63200 plus grade pay of Rs 1900
Junior Assistant: Rs 22900-24900, plus a yearly increment of Rs 2000
Internal Accounts: Rs 29200-92300, General Purposes of Rs 2800
Auditor: Rs 29200- 92300, plus Rs 2800.
Sugarcane Supervisor: Rs 25500-81100, with Rs 2400 grade salary.
Forest Guard: Rs 19900-63200, with grade pay of Rs 1900.
X-ray Technician: R. 21700-69100 with grade pay of Rs. 2000
Laboratory Technician: Rs 29200-92300 with grade pay of Rs 2800
Also Read: UPSSSC PET Exam
UPSSSC PET Salary: Benefits & Allowances
The following are the benefits and allowances for UPSSSC PET positions:
Allowance for Dearness
Leaves for Study
Medical Assistance Telephone/Mobile Connection Pension Internet Access Travel Allowance
Household Rent Allowance and a variety of other advantages
UPSSSC PET Job Profile
As previously stated, the UPSSSC PET exam is used to screen candidates for various Group 'C' positions. Candidates who pass the PET are required to take multiple tests for Group 'C' positions. As a result, after passing the UPSSSC PET exam, aspirants must serve in Group 'C' postings. Among the several positions in Group 'C' are:
Junior Assistant
Clerk-Stenographer
Cane Supervisor
Computer Operator
Several Lower Subordinate Services
Every one of these positions is highly regarded and has a great deal of influence to impact people's lives in a variety of ways. The job description for these positions is a mix of office and fieldwork, as you will be required to keep paperwork and go on inspections in your particular matters. Thus, the UPSSSC PET exam gives applicants the opportunity to work in a stable and reputable position where there are several opportunities to benefit society.
Key information for UPSSSC PET Examination 2021
For all of the Group B or C positions within their Circle, UPSSC will conduct a preliminary Eligibility Test.
The PET result based on Percentile will be released by the UPSSSC exam.
The PET score applies for a year following the publication on the official website of the findings.
For various posts based on their PET scores, applicants will be called to the Mains Exam. For future recruitment tests to be announced, PET results will be valid.
The UPSSC then invites applications for groups such as 10th, 12th, graduates, professional and engineering courses.
Hope you liked reading the article! All the best for your upcoming attempt.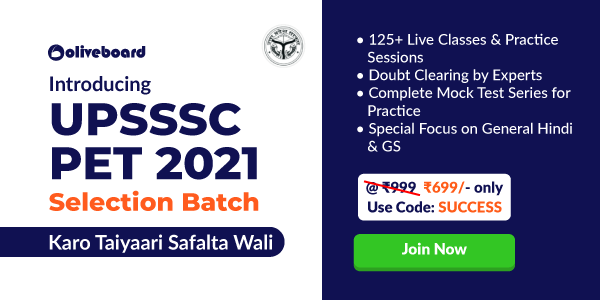 Also Read for more details: UPSSSC PET Syllabus and Pattern, UPSSSC PET cut-off
Frequently asked questions
How much does UPSSSC PET pay to Lekhpal?
According to current data, a lekhpal in Uttar Pradesh makes between Rs 21700 to Rs 69100 per month.
What career roles are offered through UPSSSC PET?
Candidates who pass the UPSSSC PET exam are allocated to jobs like Lekhpal, computer maintenance and operator, Forest Guard, and XRay technician, among many others.
What permits can be provided to approved candidates in the UPSSC PET system?
A range of requirements, such as study leave, loan allowance, travel allowance, Internet access, etc., are provided as well as a basic salary.
Where is the UPSSSC PET Examination deadline?
The last application deadline is June 28, 2021, for UPSSC PET.
How do UPSSSC candidates qualify for the PET starting wage?
According to the new government standards, the qualifying applicants have a monthly income of Rs 35000/- subjectively in their description.
What exactly is PET?
PET, or Preliminary Eligibility Test, is a common exam that will be administered online by UPSSSC for Group C jobs in several departments of the Uttar Pradesh government. It is an attempt by the government to replace many exams with a single exam whenever openings arise. As a result, students will only have to fill out the online application once for different positions in government departments.
  Oliveboard Live Courses & Mock Test Series