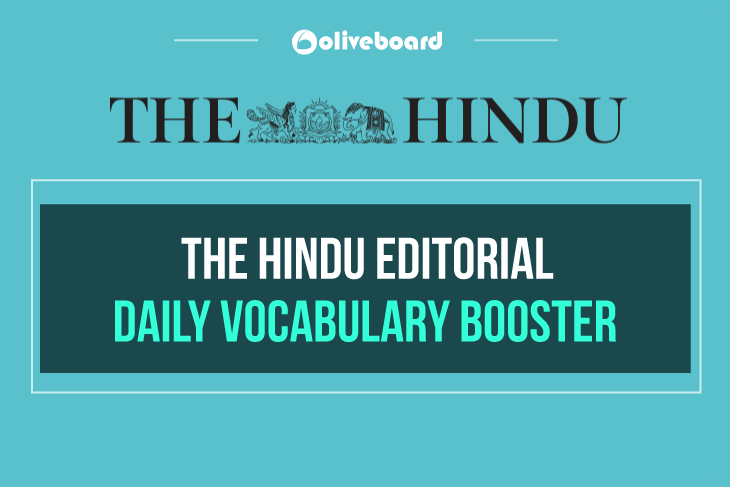 Vocabulary based questions are often asked in all Banking and Government Exams. So we at Oliveboard will be providing you with a daily dose of vocabulary to help you with overcoming your struggle in this section. You need to go through it daily to see a marked improvement in your English vocabulary. We hope it will help you in the upcoming SBI PO, SBI Clerk, RRB JE, NIACL AO, FCI, CWC, LIC AAO, SSC, NTPC exams as well. The words in the Daily Vocabulary Booster 22 May 2019 are taken directly from the editorial of the Hindu Newspaper.
The Hindu Newspaper is considered the Bible by the various exam aspirants as it has the best unbiased views on various current news and happenings in the world. Also, it helps immensely if you are looking for daily dose of English reading and building your English vocabulary. So, we at Oliveboard present to all our viewers and Exam aspirants a daily dose of difficult words with their meanings, synonyms and the correct usage in this blog of the Hindu Editorial Daily Vocabulary Booster 22 May 2019.
Take more vocabulary tests here
Start Preparing for SBI Clerk 2019 with a Free Oliveboard Mock Test
The Hindu Editorial Daily Vocabulary Booster 22 May 2019
Words
Meanings & Synonyms
Usage
Disengage

Remove, Detach, Disentangle

I

disengaged

his hand from mine.

Exuberance

The quality of being full of energy, excitement, and cheerfulness;

Ebullience

She is an

exuberant

dancer.

Gross

Very obvious and unacceptable;

Flagrant, Blatant, Glaring, Obvious

A person's

gross

income is the money they earn before tax is deducted from it.

Populist

A person, especially a politician, who strives to appeal to ordinary people who feel that their concerns are disregarded by established elite groups

The

populist

measures by the Government such as providing farm loan waivers won't work here.

Prejudice

Preconceived opinion that is not based

on reason or actual experience;

Preconception

Laws against racial

prejudice

must be strictly enforced.

Prudent

Acting with or showing care and thought for the future;

Wise, Well judged, Judicious, Sagacious

No

prudent

money manager would authorize a loan without first knowing its purpose.

Quell

Put an end to, put a stop to,

End, Finish, Get rid of, Crush

Extra police-force were called to

quell

the disturbance created by the violent crowd.

Rapporteurs

A person who is appointed by an

organization to report on the proceedings of its meetings

The UN

rapporteur

were banned to report in the state of J&K.

Sanity

The ability to think and behave in a normal and rational manner; sound mental health;

Soundness of mind, Mental health

I began to doubt my own

sanity

.

Sovereignty

Supreme power or authority;

Jurisdiction, Supremacy, Dominion, Power

The

sovereignty

of the Parliament cannot be undermined.

Uncertainty

The state of being uncertain;

Unpredictability, Unreliability

Times of

uncertainty

and danger prevail after the wars end.
Start Preparing for SBI PO 2019 with Free Oliveboard Mock Test
For more The Hindu Editorial Daily Vocabulary Booster Click Here.
So, this was from us in this article of The Hindu Editorial Daily Vocabulary Booster 22 May 2019. Go through The Hindu Editorial Daily Vocabulary Booster 22 May 2019 very thoroughly and you will see marked improvement in your vocabulary. We suppose The Hindu Editorial Daily Vocabulary Booster 22 May 2019 has helped you in learning new words for today and added to your vocabulary. You can visit Oliveboard's Discuss Forum to interact with fellow aspirants of Banking and Government exams and learn from your peers.
You can access Oliveboard's Mock Tests and other study materials from your phone. Download Oliveboard Mobile App and prepare on the go! 
If you have any doubt in respect of Banking and Government Exam, ask directly from the faculty on Oliveboard Telegram Group. Install Telegram and join obbanking. Be a part of the Telegram community of goal-oriented aspirants who aim for just one thing and that is- SUCCESS!
How to Join Oliveboard Telegram Group
Step 1: Install Telegram in your Mobile Phones / Open Telegram on your desktop
Step 2: Search obbanking or click Here for Web Version
Step 3: Join the Group
Step 4: Start posting and make the most of it!