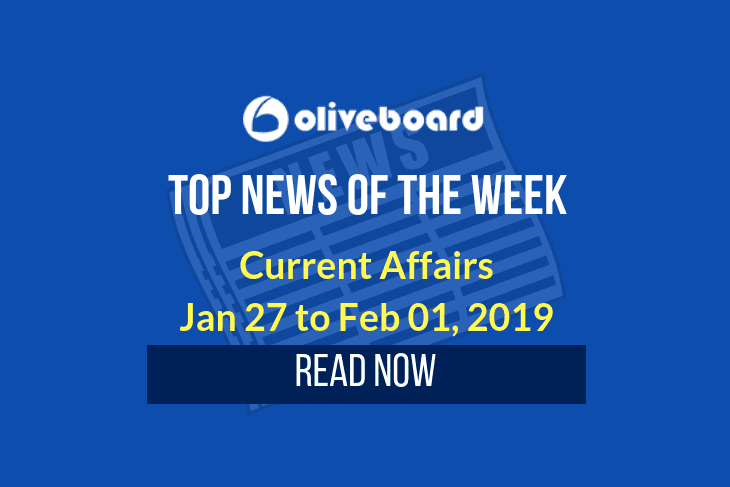 In this blog, All the Top Weekly Current Affairs – Jan 27 to Feb 01, 2019, for your General Awareness and Current Affairs preparation for Bank and Government exams
1) India needs a renewable energy policy to achieve 175 GW of solar capacity by 2022. The CSE report urged an increase in the share of dispersed renewable generation besides promoting 'smart grids' that use control systems & info tech. for efficient delivery.
2) Japan's Naomi Osaka won her maiden Australian Open Grand Slam Singles title at Melbourne. She defeated Czech Petra Kvitova in the final. She becomes the first Asian player to achieve the world number one ranking.
3) Indian Railways has named the indigenously manufactured Train 18, India's first semi-highspeed train as Vande Bharat Express. It is set to run between Delhi and Varanasi at a maximum speed of 160 kmph.
4) Novak Djokovic defeated Rafael Nadal to win his 7th Australian Open Men's Singles title at Melbourne. He surpassed American legend Pete Sampras to elevate himself to outright third on the all-time Grand Slam title leader board.
5) Former Defence Minister and Anti-Emergency fighter George Fernandes passed away in New Delhi at the age of 88. He founded the Samata Party and was elected to the Lok Sabha 9 times and once to the Rajya Sabha.
6) World Steel Association's report estimates, India's crude steel production in 2018 stood at 106.5 MT, up by 4.9% from 101.5 MT in 2017, which makes India replace Japan as the world's 2nd largest steel producing nation. Japan produced 104.3 MT in 2018.
7) India improved its ranking on a global corruption index in 2018 to 78th position with a score of 41, out of a list of 180 countries. Denmark tops the list while Somalia, Syria find themselves at bottom.
8) On the findings of B.N. Srikrishna panel that Chanda Kocchar indeed violated the bank's code of conduct, ICICI Bank terminated the contract of former managing director and CEO.
9) The government revised its forecast for GDP growth for 2017-18 to 7.2% from the earlier estimate of 6.7%. CSO also revised the nation's actual growth rate in 2016-17 to 8.2% from 7.1% while nominal GDP has been revised upwards to 11.5% from 10.8%.
10) According to the NSSO, the unemployment rate surged to over 6% in 2017-18. The unemployment rate stood at 7.8% in urban areas as compared with 5.3% in rural areas while the proportion of the population working or seeking jobs, declined to 36.9% in 2017-18.
11) Piyush Goyal presented the 2019 Interim Budget. full tax rebate for taxable income upto Rs. 5 lakh for Individual tax payers, Rs. 3 lakh crore budget allocation for Defence, Gratuity limit has been increased from Rs. 10 lakh to Rs. 30 lakh, small farmers who have less than two hectares will get a support of Rs. 6,000 p.a., etc. Read the details here

Check More GK and Current Affairs Material