Are you a banking aspirant? Is landing up a job in a well renowned bank is your dream? But well, if you don't know how and where to start from, we at Oliveboard are here to help you out with everything that you need to know about the banking examinations. Take a brief look at the following:-
Find a profile that is suitable for you
Varying on job profiles, salary, and eligibility criteria, a couple of positions are offered . They are:
Stream : So, one of the primary things to be done would be to find a suitable job profile and don't forget to check whether you completely fulfill the eligibility criteria (for example, only engineers of a few particular streams are eligible for SO (IT Officer) post and only MBA (Majors in Marketing) are eligible for SO (Marketing Officer). So it is advisable to take proper care of eligibility criteria
Age Limit and Relaxation :- Please check the age limit carefully before applying. Also in general, age limits of reserved candidates (SC/ST/OBC) are always relaxed, so check carefully for that too.
Job Profile : You must know what you are signing for. While the job of an IT Officer in bank involves a lot of technical work, as a SBI Junior associate, you are expected to travel outdoors and make calls to prospective customers. Similarly, some of the job profiles in Railways RRB are not considered very suitable for females. Hence, it is extremely important to do your research about the job profile and responsibilities before you sign up for it or while applying.
2. Keeping a check on the upcoming bank examinations
It is of utmost importance that you keep yourself updated with all the major exams and their deadlines. Last minute applications might prove to be a hassle, so make sure you apply well ahead in time. Take a quick look at the following table for upcoming Banking examinations:-
3. Knowing the Game
So now that you know about which job profile suits you the most and the respective dates of various examinations, let's have a detailed look at the syllabus of the Banking examinations. As per the current scenario, say that if you study for one IBPS Exam, you will get reasonably competent to face the rest of the examinations as well like SBI, Insurance exams (LIC AAO), Railways etc. The modules are mostly same, the difficultly of the examinations however, can be varying depends upon which examination you are appearing for. Let's take a brief look into the common sections of banking examination syllabus:
Number Theory
Square Roots
Cube Roots
Fractions and Decimals
C.F and L.C.M
Simplification
Variation
Chain Rule
Ration and Proportion
Average
Ages
Boats and Streams
Clocks and Calendar
Mixtures and Alligations
Pipes and Cisterns
Time, Speed and Distance
Simple Interest and Compound Interest
Percentage
Profit, Loss, Partnership and Discounts
Mensuration: Area, Perimeter.
Analytic Reasoning
Direction and Distance
Analogy Test
Coding-Decoding Test
Odd Man Out
Series Test
Blood Relationships
Data Sufficiency
Data Interpretation
Syllogism
Visual Ability
Analogy
Synonyms
Antonyms
Analogies
Idioms and Phrases
Sentence Completion
Rearrangement
One word Substitution
Common Errors
Inappropriate usage of words
English comprehension
General Topics( Environment, Animals, Universe, Sports, Prizes etc)
Geography, History, Politics, Sports
Current Events
MS Office
Operating Systems
Computer Hardware
4. See where you stand : Take a "No Preparation Mock Test"
Before you start your preparation, take a mock test. Yes, , it is absolutely necessary to take up a "no preparation test". This is immensely helpful in identifying where you stand and detecting your weak sections or concepts so that you can work more hard on those topics. Once that you have taken up a no-preparation-examination, you are now ready to set off for your goal.
You can take a FREE Mock Test here for : SBI Clerk| SBI PO | IBPS PO | NABARD Grade A | SSC-CGL | Railways RRB
5.Devising the right strategy and Ready Steady Go!
Besides the obvious plan which is to Practice, Practice and Practice, the most important elements of your strategies that you must count upon are Time Management, Speed and Accuracy.
Try attempting the questions in the order of your strong section, followed by the difficult and time consuming ones. In this way, you would be able to go through all the questions atleast once.
Try not to waste too much time over one question. Practice over and over again to increase your calculation and reading speed.
Finally, keep yourself updated every day about the events and current affairs around you.
Revise all your syllabus topics before few days once again and focus more on weak topics that time.
Have faith in yourself. Team Oliveboard wishes you all the best!
DOWNLOAD THE OLIVEBOARD APP FOR ON-THE-GO EXAM PREPARATION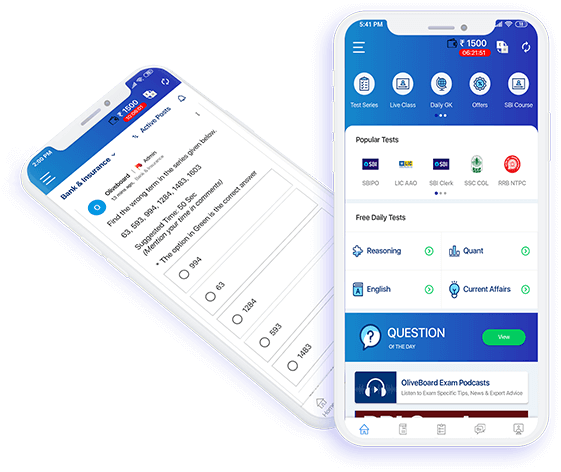 Video Lessons, Textual Lessons & Notes
Topic Tests covering all topics with detailed solutions
Sectional Tests for QA, DI, EL, LR
All India Mock Tests for performance analysis and all India percentile
General Knowledge (GK) Tests
Free videos, free mock tests, and free GK tests to evaluate course content before signing up!
For free mock tests, you can click here- SBI Clerk| SBI PO | IBPS PO | NABARD Grade A | SSC-CGL | Railways RRB

The most comprehensive online preparation portal for MBA, Banking and Government exams. Explore a range of mock tests and study material at www.oliveboard.in