Allahabad High Court Has Started the Online Application Process for Review Officer, and Assistant Review Officer from August 17, 2021. A total of 400+ vacancies are available. The Allahabad High Court will soon announce the Exam Date on its official website. With the help of a proper study plan, it is easier to crack this exam. In this blog, we will provide you with the Allahabad High Court RO/ARO exam Strategy, which will help you analyze how you can attempt the exam and what your preparation strategy should be.
Allahabad High Court RO/ARO Exam Pattern
The Allahabad High court RO/ARO Exam is divided into two parts i.e. Part I and Part II. There will be no interview for the selection process. The candidates have to qualify for both parts of the examination to receive the appointment letter as RO/ARO. The detailed selection process of RO/ARO is given below:
Part 1: Written Exam
The written exam of Allahabad HC RO/ARO Selection Process is an online-based written examination. Following are the key points of the exam:
The question paper will be bilingual (Hindi and English).
The maximum number of questions will be 200.
The candidates will get 1 mark for each correct answer. While there is no provision of negative marking and minimum qualifying marks in the written exam.
The duration of the written exam will be 180 minutes.
Part 2: Computer Knowledge Test
A candidate shall be provided a text in English of approximately 500 words on a computer which he/she shall be required to reproduce on the computer in the same format. The minimum marks to be obtained in Part-II for being eligible for final selection shall be 25 marks, while the maximum marks allotted to part 2 of Review Officer is 50 marks. The minimum typing speed required is 25wpm in English.
Note:
Marks to be deducted on each mistake (error)- Value of mistake (error): 01 Mistake (Error) = 0.1 marks
Left-out words and spelling mistakes (errors) will be treated as full mistakes (error).
Typing of Letters, Words, Characters, Symbols or anything other than the contents of passage as asked in question paper shall be treated as full mistake (error).
Words typed beyond the prescribed words limit shall be deleted / ignored.
Note: Both parts of the exam will be conducted simultaneously in a single shift with a gap of 15 minutes.
For a detailed syllabus- Click here
Allahabad HC RO/ ARO exam preparation Strategy 2021 – Subject-wise Book-list:
Part I-Written test
Subject
Prep Sources (RO/ARO books)
Current events of National & International importance
Standard Newspaper Monthly Current Affairs Magazine
Read the newspaper on daily basis, if you are not able to do so, then you can refer to some good monthly magazines.
Indian History and National Movement
Ancient and Medieval– School Textbooks – NCERT Notes
Modern – Spectrum (Rajiv Ahir)-NCERT Notes
Modern Indian History Notes National Movement – IGNOU B.A. Notes
Start from ancient history, make short and precise notes. Do not try to paste the entire book in your notes, it will be of no use before the exam.
Give proper time for revision.
Indian and World Geography
Class 6 to 12 NCERT Geography Books
World Atlas
Start from class 6th NCERT and proceed one by one.
Keep atlas handy, so that you could make a proper mindmap to memorize more effectively.
Indian Governance and Polity
Laxmikant
Do not start reading from the first chapter onwards. While reading Laxmikant try to read in sync. For example, if you are reading president then after that read about Vice-president. In this manner, you can understand the concepts easily.
Social and Economic Development
Basics of Indian Economics-School textbooks (Standard 9-12)
Read slowly-slowly, as understanding the concepts of economy demand proper attention.
Environmental Ecology, Climate Change, and Biodiversity
PD Sharma reference Book
Take help from Google, Youtube, as the concepts can be understood properly through pictorial representation.
General Aptitude
R. S. Aggarwal's book
Start from the basic chapters. The questions asked in the exxam will be of simple aptitude, so no need to worry much, just practice set of questions before appearing in the actual exam.
Special Knowledge regarding Education, Culture, Agriculture, Industry, Trade, Living and Social Traditions of Uttar Pradesh
Know your state- Uttar Pradesh by Arihant and Previous Year Question Papers
The book in itself is enough for this part, but if you want to read extra things, you can refer to other books and online sources as well.
General Science
Encyclopedia of General Science for General Competitions by Arihant Publications
Start from basics if you are a non-science background student. Reading slowly with the help of examples and pictures will help you immensely.
General Hindi
General Hindi by PN Pandey
Starting from the hindi grammer, try to understand everything on base level. You can refer to previous year paper questions, as it will help you to get a better picture of the kind of questions asked in the exam.
Part-II-Computer Knowledge Test
For Allahabad High Court RO/ARO part-II, one should practice typing on a daily basis. The minimum marks to be obtained in Part-II for being eligible for final selection shall be 25 marks, while the maximum marks allotted to Stage 2 of Review Officer is 50 marks. The minimum typing speed required is 25wpm in English. While practicing for the computer knowledge test, make sure to acquire good knowledge about computers, it will help you in the exam.
UPPSC RO/ ARO Complete Preparation Guide?
How To Download The Free ebook?
Click on the below-given download link. You will be taken to Oliveboard's FREE Ebooks Page. Alternately, you can download the Oliveboard Android App to access these on your smartphone.
Register/Login on to the Free E-Books Page of Oliveboard (It is 100% free, You just enter your valid email id and a password.
After Login you will be redirected to the dashboard as shown below. Click on the free ebooks section at the left botton as shown below: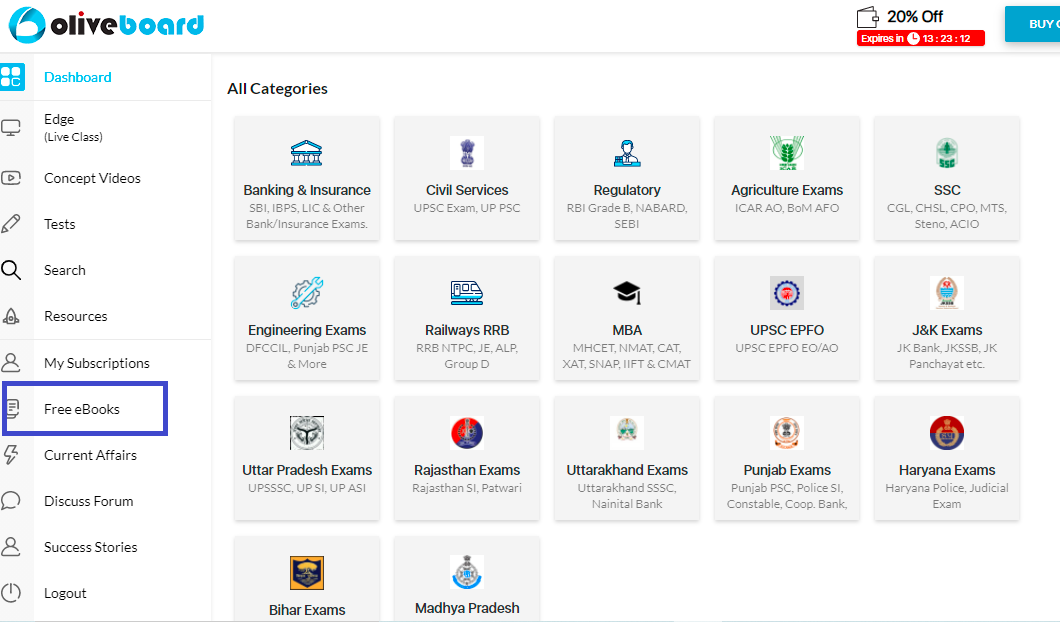 4. Now press Ctrl+F and type "Allahabad High Court RO.ARO Complete Preparation Guide"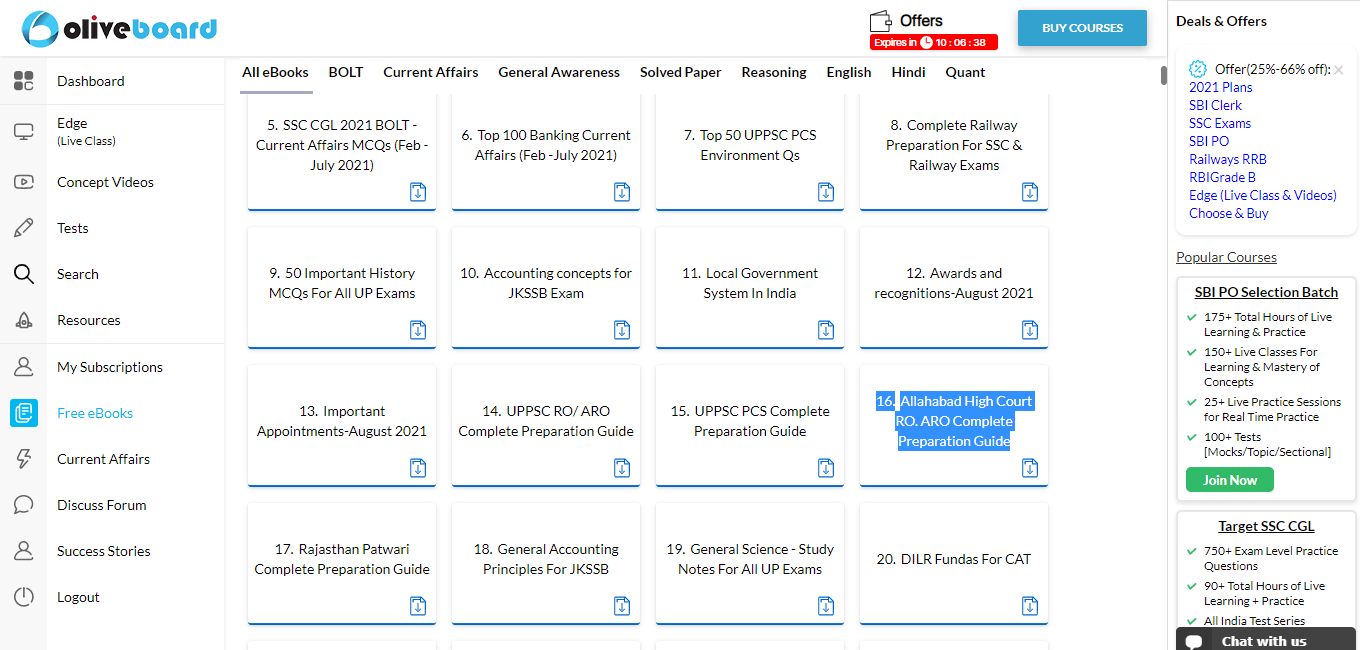 5. You will be able to download the ebook.
Step-by-Step Allahabad HC Preparation Tips For RO/ARO Exam
Step 1: Know the syllabus well
Step 2: Strengthen your basics
Step 3: Enhance Your Knowledge
Step 4: Revise everything you read
Step 5: Mock-Test Based Learning for Part-1
Step 6: Typing practice on a daily basis for Part-2
Allahabad HC RO/ARO Exam: General Tips and Tricks
Here are a few tips and tricks to clear the RO/ARO Exam.
Make Time Table- Many students apply for any exam but then do not study systematically. For systematic study you need a proper time table. So first of all prepare a time table covering all the topics asked in the exam.
Know the Syllabus: Before starting your preparation, you must have to go through the syllabus of the exam.
Read good books: There are plenty of books available in the market, but reading all of them will be of no use. Refer to the standard books only (read the list of books mentioned above). If you have notes from your coaching institute then refer to them for your preparation.
Read Newspaper: For current affairs (Paper-I) section, newspaper is a must.
Revision is the key: One thing that sets toppers apart is the habit of revision. For this exam, revision is the key, you have to remember whatever you are reading.
Mock Tests for Prelims: Join a mock test series for better understanding of the actual exam level, test series can immensely help you in acing this exam.
Previous Year Question Papers: Go through the previous year question papers, It will help you to get a better idea of the level of exam and the kind of questions asked. Check Allahabad High Court RO/ARO previous year question papers here.
Allahabad High court RO/ARO Course Highlights:
Number of Live Classes
250+ Live Classes
Medium of Instruction
Hindi
Course Start date
1st September 2021
Validity
Till the Exam
Other Highlights
– In-depth coverage of all the topics.
– Command on each subject after completion of the course.
– Exam-oriented questions.
– Special Focus on New Pattern Questions
Allahabad High court RO/ARO Selection Batch–Features:
250+ Live Classes For Concept Building
Latest pattern and syllabus based live classes
Medium of Instruction in live classes – Hindi
Complete Coverage of History, Polity, Geography, Economics, Science, UP State, Census, Schemes, In-depth coverage of CA of UP Specifi, Hindi, English, and Computer
Live Class provided by Renowned Faculties of Delhi
PDF Provided after each Live Class
Complete Notes, Current Affairs Notes and many more
Frequently Asked Questions (FAQs)
When will Allahabad High court RO/ARO take place?
The Allahabad High court RO/ARO exam date is yet to be announced, keep checking the official website for new updates.
What is the Age-limit for appearing in the exams? 
The Age Limit for appearing in Allahabad High court RO/ARO Exams is 21-35 years. Age relaxation is also being provided, click here to know more.
Will there be negative marking for wrong answers? 
No, there is no negative marking.
What is the educational qualification required to be eligible for appearing in the Allahabad High court RO/ARO exams? 
The candidates must possess a Bachelor's degree from the recognized university or equivalent to such qualification and required computer qualification. 
Will attempting a mock test for Allahabad High court RO/ARO help me score good marks in the actual exam?
Yes, attempting mock tests on a regular basis helps you to get a better picture of your preparation. It will also help you to revise whatever you have learned so far. So indeed, attempting mock tests is a good choice.
  Oliveboard Live Courses & Mock Test Series