Allahabad High Court Has Started the Online Application Process for Review Officer, Assistant Review Officer & Computer Assistant Posts from August 17, 2021. The number of posts advertised for RO is 46 and for ARO is 350. There is a possibility of the number of vacancies for each category being decreased or even increased. Vertical reservation in case of ST, SC, and O.B.C. from U.P. and Horizontal reservation according to applicable rules shall be applicable. The maximum age limit for S.C., S.T. candidates, and those of other categories from U.P. will stand enhanced based on applicable rules. You can access the notification of vacancies for the Review Officer & Assistant Review Officer recruitment examination 2021. Continue reading for more details on Allahabad High Court RO ARO Syllabus & Allahabad High Court RO ARO Pattern.
Allahabad High Court RO ARO Syllabus & Pattern: Overview
The Allahabad High Court RO and ARO Exam comprise two parts: Written Examination and Computer Knowledge Test. The Syllabus for the Allahabad High Court RO and ARO Examination can be useful for thorough preparation. As declared by the High Court, only such applicants who succeed in each of the two parts shall be called in for the final appointment to the posts of ARO or RO of Allahabad High Court.
Allahabad High Court RO ARO Syllabus
The syllabus for the Allahabad High Court RO and ARO Examination comprises 12 subjects/ topics. These are provided in the following table.
| | |
| --- | --- |
| Subject | Syllabus |
| General Science | Artists, Biology, Chemistry, Countries and their Capitals, Famous Books and Famous Authors, Famous Days and Dates, History of Indian Indian Parliament, Physics, Sear, Lakes, and Rivers, Tourism |
| Important Current Events both International and National | Computer Basics, Botany, Chemistry, Environment, Famous Books and Famous Authors, Famous Days and Famous Dates, Geography, Indian Culture, Indian Economy, History of Indian, Indian Parliament, Indian Politics, Inventions in the World, Physics, Sports, Zoology |
| Indian History | World History: Events from 18th Century onwards, their forms, & effect on society. Events include world wars, the industrial revolution, colonization, re-draw of national boundaries, decolonization, political philosophies, such as socialism, capitalism, and communism. History of Uttar Pradesh, Major movements of UP, Post-independence reorganization and consolidation in India.Salient features of Architecture, Art Forms, and Literature from ancient times to modern times.Significant events of History, important personalities, & issues, India's Freedom Struggle and its various stages |
| Indian National Movements | Anti-Partition Movement, Civil Disobedience Movement, Home-Rule League Movement, Indian National Movements, Khilafat or the Non-Cooperation Movement, Quit India Movement, Boycott, and Swadeshi Movements |
| Indian Polity, Economy and Culture | Indian Constitution, Uttar Pradesh: Demographics, Government schemes, and Inclusive growth.Indian polity & governance, Initiatives in Uttar Pradesh's social sector, Panchayati Raj, Rights Issues, Public Policy, etc., Poverty and the alleviation of poverty, Uttar Pradesh's economy and factors that drive it, Uttar Pradesh's political system |
| Indian Agriculture, Commerce andTrade | AgricultureCraftsForeign TradeTrade & Commerce |
| Population, Urbanisation, & Ecology | Major Ecological factors that govern Uttar Pradesh, Population Census & Demography of Uttar Pradesh, Special Economic Zones of Uttar Pradesh |
| World Geography and Resources & Geography of India | The recent census of Uttar Pradesh, National Parks, Biosphere Reserves, etc.Natural vegetation classification, Demographics, Economic infrastructure, Energy conservation, Green revolution and role in Uttar Pradesh, Human Geography, Hydropower projects and the major dams in Uttar Pradesh ,Indian Desserts, time zone location, longitude, latitude, etc., of Uttar Pradesh, Major natural regions ,Monsoons – driving mechanism, La Nina, El Nino, Natural fauna and vegetation of Uttar Pradesh, Neighbors of Uttar Pradesh, Peninsular Plateau: its geological formation, Deccan Plateau, Central Highlands, Eastern Ghats, Western Ghats, Distribution of RainfallRed-listed species, Regional development & planning of Uttar Pradesh, Regional geography of developed countries, Regional geography of developing countries, Regional geography of South AsiaUttar Pradesh's river basins Uttar Pradesh's river systems, Seasons, Soils & crops of UP, Climate of UP, The geological formation, climate, physiographic divisions, vegetation, soil, biodiversity, significance, The irrigation system of UP, Types of agricultural practices of UP, East-flowing and West-flowing rivers of UP |
| Special Knowledge about Culture Education, Agriculture, Trade, Industry, Living & Social Traditions of Uttar Pradesh | Important Crops of Uttar Pradesh, Important Park Names in Uttar Pradesh, Literacy Rates in Uttar Pradesh, Major Educational & Financial schemes of Uttar Pradesh, Major Folklore of UP, Major Tribes of Uttar Pradesh |
| General Intelligence | Alphabet Series, Analogy, Arithmetical Reasoning, Blood Relations, Clocks and Calendars, Coding-Decoding, Data Interpretation, Decision Making, Directions, Non-Verbal Series, Number Ranking, Puzzles, Sitting Arrangement, Statements, and Arguments, Syllogism |
| Knowledge of English | Antonyms, Completion Passive & Active Voice, Error Correction, Idioms & Phrases, Joining Sentences, Para Completion, Passage Completion, Prepositions Sentence, Sentence Arrangement, Sentence Improvement, Spelling Test, Spotting Errors, Substitution, Synonyms, Transformation |
| Knowledge of Hindi | Adjectives, Error correction in sentences, Fill in the words, Idioms & Proverbs, Hindi Letter writing, Pronouns, Synonym & Antonym, Translation of English sentences to Hindi & vice versa. Use of nouns, Use of the verb in a sentence, Word formation |
| Elementary Knowledge of Computers | Basic Functionalities in MS-Office, Basic Internet Knowledge and Protocol, Basics of Viruses, Security Tools, and Hacking, Basics of Software & Hardware, Computer Abbreviation, Computer Shortcuts Key, Database Basics, History of Computers, Internet Services Internet Terms Memory & Storage Device, MS-Office (PowerPoint, Excel, Word), Networking and Communication, Shortcut Keyset, Windows Operating System |
DOWNLOAD THE OLIVEBOARD APP FOR ON-THE-GO EXAM PREPARATION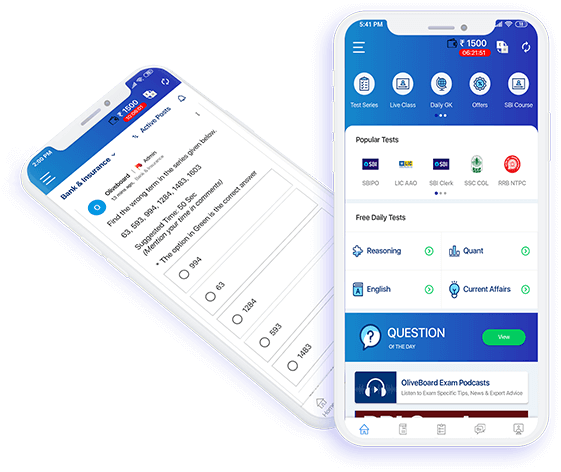 Video Lessons, Textual Lessons & Notes
Topic Tests covering all topics with detailed solutions
Sectional Tests for QA, DI, EL, LR
All India Mock Tests for performance analysis and all India percentile
General Knowledge (GK) Tests
Free videos, free mock tests and free GK tests to evaluate course content before signing up!

Allahabad High Court RO ARO Pattern
There are two stages for the Allahabad High Court RO ARO Exam in the selection process: Part 1 & Part 2. It is specified in the notification for the Recruitment process that there will be no interview for the selection of RO and ARO for the Allahabad High Court. To qualify for an appointment to the post of RO / ARO, the candidates must qualify in both the Part 1 and part 2 Examinations. Let us look at the two parts of the selection process for RO/ ARO in some detail.
The Allahabad High court RO/ARO paper Pattern is divided into two parts i.e. Part I and Part II. There will be no interview for the selection process. The candidates have to qualify both stages to receive the appointment letter as RO/ARO. The detailed selection process of RO/ARO is given below:
Part 1: Written Exam
The written exam of Allahabad HC RO/ARO Selection Process is an online-based written examination. Following are the key points of the exam:
The question paper will be bilingual.
The maximum number of questions will be 200.
The candidates will get 1 mark for each correct answer. While there is no provision of negative marking and minimum qualifying marks in the written exam.
The duration of the written exam will be 180 minutes.
The following table provides an overview of the subjects that will form part of the Part 1 Examination.
| | | |
| --- | --- | --- |
| Subjects | Maximum Questions | Maximum Marks |
| General Science History of India, Indian National Movement, Indian Polity, Economy and Culture, Indian Agriculture, Commerce and Trade, Population, Ecology, and Urbanisation (in context of India), World Geography & Geography and Resources of India, Current National and International Important Events, General Intelligence, Special Knowledge regarding Education, Culture, Agriculture, Industry, Trade, Living and Social Traditions of Uttar Pradesh, Knowledge of General Hindi and General English of the level of Graduation, Elementary Computer Knowledge | 200 | 200 |
| Total | 200 | 200 |
Stage 2: Computer Knowledge Test
A candidate shall be provided a text in English of approximately 500 words on a computer which he/she shall be required to reproduce on the computer in the same format. The minimum marks to be obtained in Part-II for being eligible for final selection shall be 25 marks, while the maximum marks allotted to part 2 of Review Officer is 50 marks. The minimum typing speed required is 25wpm in English.
Note:
Marks to be deducted on each mistake (error)- Value of mistake (error): 01 Mistake (Error) = 0.1 marks
Left-out words and spelling mistakes (errors) will be treated as full mistakes (error).
Typing of Letters, Words, Characters, Symbols or anything other than the contents of passage as asked in question paper shall be treated as full mistake (error).
Words typed beyond the prescribed words limit shall be deleted / ignored.
Note: Both parts of the exam will be conducted simultaneously in a single shift with a gap of 15 minutes.
Conclusion
Now that you have information about the syllabus and exam pattern for the Allahabad High Court RO and ARO Examination, you can use the knowledge to prepare well for the Examination and crack it.
FAQ
What is the Allahabad High Court RO ARO Pattern for Stage 1 of the selection process?
The written exam of the Allahabad High Court RO Selection Process is an offline-based examination. It will be an Objective Type Test conducted in Computer Based Test Module (CBT Module). There will be 200 questions for 1 mark each.   For incorrect answers, there will be no negative marking.
How many subjects are covered in the Allahabad High Court RO ARO Syllabus of Stage 1?
12 subjects are covered in the syllabus for the Stage 1 examination for Allahabad High Court RO/ ARO Written Examination 2021.
  Oliveboard Live Courses & Mock Test Series