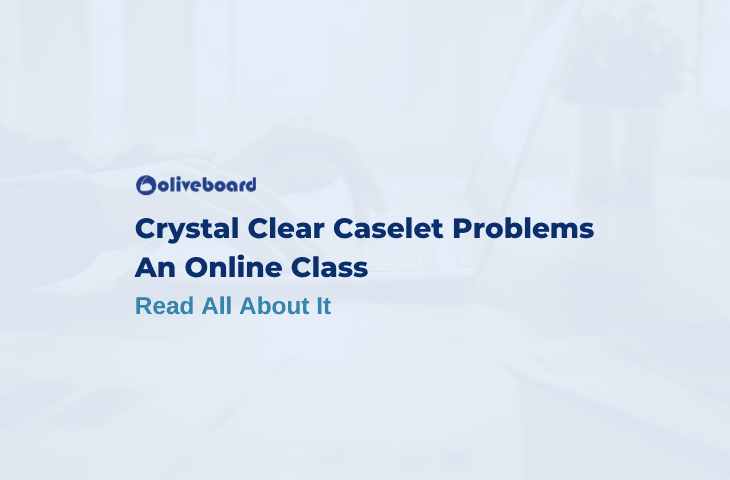 We have seen Caselets Problems are very common in every banking, insurance and other government exams like IBPS PO, IBPS Clerk, SBI PO, IBPS PO, IBPS Clerk, LIC Assistant, etc. In Caselets, a set of information is provided in a paragraph form and no tables or graphs are given. Based on the information we have to draw the table and organize the given data to solve the questions. If the table is done and data is organized then there's nothing in the question and you can score full marks on that question, but all this can be achieved by practicing a lot. To make it more easy for you Oliveboard is bringing you a course – Crystal Clear Caselet to help you master Caselet problems using special techniques, tips, and strategies. Our aim is to provide you a full-fledged course so that Caselet Problems boost up your confidence in solving problems in one go on the D-day. 
Click Here To Join Class
Clear Caselet Problems Course
Crystal Clear Caselet is the online exam course on Oliveboard Edge – a live course platform for banking, insurance, and other government exams. This course will help you master Caselet Problems using special techniques, tips, and strategies. Questions based on the latest pattern will be covered which will be useful for all the Banking and Insurance exams of pre as well as mains level. Learn with the top quant faculty of Oliveboard and prepare for the exam.
Click on the link below, and join us:
Click Here To Join The Class
Features of Online Course – Crystal Clear Caselet
Basics of Caselets.
Different types of Caselets.
Live Classes.
Different approach to questions.
Tips and Tricks to solve the Caselets questions.
Live Practice Sessions.
Practice Questions.
These are some of the highlighted features of this Online Course and much more will be covered here in this course. You can join Oliveboard Edge now to get access to this course and much more that is awaiting you.
Practice with the Oliveboard team and crack all your exams with this course.
Click Here To Join The Class
This was all from us in this blog of Crystal Clear Caselet, hope this input will help you. We will meet you in the class. For more such updates stay tuned with Oliveboard.
Do check our different courses and start preparing for the exams with the best mock test series on Oliveboard.
Also Check: