SBI PO Mains Exam – Phase 2 of the Recruitment Process for selection of Probationary Officers in SBI will be conducted on 29 January 2021 & IBPS RRB PO Mains is scheduled to be held on 30 January 2021. In the SBI PO Mains & IBPS RRB PO Mains, 40 marks are allocated to 40 Questions in the General Awareness Section. In the General Awareness section, the majority of the questions are based on Current Affairs of the last 6 to 7 months. Candidates who are well versed with the Daily Current Affairs of the last 6 to 7 months have an advantage in the Exam. Therefore, In this blog, we are providing our readers with Top 300 SBI PO Mains Current Affairs Questions. It is a FREE Comprehensive Current Affairs PDF covering the last 6 months of current affairs questions. Aspirants can download the PDF directly from the link given below. This Current Affairs PDF would help candidates revise all the Important Current Affairs in the most comprehensive manner.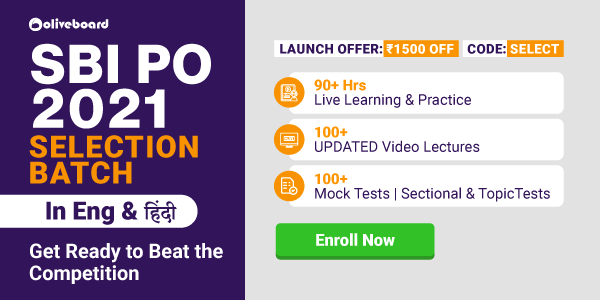 ATTEMPT A FREE SBI PO MAINS MOCK TEST HERE
Top 300 MCQs Current Affairs PDF (Last 6 Months)(Download Here)
Download the Last 6 Months Current Affairs Questions from the following download link given below:
Download Last 6 Month Current Affairs MCQs PDF
Sneak Peek Into The Free Ebook:
Q.1 What was the Revenue collected from Goods and Services Tax (GST) in December?
(a) ₹1.04 lakh crore / ₹ 1.04 लाख करोड़: November
(b) ₹1.15 lakh crore / ₹ 1.15 लाख करोड़
(c) ₹1.05 lakh crore / ₹ 1.05 लाख करोड़: October
(d) ₹1.17 lakh crore / ₹ 1.17 लाख करोड़
(e) ₹1.08 lakh crore / ₹ 1.08 लाख करोड़
Q.3 Which state has launched a crop relief scheme- Kisan Fasal Rahat Yojana?
(a) West Bengal
(b) Jharkhand
(c) Maharashtra
(d) Chhattisgarh
(e) Karnataka
Q.4 Name the Drug Controller General of India (DCGI) who has approved two coronavirus vaccines –'Covishield' and 'Covaxin'.
(a) V. G. Somani
(b) Suresh Chandra Sharma
(c) Rajat Saud
(d) Balram Bhargava
(e) Vishal V Sharma
ATTEMPT A FREE SBI PO MAINS MOCK TEST HERE
---
DOWNLOAD THE OLIVEBOARD APP FOR ON-THE-GO EXAM PREPARATION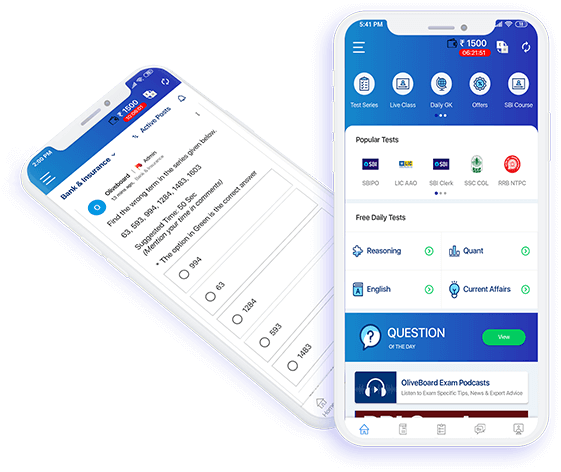 Video Lessons, Textual Lessons & Notes
Topic Tests covering all topics with detailed solutions
Sectional Tests for QA, DI, EL, LR
All India Mock Tests for performance analysis and all India percentile
General Knowledge (GK) Tests
Free videos, free mock tests and free GK tests to evaluate course content before signing up!

---
Q.5 United Nations released the World Happiness Report 2020. What is the rank of India in this index out of 156 countries.
(a) 93rd
(b) 102nd
(c) 133rd
(d) 144th
(e) 151st
Q.6 M V Rajasekharan who passed away recently was a_______.
(a) Congress Leader
(b) Agriculturalist
(c)Rural Development Consultant
(d)Former Union Minister
(e) All of the above
ATTEMPT A FREE SBI PO MAINS MOCK TEST HERE
That is all from us in this blog Top 300 Last 6 Months Current Affairs PDF For SBI PO & IBPS RRB Clerk Mains. We hope you have downloaded the top 3000 Last 6 Months' current affairs pdf. Happy learning and Revision. All the Best for the SBI PO Mains Exam.
SBI PO 2020 Mains Cracker Course – Complete Preparation
Here's what all will be covered while you take this course effectively:
Covers complete SBI PO Prelims & Mains syllabus in both Hindi & English Language – The courses are designed in order to impart the course in both Hindi & English. This will make the course teachings much easier for the aspirants making it convenient to grasp the session.
Latest Pattern Tests to Give You Real-Time Exam Experience – The tests are designed in a similar pattern to that of the actual exam thus providing you with a real-time exam experience. The tests are designed by experts keeping in mind the difficulty level and exam pattern of the actual SBI PO exam.
Advanced Analytics to Track Your Performance – Oliveboard's AI analytics platform provides you with a detailed analysis of the tests taken. This will help you plan your preparations by highlighting the areas that need working on. Focus on weaker areas so that you can practice and improve the topic.
Learn, Practice & Compete with All India Aspirants – This course is equipped with Live Practice Sessions to help you solve the practice questions with All India aspirants. Yes, you read it right, aspirants from All India will be a participant of these practice sessions. Register Now & Attend Live Practice sessions.
Register Now & Enhance Your Prep for SBI PO 2020
The SBI PO Online Course blog aims at your all-around preparations and grooming. This course guarantees your success with complete tips and practice provided that is needed to ace the exam. So, What are you waiting for? Register Now & Start Learning For SBI PO 2020.
Also Check Out -: