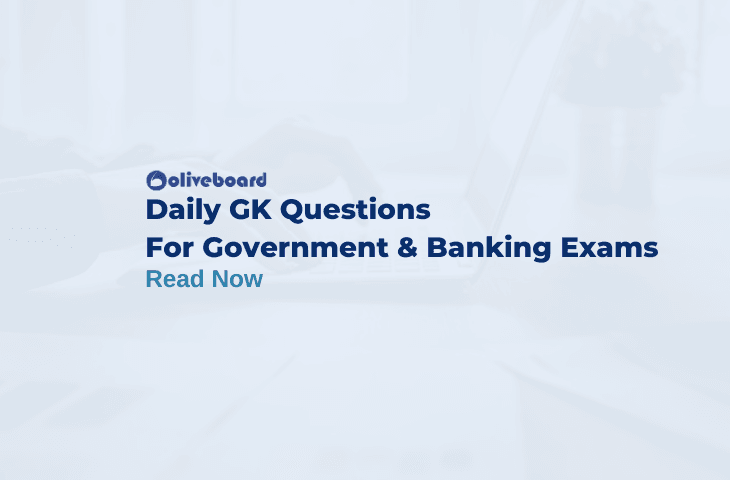 In view of the number of aspirants preparing for the exams daily, Oliveboard is bringing you the Daily GK Question which is the combination the daily news and static news which will eventually help aspirants in staying up to date with the daily events and the events held in past. General awareness is considered to be the most scoring section as the questions are easy and based directly on facts. Catch up all the latest current affairs here in this daily blog. Prepare for exams like RBI Grade B, IBPS PO, IBPS Clerk, SSC CPO, LIC Assistant, etc. For more advanced exam practice, live video sessions, and live practice sessions, join Oliveboard Edge.
Start preparing for Banking & Government Exam with Oliveboard
Daily GK Question: Attempt Here
Q1) Defence Minister Rajnath Singh will co-chair the __________ India-Russia Inter-Governmental Commission on Military & Military-Technical Cooperation in Moscow.
A. 20th
B. 19th
C. 15th
D. 17th
E. 14th
Q2) Where was the 6th Parliamentary Speakers' Summit of G20 Countries held at?
A. Moscow, Russia
B. Cape Town, South Africa
C. Buenos Aires, Argentina
D. Brasilia, Brazil
E. Tokyo, Japan
Start preparing for Banking & Government Exam with Oliveboard
Q3) Which of the following newly launched IT initiative of the central government will help the public to know the daily Customs clearance times of import cargo at various ports and airports?
A. ATHITHI
B. CERT-IN
C. ICEDASH
D. RAKTKOSH
E. KHOYA PAYA
Q4) 15-day National Tribal festival-Aadi Mahotsav is set to begin in New Delhi in the month of November. Who is the union minister of Tribal affairs?
A. Arjun Munda
B. Jual Oram
C. Harsimrat Kaur Badal
D. Pralhad Joshi
E. Arvind Ganpat Sawant
Q5) Cooperation Afloat Readiness and Training (CARAT) is a joint navy exercise between the US and?
A. Myanmar
B. Japan
C. India.
D. Bangladesh
E. Nepal
Start preparing for Banking & Government Exam with Oliveboard
Q6) The biennial Commonwealth Law Ministers' Conference began in Colombo. Who is the current Commonwealth Secretary-General?
A. Kristalina Georgieva
B. Masatsugu Asakawa
C. Patricia Scotland
D. Penny Goldberg
E. Jin Liqun
Q7) When was the historic Berlin Wall fall event took place in Germany?
A. 1961
B. 1994
C. 1972
D. 1955
E. 1989
Q8) Rafel Nadal secured top spot for the eighth time in his career according to the latest ATP rankings. Rafel Nadal is from which country?
A. Spain
B. Australia
C. Serbia
D. Argentina
E. Switzerland
Q9) Who break the record of Virat Kohli to become the youngest known captain to lead a side in Deodhar Trophy finals?
A. Shahbaz Nadeem
B. Vijay Shankar
C. Parthiv Patel
D. Shubman Gill
E. Hanuma Vihari
Start preparing for Banking & Government Exam with Oliveboard
Q10) How much is the penalty imposed by the supreme court for burning garbage & waste in Delhi, Punjab, Haryana, western UP states?
A. 1,000 Rs
B. 5,000 Rs
C. 6,000 Rs
D. 4,000 Rs
E. 2,000 Rs
Q11) Starting from which year UN general assembly has begun to celebrate 5th November as World Tsunami Awareness Day?
A. 2014
B. 2012
C. 2015
D. 2010
E. 2016
Q12) Where is the selected location for the International Boarding School Fair to be held on 2019 November 6?
A. New Delhi
B. California, USA
C. Edinburgh, UK
D. Toronto, Canada
E. Paris, France
Q13) India's Lakshya Sen has won the SaarLorLux Open badminton tournament held at Saarbrucken in Germany. Whom he defeated in the finals?
A. Christo Popov
B. Ethan Rose
C. Wolfgang Gnedt
D. Lei Lan Xi
E. Sen Weng Hong Yang
Q14) A computer virus is a malicious program that self-replicates by copying itself to another program. Melissa is an example of?
A. File Infector Virus
B. Multipartite Virus
C. Polymorphic Virus
D. Browser Hijacker
E. Macro Virus
Start preparing for Banking & Government Exam with Oliveboard
Q15) Losar is a popular festival celebrated by Monpa Tribe. Which northeastern state celebrates Losar festival?
A. Assam
B. Meghalaya
C. Manipur
D. Arunachal Pradesh
E. Tripura
ANSWERS:
Q1) Option B – 19th.
Q2) Option E – Tokyo, Japan
Q3) Option C – ICEDASH
Q4) Option A  – Arjuna Munda
Q5)  Option D – Bangladesh
Q6)  Option C – Patricia Scotland.
Q7)  Option E – 1989
Q8)  Option A  – Spain
Q9)  Option D  – Shubman Gill
Q10) Option B – 5,000 Rs
Q11) Option C – 2015
Q12) Option A – New Delhi
Q13) Option E – Sen Weng Hong Yang
Q14) Option E – Macro Virus
Q15) Option D – Arunanchal Pradesh
Start preparing for Banking & Government Exam with Oliveboard
This was all from us in the blog, Daily GK Question we have given you all the exam related information. Stay tuned with Oliveboard to study Daily GK Question.
Do check our different courses and start preparing for the exams with the best mock test series on Oliveboard.
Also Check: