DFCCIL Preparation Strategy 2021: DFCCIL is a schedule "A" public sector undertaking which comes under the Ministry of Railways. The Dedicated Freight Corridor Corporation of India Ltd. is recruiting 1074 Junior Executives, Junior Managers & Executives in various departments. The CBT Exam for the same is expected to be organized in September/October 2021. With nearly 1 month left for the exam, It's only fitting that candidates follow a tested DFCCIL Preparation Strategy for the CBT exam. In this article, we will be discussing a section-wise Preparation Tips for DFCCIL Exam 2021. So let's get to it.
DFCCIL Recruitment 2021: Selection Process
The selection process of DFCCIL Executive is given below. The Computer Based Test is common for every post. All the stages are not compulsory for every post. Overall the selection process consists of 5 stages i.e.
Computer-based test
Computer-Based Aptitude Test
Document Verification
Interview
Medical Test
DFCCIL Exam Pattern for Executive Post
Part
Test
Question
Marks
1
General Knowledge
General Aptitude/Reasoning
12
12
24
2
Engineering Discipline
96
96
Total
120
120
There will be a negative marking for 0.25 marks
DFCCIL Exam Pattern for Executive Post (Operations and BD)
Part
Subject
Questions & Marks for Junior Executive Post
1
General Knowledge
12
2
Logical Reasoning
18
3
Numerical Ability
12
4
General Science
18
5
History of Indian Railways and DFCCIL
Economics and Marketing
Customer Relations, etc.
60
Total
120
Important DFCCIL Topics from Each Section
Numerical Ability
Reasoning
General Science
Miscellaneous Topics
Percentage
LCM & HCF
BODMAS Rule Questions
Time and Work
Profit & Loss
Mixture & Allegation
Discount
Age
Simple Interest
Trains Partnership
Statement & Conclusion
Order & Ranking
Series
Odd one out
Statement & Assumption
Direction Test
Data Sufficiency
Mirror Image
Puzzle
Alphabetical Series
Biology: 12 to 15 questions
Chemistry: 4 to 5 questions
Physics: 4 questions
History of Indian Railway and DFCCIL – 24 Questions
Economics & Marketing – 12 Questions
Customer Relations – 12 Questions
DFCCIL Preparation Strategy 2021
Know the Syllabus & Weightage of Each Section
Since there are many topics included in the syllabus, it is important that you should observe the complete syllabus.
Match your knowledge with the DFCCIL syllabus and plan your preparation with known sections.
Know Weightage for each section based on previous year papers and target your preparation to carry more marks in the DFCCIL exam.
Select Standard Study Materials for DFCCIL Preparation
The selection of standard study materials is very important at the initial stages of DFCCIL Preparation.
Reading one or two books are sufficient for each section. Always give first priority to read from a book rather than other resources.
You may prepare with an online video lecture, course material, coaching notes, etc.
You can also prepare the books that you have followed during the undergraduate course.
Tips to remember and follow during preparation
Understand the previous year questions pattern.
Practice previous year questions during preparation. DFCCIL Toppers also find the question in CBT very similar to IES Prelims papers.
Try to understand the concepts, practice tests and revise regularly.
Most of the questions in DFCCIL are Conceptual & Numerical, so you must try to improve your solving ability & time management to score a good rank.
Plan your DFCCIL 2022 Preparation
30 day Preparation Plan will be a good idea to crack the DFCCIL exam if you have a good grasp over engineering paper for engineering posts and GA for operations executive.
Create the preparation plan daily wise or weekly wise by giving enough time for each section.
Your plan should include syllabus completion, revision, and practice tests.
It is a good idea to make a timetable and formulate your daily tasks. Once you have set daily, weekly and monthly targets, you will see better results for the same amount of effort.
DOWNLOAD THE OLIVEBOARD APP FOR ON-THE-GO EXAM PREPARATION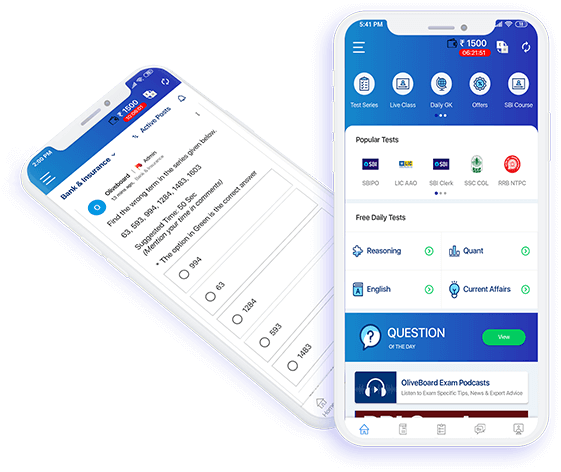 Video Lessons, Textual Lessons & Notes
Topic Tests covering all topics with detailed solutions
Sectional Tests for QA, DI, EL, LR
All India Mock Tests for performance analysis and all India percentile
General Knowledge (GK) Tests
Free videos, free mock tests, and free GK tests to evaluate course content before signing up!
Follow the plan to Complete the Syllabus
The first step in the preparation is to start with an easy section and an important one. Toppers' suggestion is, to begin with mathematics and one basic technical section.
Read topic by topic to complete the entire DFCCIL Syllabus.
Make a revision note for each topic that should cover all important definitions, formulas, differences, etc.
Practice topic wise previous DFCCIL questions after understanding each topic.
Attempt the quizzes/tests for each topic and section to know your performance.
Clear all your doubts during your preparation.
Discuss your doubts on "Oliveboard" and Practice quizzes/tests to compare the performance with others.
Identify the weakness areas while practising quizzes/tests and try to revise and practise those topics.
Revise everything you studied for DFCCIL Preparation
It is not just sufficient to prepare revision notes, but also to revise them regularly.
Read the revision notes on a weekly basis to recall the concepts of prepared sections.
Each time you revise the same topic/section, your revision time will reduce to recall the concepts.
Practice the Mock Tests
You can practice the mock tests in two ways. One is self-practice on a daily basis, and the other is attempting online mock tests.
Practice the mock tests to improve performance. Performance depends on how much time is devoted to answering each question and how many questions are answered correctly.
Revise and Practice in the last stage
Last 15 should be given for both revisions and practice.
Practice more mock tests, identify the weaker topics in each test and revise them.
You can practice 2 to 5 tests every day and recall all concepts during your practice.
Your confidence will be increased day by day at this stage.
Last-minute Strategy for DFCCIL Exam
Do not study any new topic in the technical section, but you can continue studying new facts about the General Awareness section.
Focus on revising the concepts which you tend to forget.
Be mentally prepared for your  examination with the admit card and know your centre before the exam day.
Visit Oliveboard for all important information about DFCCIL, articles, topic tests, and study plans. Enrol for DFCCIL online test series and attempt  DFCCIL questions in exam like environment.
DFCCIL Section-wise Preparation Strategy
1. General Knowledge
Read daily newspapers to stay updated on national and international news.
Practice quizzes on Current Affairs Quiz 
Cover all topics prescribed under the key syllabus
Do not clutter your schedule with unnecessary books on GK Section, just cover last 6-8 months.
Study the history of Indian Railways and related questions.
Practice from previous year GK papers and find similar topics.
Keep track of the questions that ask Why? How? When? Where? What? for every news article you read.
2. Logical Reasoning
Learn important formulae, calculation techniques, and easy methods to solve lengthy and critical reasoning questions in a short span of time.

Take sectional mocks with reasoning questions daily. A

ttempt weekly mock tests, watch expert videos on 

Oliveboard YouTube

.

Solve a fixed number of question per day.
3. Numerical Ability
Cover the entire syllabus and key topics asked from the Quant section.
Learn the list of formulae, charts & tables, and other tricks to save time.
Memorize squares, tables, and cubes up to 30. Also, learn the percentage-related conversion and important trigonometric calculations to solve difficult questions in a short time.
Try attempting daily or weekly mock tests after you are done with revisions to assess your progress from time to time.
Take up practice sets and updated answer keys to take up critical questions on Quant.

Solve the questions in a stipulated time period and use the rule of elimination to avoid wasting time on any particular section.
4. General Science
Cover topics in Physics, Chemistry, and Biology, keeping in the purview of the previous year papers and types of questions asked.
Get hold of easy-to-go NCERT textbooks and other resources focusing entirely on the Science curriculum.
Attempt mock tests and solve previous year questions papers of General Science from DFCCIL exam and other exams, especially NTPC.
Keep updated with special science editorials and discussions on newspapers like The Hindu, Dainik Bhaskar, etc.
5. Miscellaneous Topics
Prepare all the detailed notes on History of Indian Railways and DFCCIL. 24 questions are asked from these two topics.
Get a hold on Economic, Marketing & Customer Relations related to railways. A total of 24 questions are asked from these sections.
Keep an eye on current affairs related to Indian Economy and the marketing scenario to understand the same.
6. Preparation of Engineering Stream
Make proper notes of given subjects from basic to advance level or start from your coaching notes, revise them again & again.
Solve previous year paper available in your Oliveboard dashboard.
Take topic wise mock tests (you can do that on Oliveboard website/app)
Make use of a standard TEST SERIES to boost your Accuracy & time management.
Previous year IES Preliminary papers are a good source of standard questions to practice.
Ignore big numericals and concentrate on small problems and theory bits
DFCCIL Executive Preparation Books 2021
Follow the below-mentioned table of subject-wise DFCCIL Executive Books given to ease the ins and outs of DFCCIL exam preparation, covering the important topics in detail.
| | | |
| --- | --- | --- |
| Subject | Book Name | Author/Publication |
| General Knowledge | Lucent's General Knowledge (English) | Lucent Publications |
| Numerical Ability | Quantitative Aptitude for Competitive Examinations (17th Edition) | Dr. R.S. Aggarwal |
| Logical Reasoning | A Modern Approach to Logical Reasoning | S. Chand |
| General Science | Lucent's General Science | Ravi Bhushan |
| History of Indian Railways and DFCCIL | A Short History of Indian Railways (English) | Rajendra Aklekar |
| Economics, Marketing & Customer Relations | DFCCIL Executives & Junior Executives (Set of 5 Books) | Chetan Sakhuja |
We hope you find this bit helpful for your preparation. Remember that your preparation strategy can be entirely different from mentioned here as you know your strengths and weaknesses better. Our intension is to help you fast-track their current preparations with just about a month time left for the exam. Download the Oliveboard App today and stay inline with all learning resources and free mock tests.
Related Posts

Oliveboard is a learning & practice platform for premier entrance exams. We have helped over 1 crore users since 2012 with their Bank, SSC, Railways, Insurance, Teaching and other competitive Exams preparation.