Economic Survey was tabled by the Finance Minister Nirmala Sitharaman in the Parliament today i.e. 31st of January 2020.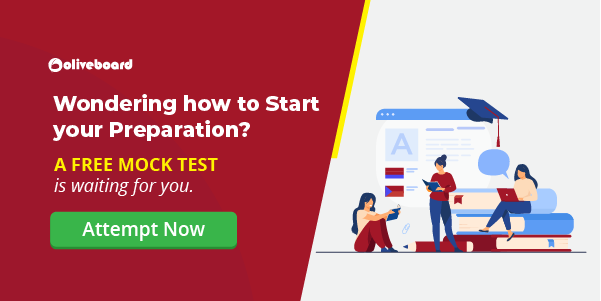 The Economic Survey of India is an Annual Document presented by the Government to review the state of the economy in the previous year (the financial year 2019-2020) while throwing light on its short-to-medium term prospects.
The Economic Survey document is equally important as the main Union Budget as it not only lays the premise for key policy decisions that need to be taken to take the economy forward but also assesses the impact of the previous decisions through detailed statistical data.
Economic Survey is extremely important for upcoming exams like NABARD Grade A, RBI Grade B, SEBI, SBI PO etc. NABARD Grade A Notification is already out, therefore we would suggest going through the summary of Economic Survey so that you do not lose out on any marks in the exam. Take up a free test for NABARD Grade-A Here.

Register here to get Daily Updates Directly to your E-Mail from Oliveboard
Economic Survey 2019-2020 Key Highlights
Economic Survey has been prepared by Chief Economic Adviser Krishnamurthy V. Subramanian. 
Chief Economic Advisor Krishnamurthy Subramanian said, "Our team has done a lot of hard work. The team has prepared the second economic survey in six months."

Register here to get Daily Updates Directly to your E-Mail from Oliveboard
1. The Theme of the Economic Survey
The theme of Economic Survey, 2019-20 – India's aspiration of #Economy@5trillion with its theme of #WealthCreation. Wealth creation benefits all.
This year's Survey Document is Lavender Purple with the Theme of  "Wealth Creation" to achieve India's aspiration of $5 trillion economy. The Survey advocated hand holding of wealth creators at the grassroots level in the district for greater wealth creation and growth in the country.
2. Growth Projection
The Economic Survey has projected India's Economic Growth at 6 to 6.5% in the next financial year starting April 1 2020, saying growth has bottomed out. 
3. Wealth & Job Creation
The Survey said for wealth to be distributed, it first has to be created and called for looking at wealth creators with respect. The Survey said government interventions seem to be ineffective in stabilising prices of commodities such as onions.
The Economic Survey 2019-20 has proposed India can create well-paid four crore jobs by 2025 and eight crore by 2030 by integrating "assemble in India for the world" into government's Make in India initiative and exporting network products that can give a substantial push to India's target of becoming a $5 trillion economy.

For boosting growth, it called for new ideas for manufacturing such as 'assemble in India for the world' which will create jobs.
4. Fiscal Deficit Target to be Relaxed
Considering the urgent priority of the government to revive growth in the economy, the fiscal deficit target may have to be relaxed for the current year.
5. Ease of Doing Business
To further make it easier to do business, the Survey called for removing the red tape at ports to promote exports as well as measures for easing the start of business, register property, pay taxes and enforcing contracts.
It also called for improving governance in public sector banks and the need for more disclosure of information to build trust.
It also talks about dwarfism in the banking sector.
Economic Survey advocates 10 new ideas that benefit markets as well as the economy.
Preparing for NABARD, SBI Clerk/PO, RBI Assistant? Take up a Free Mock Test and see where you stand in comparison to your peers. 
6. Affordability of Thalis
The Economic Survey said that affordability of Thalis vis-à-vis a day's pay of a worker has improved over time, indicating improved welfare of the common person.
The Survey 2019-20 states that affordability of vegetarian thalis improved 29% from 2006-07 to 2019-20 while that for non-vegetarian Thalis by 18%.
7. More New Firms Created
The Economic Survey highlighted that new firm creation in India has increased dramatically since 2014.
There has been a 12.2% cumulative annual growth rate of new firms in the formal sector during 2014-18, compared to 3.8 % during 2006-2014.
About 1.24 lakh new firms created in 2018, an increase of about 80 % from about 70,000 in 2014.
8. Success of PMAY 
47.33 Lakh Houses Completed Per Year in 2018-19 Under PMAY- Gramin
The Survey highlighted that the two Schemes, Pradhan Mantri Awaas Yojana- Gramin (PMAY-G) and Pradhan Mantri Awaas Yojana- Urban (PMAY-U), seek to achieve the target of housing for all by 2022.
Under PMAY-G, the number of houses completed in a year increased by more than four times, from 11.95 lakh in 2014-15 to 47.33 lakh in 2018-19, states the Survey.
9. Infrastructure Investment of Rs.102 Lakh Crore from FY 2020-2025
The Survey said that to achieve GDP of USD 5 trillion by 2024 – 2025, India needs to spend about USD 1.4 trillion (Rs.100 lakh crore) over these years on infrastructure so that lack of infrastructure does not become a constraint to the growth of Indian economy. 
10. Livestock Sector Growth 
7.9% Growth Registered in the Livestock Sector During the Last Five Years.
The Survey said that Livestock income has become an important secondary source of income for millions of rural families and has assumed an important role in achieving the goal of doubling farmers' income, says Economic Survey.
The livestock sector has been growing at a Compound Annual Growth Rate (CAGR) of 7.9% during the last five years.
Targetting NABARD Grade A 2020? Clear it in your first attempt.
11. Greening India! 
The Survey said that despite ongoing developmental efforts, forest and tree cover are increasing considerably.
The forest and tree cover has reached 80.73 million hectares which are 24.56% of the geographical area of the country.
It also highlighted that the States/UTs showing gain in forest cover are Karnataka (1,025 sq. km), Andhra Pradesh (990 sq. km) and Jammu & Kashmir (371 sq. km) whereas those showing loss in forest cover include Manipur, Meghalaya, Arunachal Pradesh and Mizoram.
In the Forest Report 2019, the total carbon stock in the forest is estimated as 7,124.6 million tons, showing an increase of 42.6 million tons as compared to the last assessment in 2017.
12. Ayushman Bharat and Health Sector 
Ayushman Bharat, the world's biggest health care scheme to improve access to health and delivery of health services at massive scale, has set up 28,005 Health & Wellness Centres as on 14th January 2020.
"To promote preventive healthcare, one and a half lakh Ayushman Bharat- Health and Wellness Centres are proposed to be set up by 2022," the Survey said.
As per the latest National Health Accounts 2016-17, the out of pocket expenditure (OoPE) on health as a percentage of total health expenditure declined from 64.2 per cent in 2013-14 to 58.7 per cent in 2016-17, observed the Economic Survey.
13. Job Creation in Rural and Urban Areas 
The Survey said that along with efforts for generating additional employment, special focus has been on improving the quality of jobs and formalisation of the economy, notes the Economic Survey. The share of regular wage/salaried employees has increased by 5 percentage points from 18% in 2011-12 to 23% in 2017-18.
In absolute terms, there was a significant jump of around 2.62 crore new jobs with 1.21 crore in rural areas and 1.39 crore in urban areas in this category.
14. India has become the Second Largest Emerging Green Bond Market after China.
The Economic Survey observed that India has the second-largest emerging Green Bond Market after China.
The SBI entered the market with a US$650 million Certified Climate Bond.
India also joined the International Platform on Sustainable Finance (IPSF) in 2019 to scale up environmentally sustainable investments.
15. All Urban Areas of 35 States/UTs Declared Open Defecation Free
Swachh Bharat Mission (Urban) launched in 2014 with twin objectives of ensuring 100% scientific solid waste management and making urban India ODF achieve total environmental improvement.
All Urban areas of 35 States/UTs have become ODF and the percentage of waste processing rose from around 18 per cent to 60 per cent.
How to Prepare for SBI PO and SBI Clerk from Home?
16. Services Sector Sees 33 Per Cent Jump in Gross FDI
The Services Sector accounted for about 55% of the economy and Gross Value Added (GVA) growth, two-thirds of total FDI inflows into India and about 38% of the total exports.
he sector's share now exceeds 50% of the Gross State Value Added in 15 out of the 33 states and UTs. 
17. Improvement in Space Sector
India's space programme has grown exponentially since its modest beginnings five decades ago, moving from simple mapping services to many more uses currently.
Even though India's spending is less compared to others, ISRO has launched around 5-7 satellites per year in recent years with almost no failures.
18. Rationalisation of Government Intervention to Boost Economic Freedom & Wealth Creation required
The Economic Survey said that while there is a case for Government intervention when markets do not function properly, excessive intervention especially when the market can do the job of enhancing citizens welfare perfectly well, stifles economic freedom and creates 'deadweight loss' which is the loss created by the wasted chance of creating a consumer and producer surplus and reduces wealth creation by not allowing efficient allocation of entrepreneurial resources and energy to productive activities thereby promoting economic dynamism.
19. Providing ESOPs to PSBs
The Survey suggested providing ESOPs to public sector bank employees to enable them to become owners in the banks. Employee stock ownership plans (ESOPs) will incentivise the bank employees to embrace risk-taking and innovation continually.
20. Growth in Tourism Sector
According to the Survey, foreign tourist arrivals to India on e-visas, which are available for 169 countries, have increased from 4.45 lakh in 2015 to 23.69 lakh in 2018 and stood at 21.75 lakh in January-October 2019, recording nearly 21 per cent year-on-year growth in the tourism sector.
Know-How to Clear SSC CGL 2019 Exam in First Attempt – Score 185+ in Tier 1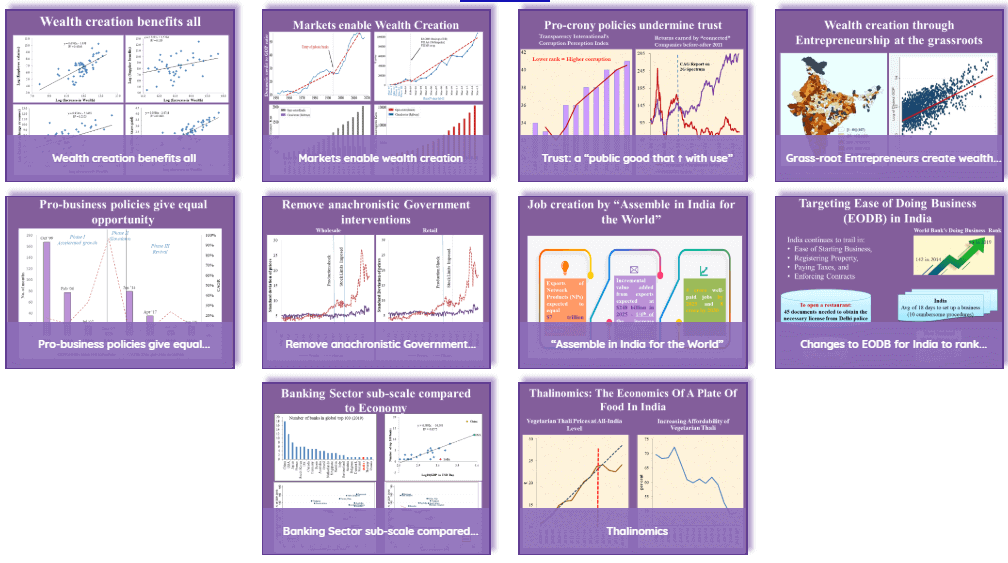 ---
---
Extra Dose – About the Economic Survey
The Economic Survey is divided into three parts:
1. The first and the most important part gives an overview and opinion of the CEA on key issues pertaining to the economy, which can give a peek into the government's stance on the financial state of the country.
2. The second part comprises data and figures on different sectors of the economy provided by their respective departments and ministries.
3. And the third part deals with national income, production, employment, inflation, the balance of trade and export-import trade, among other macro statistics covering all aspects of the economy.
RBI Grade B Preparation – Complete Phase 1 & Phase 2
---
---
This was all in this blog of Economic Survey Highlights 2019-20. We will be coming up with a detailed analysis of Part 1 and Part 2 of the Economic Survey 2019-20 very soon on Oliveboard.
Key Highlights On Economic Survey 2020: Watch Here
Keep checking this space to download the complete analysis of the Economic Survey 2019-20. 
Sources: 
The Financial Express

News 18

Indiabudget.gov.in

Economic Times
Free Mock Tests Links:
Take up a Free Mock Test for the exam that you are targetting and understand the level of your preparation. See where you stand when compared to your peers.
Some Free Mock Tests Links: Register Here for a Free Test.
Oliveboard Edge 2020 – Online Exam Preparation Platform
Unlimited Access: Exam Courses, Any Time at your Fingertips
For Bank, Insurance, SSC & Railways Exam.    
Now don't wait for any exam notification to come. Start preparing for it whenever you want.
Once you subscribe to Edge 2020, you'll get access to all the courses* available at the platform. Choose any course, any time, whenever you like. Just Do it Your Way!
Subscribe Now and Get 50% Off on Oliveboard EDGE 2020 Subscription