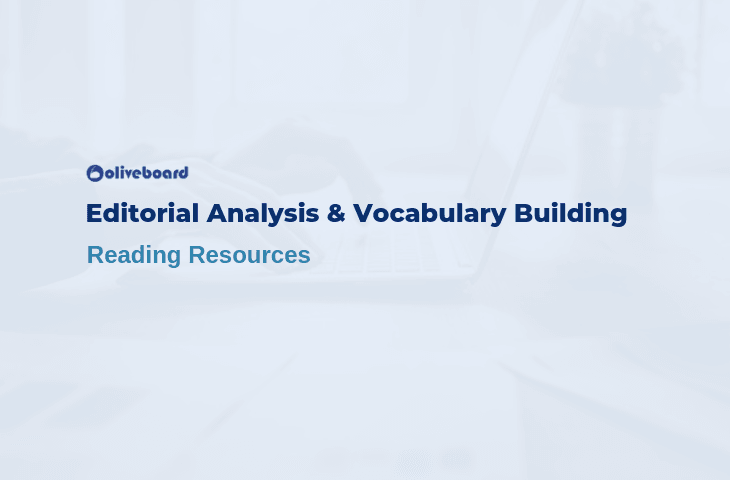 Today we will be taking an article from the Opinion section of newspaper "Livemint". This article throws light on our ailing Economy and also enlightens us that the situation might get worse. Let us read this Editorial Analysis article and understand what the writer is conveying to us and also side by side boost our English Vocabulary. We have embedded a Video link here explaining the same article. You can go through it and understand it in a better way. 
Enroll here for a Free Oliveboard IBPS PO 2019 Mock Test
Editorial Analysis & Vocabulary Building | Reading Resources
"Reliance turning cautious is a bad sign for economy".
A $22 billion reduction in RIL's net debt will require more than Aramco's cash.
Does Mukesh Ambani see dark clouds gathering on the horizon? From his message to shareholders, it doesn't look like India's richest tycoon is worried. But his actions may reveal more than his words.
1. Dark clouds gathering on the horizon – An omen that bad or problematic will happen
2. Tycoon – Powerful or wealthy businessman; Baron, Magnate
At Monday's annual general meeting, the chairman of Reliance Industries Ltd was brimming with optimism. Not only did he endorse Prime Minister Narendra Modi's vision of bumping up annual gross domestic product (GDP) by 80% in five years to $5 trillion, he even forecast a $10 trillion Indian economy by 2030. It's not only possible but "inevitable", he said.
3. Brimming with – To exhibit something; to show an emotion to a great degree; was filled with
4. Endorse – Support
5. Bumping up – To make something reach a higher level, a post etc
6. Inevitable – Unavoidable
Enroll here for a Free Oliveboard IBPS PO 2019 Mock Test
Something doesn't add up. If the outlook is so rosy, why is Ambani hitting the brakes on a seven-year, $100 billion investment spree across refining, petrochemicals, telecom and retail? While a breather after such frenzied activity may be understandable, why does he want Reliance to be a zero-net debt company in 18 months? What will it mean for the more than 100 banks and financial institutions around the world that provide India's largest company and its subsidiaries with billions of dollars, yen, and rupees—in financing and refinancing?
7. Something doesn't add up – There is no reasonable or likely explanation for it
8. Outlook is so rosy – The situation is likely to be good or successful; seems positive
9. Hitting the Brake – Stopping something
10. Spree – When someone is in a particular activity for a long time
11. A breather – A pause; To relax
12. Frenzied – Exited activity
13. Refinancing – To finance again
Enroll here for a Free Oliveboard IBPS PO 2019 Mock Test
Above all, what will Reliance's deleveraging mean for India?
14. Deleveraging – Reducing your debt by selling assets
In retrospect, I tackled the last question prematurely in October 2016 when Reliance was shouldering 13% to 14% of the entire investment by India's top 1,250 listed companies as well as Indian Railways and state-owned electricity boards.
15. In retrospect – talk, think or consider the past 
16. Tackled – to handle something
17. Prematurely – Before time 
18. Shouldering – Handling/Taking the burden; Taking Risks 
Enroll here for a Free Oliveboard IBPS PO 2019 Mock Test
My conclusion then was that if Ambani took a year-long vacation, India's growth outlook could dim. What I didn't anticipate was that starting a 4G mobile network with lifetime free voice calls and dirt-cheap data was just the beginning rather than the end of Ambani's telecom ambitions.
19. Dim – Become dull
20. Anticipate – Regarded as possible; Intelligent guess
21. Dirt-cheap – very/extensively cheap
The goal of Reliance Jio was to acquire at least half of India's 1 billion-plus mobile customers, and that required continued spending.
Now that he's reached 340 million subscribers, though, the endgame is probably not more than a few quarters away. And that's problematic for the economy. The rest of India Inc. is paralyzed by debt and self-doubt; consumers are overstretched; and so is the government.
A holiday for Reliance would remove from play the only domestic balance sheet with unspent firepower.
The investment cycle for the Jio network is complete, Ambani told shareholders. In other units, too, there's little left to do.
Enroll here for a Free Oliveboard IBPS PO 2019 Mock Test
Ambani is selling 20% of the family jewel—Reliance's refining and petrochemical operations—to Saudi Arabian Oil Co. even though the goal is more strategic than just shedding debt. As my colleague David Fickling wrote, the $75 billion enterprise value at which Aramco is investing is a lot higher than the business is worth.
Saudi Arabia wants takers for its surplus oil in a world of electric vehicles, and if Reliance's refinery can provide a profitable outlet for 500,000 barrels per day of Saudi crude by converting it into jet fuel and polymers, then Ambani is doing the right thing by taking Aramco's money.
A $22 billion reduction in net debt (to reach zero) will require more than Aramco's cash. Reliance has shoved some borrowings into an infrastructure trust together with telecom tower and fibre assets. It's also taken on BP Plc as a partner in Indian fuel retailing and oil exploration. If Ambani finds deep-pocketed partners for general retail, as well as for telecom, reaching his goal will be simple enough.
22. Shoved – Put something into something; To insert
23. Deep-pocketed – One who has lot of money
Banks, however, will rue the end of his debt-fuelled expansion if loan syndication deals are only for refinancing and not new money.
24. Rue – To regret something
25. Syndication – Transfer of control
Enroll here for a Free Oliveboard IBPS PO 2019 Mock Test
As for shareholders, Ambani is telling them that hitting zero-net debt will come with higher dividends, bonus issues and other goodies "at a more accelerated pace than any time in our history". But investors will struggle to reinvest the cash returned by Reliance.
For one thing, India's slowdown is deepening. For another, the company's digitization blitz is causing unpredictable disruption. A day after Reliance told shareholders that they could watch movies on their new home broadband the same day as the cinema release, shares of PVR Ltd, India's biggest theatre exhibitor, fell more than 8% intraday.
Several Indian business leaders have sounded the alarm on the Indian economy's increasingly choppy waters. While Ambani may or may not share their concerns, his cautious actions can only serve to bring the storm closer.
So this was all from us in this blog post "Editorial Analysis & Vocabulary Building". We hope that you would like it. Go through the Video given in the blog to understand the Editorial Analysis better. 
Enroll here for a Free Oliveboard IBPS PO 2019 Mock Test
Oliveboard Edge
What is Oliveboard Edge ? How does it Benefit you?
Oliveboard Edge/Edge+ is a Subscription Platform that enables you to get Oliveboard's Video Courses and Mock Tests under just one Subscription.
Edge offers unlimited access to majority of Oliveboard's Online Video Learning Courses whereas if you subscribe to Edge+, you will get Video Courses as well as Mock Tests for Upcoming Exam.

It offers you a way to study different courses just under one subscription unlike before wherein you needed to buy separate courses for different exams.
One Plan. All Courses – Features
1. Unlimited Access: Any Course, Any Time
2. Unlimited Choice: Exam, Section, Topic-Wise Courses
3. Unlimited Variety: New Courses Every Week
Oliveboard's Subscription Platform for Unlimited Access to Online Classes & Mock Tests