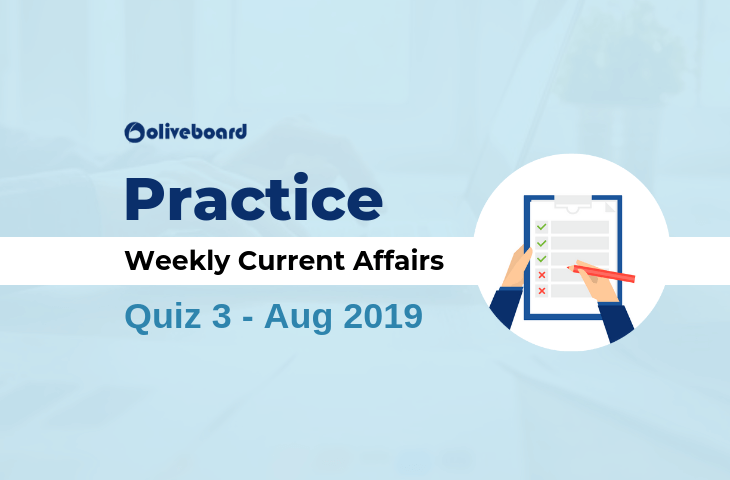 Most of the questions asked in exams from General Awareness section is based on Current Affairs, yet it is often taken for granted by candidates. It is one of the most scoring sections because the questions are factual and don't require much to think about it – either you know it or you don't, it's simple! To help you stay updated with all the latest happenings and not lose even a single mark if any question comes around it, we regularly provide important current affairs questions and answers. Check here the Top 10 weekly current affairs quiz 3. Watch the detailed GA Genius video on the quiz provided right after it:
Subscribe to Oliveboard EDGE to Get Unlimited Access to Courses
Weekly Current Affairs Quiz 3 | August 2019
Q1. As Home Minister, Amit Shah flags off first international meeting with ______.
Nepal

Sri Lanka

Bangladesh

Bhutan

Japan
Q2. Recently, which Bank has got the status of Scheduled Bank by RBI?
Postal Payment Bank

Ujjivan small finance bank

Jana Small Finance

North East Small Finance Bank

None of these
Practice Daily Free GK Quiz on Oliveboard
Q3. RBI panel moots extended hours for strong Forex market and Call Money Market; this panel was headed by _____.
H R Khan

Urjit Patel

Vivek Debroy

Usha Thorat

S N Malhotra
Q4. PNB Housing raises $75 million in ECB from ______.
World Bank

Asian Development Bank

Soft Bank Japan

Timisho Fin Corp

Sumitomo Mitsui Bank
Practice Daily Free GK Quiz on Oliveboard
Q5. Which of the following Public sector banks has signed an agreement with Cholamandalam MS General Insurance?
Indian Overseas Bank

Indian Bank

Bank of Baroda

Punjab National Bank

UCO Bank
Q6. Sudha Rani Relangi appointed as Director of Prosecution in ______.
The Supreme Court

Delhi High Court

Central Bureau of Investigation

RAW

Intelligence Bureau
Q7. IFC and MIGA have signed an agreement to support the development of a 252-megawatt wind farm in Egypt's Red Sea governorate by the support of which company?
Lekela Power B.V.

Siemens Gamesa

United Power

Suzlon Group General Electric
Q8. Centre started registration for Pradhan Mantri Kisan Maan-Dhan Yojana. How many farmers enrolled on the first day?
400

412

418

455

480
Practice Daily Free GK Quiz on Oliveboard
Q9. Who among the following has been appointed new Director for India Service Operations, Lenovo India?
Ashok Nair

Amit Agarwal

Sanchit Nagpal

Atul Kulkarini

Sandeep Bhatia
Q10. Hashim Amla announced his retirement from the international Cricket. He belongs to ____.
South Africa

Pakistan

Bangladesh

Afghanistan

England
That's all from us in the Weekly Current Affairs Quiz 3. Watch the GA Genius Video by Aditya Sir provided below to know about these current events in detail. Don't forget to subscribe to Oliveboard EDGE to get Unlimited Access to all the Courses available at the platform. Kick start your exam preparation with 100+ Free Mock Tests from Oliveboard.
Practice Daily Free GK Quiz on Oliveboard
Watch the Video for Detailed Solution
Also, Check: