The Common Law Admission Test (CLAT) is a national-level entrance exam for admissions to undergraduate (UG) and postgraduate (PG) law programs offered by 22 National Law Universities around the country. The CLAT 2022 would focus on evaluating the comprehension and reasoning skills and abilities of candidates. Overall, it is designed to be a test of aptitude and skills that are necessary for a legal education rather than prior knowledge, though prior knowledge occasionally may be useful to respond to questions in the Current Affairs section. This article takes you through the CLAT Current affairs and GK tips and strategy for CLAT Current affairs .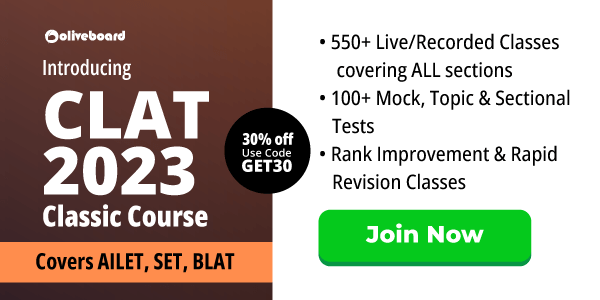 Register here for a Free Mock Test
1. Current Affairs and GK for CLAT – Full Details
Here, we will apprise you of the changes in the pattern:
1.1 Introduction to the Exam Pattern of CLAT 2022:
The UG-CLAT 2022 would focus on evaluating the comprehension and reasoning skills and abilities of candidates. Overall, it is designed to be a test of aptitude and skills that are necessary for a legal education rather than prior knowledge, though prior knowledge occasionally may be useful to respond to questions in the Current Affairs section.
The UG-CLAT 2022 shall be a 2-hour test, with 150 multiple-choice questions carrying 1 mark each. There shall be a negative marking of 0.25 marks for every wrong answer. These questions would be divided across the following 5 subjects:
English Language
Current Affairs, including General Knowledge
Legal Reasoning
Logical Reasoning
Quantitative Techniques
| Subject Areas With Weightage | Approximate No. of Questions |
| --- | --- |
| English Language | 28-32 questions, or roughly 20% of the paper |
| Current Affairs, including General Knowledge | 35-39 questions, or roughly 25% of the paper |
| Legal Reasoning | 35-39 questions, or roughly 25% of the paper |
| Logical Reasoning | 28-32 questions, or roughly 20% of the paper |
| Quantitative Techniques | 13-17 questions, or roughly 10% of the paper |
Get the detailed syllabus here: Current Affairs and GK for CLAT
1.2 Introduction to the changes in the Current Affairs & GK section of CLAT:
In this section, you will be provided passages of up to 450 words each. The passages will be derived from news, journalistic sources, and other non-fiction writing. The questions may include an examination of legal information or knowledge discussed in or related to the passage, but would not require any additional knowledge of the law beyond the passage.
Each passage will be followed by a series of questions that will require you to demonstrate your awareness of various aspects of current affairs and general knowledge, including:
Contemporary events of significance from India and the world;
Arts and culture;
International affairs; and
Historical events of continuing significance.
If prepared with the right strategy, the GK section can be a score booster. So let us look on the strategy to optimize the score in this section.
How well are you prepared for the GK section of the CLAT exam? Take a Free Mock Test to know.
1.3 Preparation tips for Current Affairs and GK for CLAT:
Read Newspaper:-

With the coming up of a new pattern where you need to read passages and then answer the questions, there is no better source to prepare than newspapers. Read articles on the current events from different areas like national news, art and culture, international affairs, economy, environment, etc. While reading, jot down the important points or you can also frame a summary of the article for revision in the future. You can refer to the newspapers like The Hindu, Indian Express, Hindustan times, etc. For online news articles, you can refer to websites like The wire, Live Mint, The telegraph, BBC news.com, etc.

Prepare the current affairs:-

While the structure has come down to a passage form, some questions after the passage might be based on current affairs. For this, prepare the current affairs of the last six months in the reverse order by starting with the current affairs for the month of July. For a compiled version of current affairs for a month, you can refer to the monthly bolt by Oliveboard where you will find all the important monthly news covered.

Prepare notes:-

While you go through the articles, make notes of the important points around the topic that you come across. Some indirect information can also be asked around that topic. For e.g. If there is some article that mentions " The article 370 has been scrapped by the central government and declared Jammu and Kashmir as Union territory". So you can prepare notes around it like; What is article 370, the capital of Jammu and Kashmir, its governor, etc.

Take tests:-

Any preparation is incomplete until you assess yourself on how much you are prepared. So before the actual exam, take several mock tests to analyze your knowledge, speed, and accuracy. Try to identify your weak and strong areas after each test and then work on it accordingly. Also take daily tests on the GK app by Oliveboard for free, where you have all the important daily news covered.
Sample questions for practicing GK and Current Affairs for CLAT:
Passage 1:
China's space program is now slated to achieve a new milestone. In July, the country will launch its first Mars mission, the '[1]', which is expected to land on the Red Planet's surface in the first quarter of 2021. The success of the mission will make China the third country to achieve a Mars landing after the USSR and the United States.
Named after the ancient Chinese poem 'Questions to Heaven', the [1], an all-in-one orbiter, lander, and rover will search the Martian surface for water, ice, investigate soil characteristics, and study the atmosphere, among completing other objectives.
The [1] mission will lift off on a Long March 5 rocket, a launch system developed by the China Academy of Launch Vehicle Technology (CALT), from the Wenchang launch centre, and will carry 13 payloads (seven orbiters and six rovers) that will explore the planet. The mission's launch in July was confirmed on Sunday by the China Aerospace Science and Technology Corporation (CASC), which has been working on the project since 2016.
As per a report in the Air and Space Magazine, the Chinese mission will be the first to place a ground-penetrating radar on the Martian surface, which will be able to study local geology, as well as rock, ice, and dirt distribution. Two candidate landing sites have been identified, one of them being Utopia Planitia, according to Space News. China's previous 'Yinghuo-1' Mars mission, which had piggybacked on a Russian spacecraft, had failed after it could not leave the Earth's orbit and disintegrated over the Pacific Ocean in 2012.
The Chinese mission is expected to take off in late July, around the same time when NASA is launching its own Mars mission – the ambitious 'Perseverance' which aims to collect Martian samples and bring them back to Earth in a two-part campaign.
The [2] besides India so far succeeded in sending missions to Mars regarded as the most complex space mission.
---
1. Among the following who all have been successful in reaching the Planet Mars? Refer [2] in the passage.
Russia
Japan
Australia
Israel
Answer:- 1
The USSR in 1971 became the first country to carry out a Mars landing – its 'Mars 3' lander being able to transmit data for 20 seconds from the Martian surface before failing. The country made it's second and Mars landing two years later in 1973.
The second country to reach Mars's surface, the US, holds the record for the most number of Mars landings. Since 1976, it has achieved 8 successful Mars landings, the latest being the 'InSight' in 2019 (launched in 2018).
India and the European Space Agency have been able to place their spacecraft in Mars's orbit. India's Mars Orbiter Mission (MOM) or 'Mangalyaan' was able to do so in September 2014.
---
2. The latest Mars rover mission of China has been named as _________. Refer [1] in the passage.
Yinghuo-2
Tianwen-1
Dong Fang Hong-1
Tiangong-2
Answer:- 2
China National Space Administration (CNSA) named the Mars mission as "Tianwen," which means Heavenly Questions or Questions to Heaven, a poem written by China's well known poet Qu Yuan (340-278 BC).
---
3. Chinese parliament is named as which of the following?
National People's Assembly
National People's Forum
National People's Congress
National People's Consortium
Answer:- 3
Under China's 1982 constitution, the most powerful organ of state is meant to be the National People's Congress (NPC), China's parliament. In truth, it is little more than a rubber stamp for party decisions.
The congress is made up of nearly 3,000 delegates elected by China's provinces, autonomous regions, municipalities and the armed forces. Delegates hold office for five years, and the full congress is convened for one session each year.
---
4. ______was the first artificial satellite of Mars when it arrived and went into orbit.
Mariner 5
Mariner 9
Mariner 4
Mariner 7
Answer:- 2
Mariner 8 and 9 were the third and final pair of Mars missions in NASA's Mariner series of the 1960s and early 1970s. Unfortunately, Mariner 8 failed during launch on May 8, 1971. Mariner 9 was launched successfully on May 30, 1971 and became the first artificial satellite of Mars when it arrived and went into orbit.
---
5. Mars is nicknamed as Red Planet while Venus is popularly known as __________.
The Evening Star
The Red Giant
The Swift Planet
The Gas Planet
Answer :- 1
Nicknames for the eight planets in the solar system are Swift Planet for Mercury, Morning Star and Evening Star for Venus, Blue Planet for Earth, Red Planet for Mars, Giant Planet for Jupiter, Ringed Planet for Saturn, Ice Giant for Uranus and Big Blue Planet for Neptune. Pluto was once considered a planet and had the nickname Ice Planet, but it is now classified as a dwarf planet.
---
For more such GK practice question sets for CLAT, register here for free a mock test.
That is all from us in this blog on GK for CLAT. We hope you found the tips and sample questions given above useful for your exam preparation. All the best.
Attempt a free CLAT Mock Test here
DOWNLOAD THE OLIVEBOARD APP FOR ON-THE-GO EXAM PREPARATION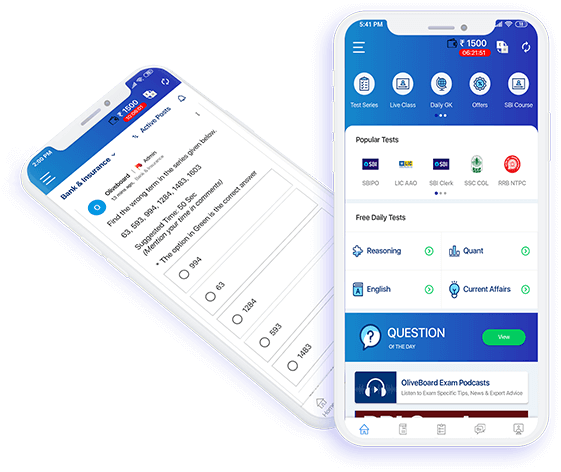 Video Lessons, Textual Lessons & Notes
Topic Tests covering all topics with detailed solutions
Sectional Tests for QA, DI, EL, LR
All India Mock Tests for performance analysis and all India percentile
General Knowledge (GK) Tests
Free videos, free mock tests and free GK tests to evaluate course content before signing up!

Oliveboard Law Exams – Live Courses & Mock Test Series