How to Read Newspaper for Bank Exams
How to Read Newspaper for Bank Exams: Almost all bank exams, regardless of the conducting authority and post, have a section for English and GA/GK. This may be in either one or both stages of the written exams. Candidates therefore must build both the skill of reading and comprehending what they read, as well as knowing the latest important happenings in the world. The best way to combine this is newspaper reading. This blog will break down the process of how to read the newspaper in a way that will help your bank exam preparation.
How to Read Newspaper for Bank Exams – Steps
The first thing to remember is that you must select a good source. The Hindu is a reputed paper that covers all relevant issues and also has editorial pages. These editorial pages are a great source of vocabulary, RC, idioms, and phrases. Here's how to read the newspaper effectively:
Take the physical copy of a newspaper for bank exams (rec. The Hindu, Indian Express, or Economic Times) and a pen

Go through the newspaper with the pen in your hand and highlight every newspaper article that belongs to one (or more) of the following categories:

National News

International News

Sports News

Science and Technology News

Economic News

Now, every newspaper article that you have highlighted will have to be analyzed by you. For this, you need to maintain a small notebook on which you shall write the details we provide.

Take one newspaper article among the ones you have marked (those are the only ones you will study), and write down the following in the notebook:

Title/Headline of the newspaper article
What? – What happened exactly?
Where? – Where do the effects of the incident/event carry over? Is it a state or union territory or is it all of India? Where can the effects be felt?
When? – When did the event take place? What is the date and time of the incident/event happening? Try to be as specific as possible.
Why/How? – What are the reasons behind the event? How did this event come to be? What brought this event up?
Important Figures – for example, if the inflation increased by 0.2% in this fiscal year, that figure is important. If the total budget allotted for railways is 40,000 crore, that figure is important as well.

Now, when you are revising for your exam, you will be focusing on your notes only. This way, you will not waste time at all and you will complete your revision more effectively.
How to Read Newspaper for Bank Exam – Sample
This process can be followed with a real newspaper article taken from a recommended newspaper for bank exams, The Hindu. Look at this newspaper article below: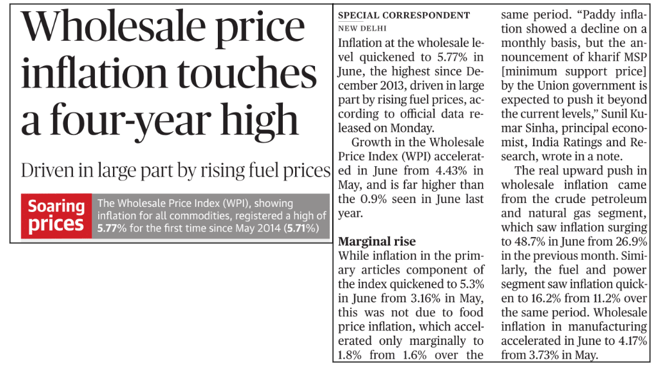 Here's how you can apply the strategy for reading newspapers for bank exams to this newspaper article:
Title/Headline – Wholesale price inflation touches a four-year high
What? – Increase in wholesale price inflation (so, wholesale prices have now been increased for various foods and crops, like paddy)
When? – June 2018 (as it says clearly in the newspaper article, "Inflation at the wholesale level quickened to 5.77% in June, the highest since December 2013")
Where? – All over India, because inflation is not limited to a state or union territory
Why/How? – More than 1 reason: rising fuel prices, particularly crude petroleum and natural gas
Important Figures – The Wholesale Price Index (WPI) reached an inflation rate of 5.77% in June 2018, which was about 4.43% in May, and in June 2017 it was 0.9%.
So, when you prepare concise notes for a newspaper article, then you know that you can revise the summary of a newspaper article quickly. Hope this clears your queries and that now you understand how to read newspapers for bank exams. All the Best!
How to Read Newspaper for Bank Exams – FAQs
Q1. What newspapers are recommended for bank aspirants?
A1. Bank aspirants should read any of the following- The Hindu, Indian Express, or Economic Times.
Q2. How will reading the newspaper help for bank exams?
A2. Reading the newspaper will help improve vocabulary, reading comprehension, awareness of current affairs, etc.
---
---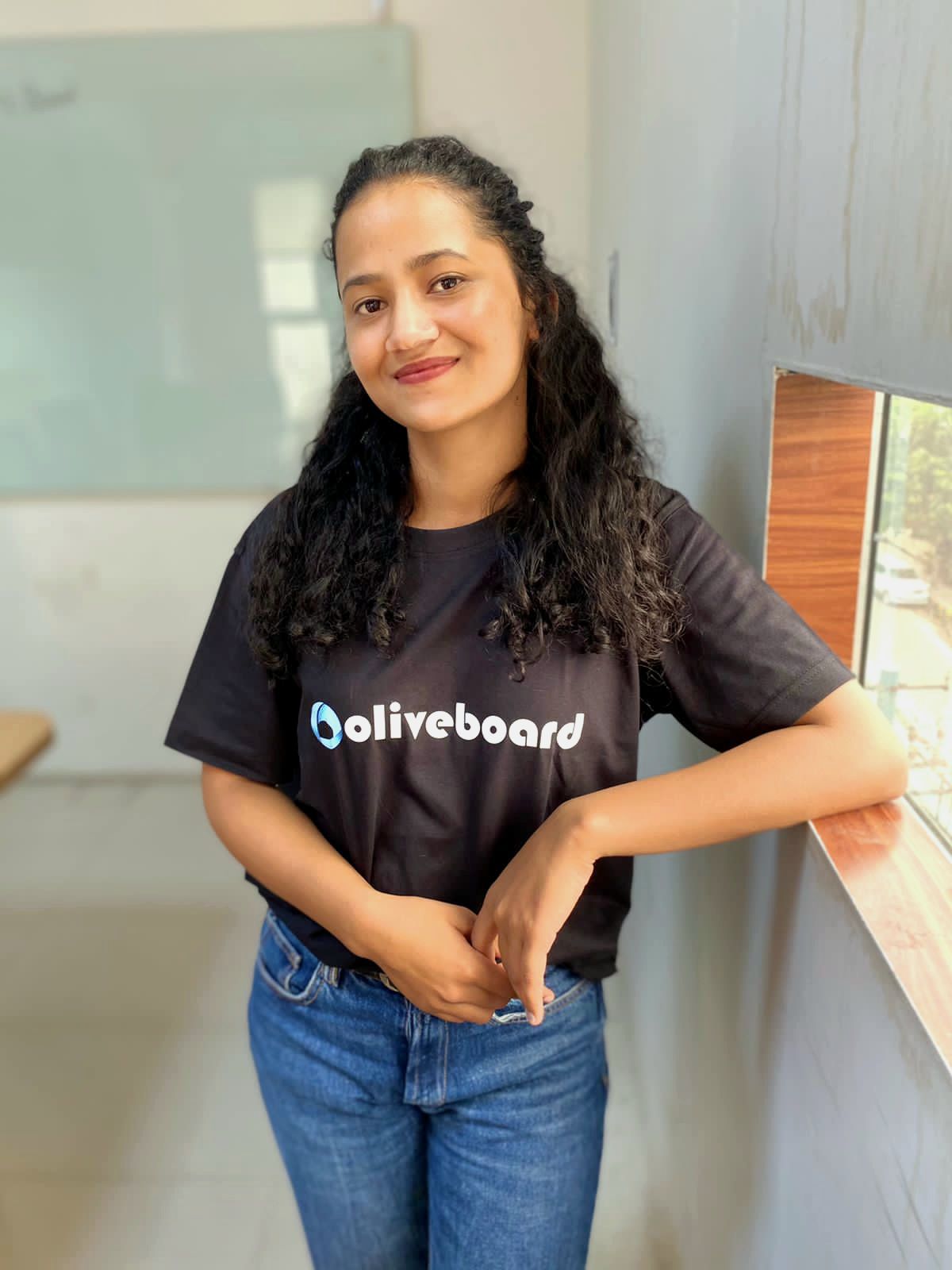 I have been writing blog content for different exams for more than 3 years now. Being an aspirant myself and having closely worked with students and mentors, I know what kind of content an aspirant is looking for. Apart from writing content, I like watching movies.
  Oliveboard Live Courses & Mock Test Series