The Institute of Banking Personnel (IBPS) conducted the IBPS Clerk Mains Examination on 20th January 2019. In this blog we will be providing you with the IBPS Clerk Mains GA questions asked in the General/Financial Awareness section of the IBPS Clerk Mains Examination 2018-19. We have already shared with you the detailed Analysis of the exam. You can go through it and check the type of questions asked in the exam. IBPS Clerk Mains GA questions exam will give you an insight of what type of questions were asked and also those of you took the exam can check the correct answers here. So here we present to you IBPS Clerk Mains GA questions.

IBPS Clerk 2018 Mains Exam Analysis- 20th January 2019

Kick start your SBI PO 2019 Preparation with a free Oliveboard Mock Test 
IBPS Clerk Mains GA Questions – Memory Based 
Where will the 2019 BRICS summit happen? Brazil
Angelique Kerber hails from which country? Germany
Aron Finch is associated with which sport? Cricket
Who headed the committee for banks merger? Arun Jaitley (Finance Minister)
Which financial institution is BOND-I is given by? World Bank
Damdama lake is in which state? Haryana
Who was selected as the Brand Ambassador for Eat Right Movement launched by FSSAI? Rajkummar Rao
What is the name of the exercise between Indian and Australian Air Forces? Pitch Black
What was the name of missile made by HAL that was launched recently? Tejas
By which year is India aiming to reduce its emissions? 2030
What is increased premium decided by IRDAI for the insurance cover of vehicles owners up to 15 Lakhs at a premium of? 750 Rs
Jan Dhan Darshak is part of which Initiative? Financial Inclusion 
Khelo India games were recently held at which place? Pune, Maharashtra
In which state does Mahanadi river originates? Chhattisgarh
What is the maximum amount that can be deposited in a payments bank? 1 Lakh
What is the maximum amount that can be sent through Liberalised Remittance Scheme? USD $250,000
Where is the headquarter of Public Affairs Centre? Bengaluru, Karnataka
RBI has asked banks having how many branches to have internal ombudsman exclusive of RRBs? Banks having more than 10 branches
What percentage of the Demonetised money was back into the system as per the Government declaration? 99.3%
Stan Lee, who passed away recently is a comic writer associated with which of the following comic works? Marvel Comics
What is the child sex ratio for 1000 males as per census 2011? 919 Females
What was the currency returned to RBI after Demonetisation? 15.31 Lakh Crores
What is the GDP is expected to rise to for the fiscal year 2018-19 for the next quarter? 7.1%
What is the validity period of Cheques? 3 months
What is the difference between exports and imports called? Import appears, when domestic companies buy goods abroad and bring them to a domestic country for sale. Export appears when domestic companies sell their products or services abroad.
What is the minimum fee to file a case in a Lok Adalat? No Court Fee
What is the minimum paid-up capital for small finance banks? Rs. 100 crores.
What is the name of the book which was awarded the golden man Booker prize 2018? The English Patient
What is the Overdraft Facility in Jan-Dhan Yojana? 10,000 Rs
What is the registry called where wilful defaulters, pending files records are seen etc? Public Credit Registry (PCR)
What was the Reverse Repo Rate announced by RBI in latest Bi-Monthly Monetary policy? 6.25% 
What was the location of Academy Awards 2019? Los Angeles
Where did the ICC women's world cup T20 2018 took place? West Indies
Which movement was a forest conservation movement in India in the 1970s? Chipko Movement 
Who is the chairman of HDFC Bank? Deepak Parekh
Who is the chairman of Indian Banking Association (IBA)? Sunil Mehta
World Economic Outlook Report is published by which organisation? International Monetary Fund (IMF)
In which state of India was World's first thermal power plant started? Andhra Pradesh.
This was all from us in this blog of IBPS Clerk Mains GA Questions from IBPS Clerk Mains 2018-19 Examination conducted on 20th January 2019.
If your aim is to crack SBI PO 2019 Examination in your first attempt, SBI PO Cracker Course is for you.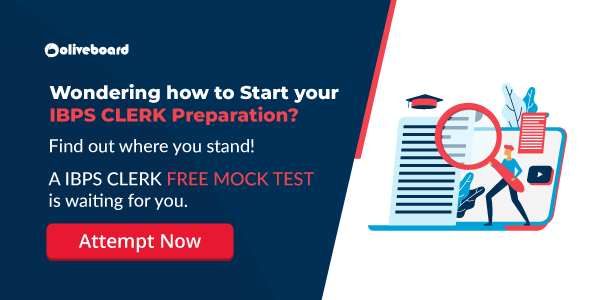 Register for the SBI PO Cracker Course for SBI PO 2019 Exam. 
Preparing for more exams like IBPS PO, IBPS Clerk, IBPS SO, Railways RRB ALP, SSC CGL, SSC CPO, SEBI Grade A, ESIC SSO, LIC HFL? Ace your exam preparation with mock tests from Oliveboard. Also, refer to informative articles on exam preparation here. You can also take Oliveboard's RRB JE Mock tests or click on the image below to register for RRB JE Mock Tests.

  Oliveboard Live Courses & Mock Test Series