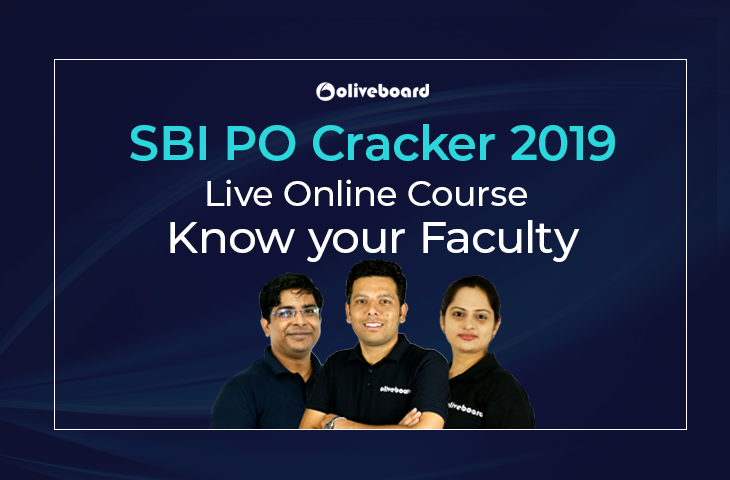 We are starting our very coveted SBI PO cracker course 2019 for the upcoming SBI PO 2019 examination. SBI PO being a reputable Banking job, pursued by Lakhs of Banking jobs aspirants, as we all know is a tough nut to crack. So here we at Oliveboard, have come to your rescue with our online learning course that is SBI PO Cracker course  for SBI PO 2019 preparation that will include:
(a) 100+ Live Classes By The Best Faculty
(b) Faculty-led Practice Sessions
(c) One-on-one Video Doubt Clearing Sessions With Faculty
(d) Weekly Topic Quizzes and Special Classes
(e) Sectional tests, Topic Tests and GK Tests
(f) Mock Discussion and Analysis. 
(g) SBI PO 2019 Mock Tests with Expert Analysis
(h) Day-Wise Study Plan
(i) Free Video Lessons and GK ebooks
Read Features of SBI PO Cracker course in detail: SBI PO Cracker Course 2019
And all these classes will be taken by the Top-Faculty at Oliveboard for SBI PO 2019 preparation. Our faculty being highly experienced, have an extensive knowledge in various Banking and Government Exams. They being associated with the field of teaching since years are well aware of the pulse of Banking Exams. In this blog we will introduce you all to our Faculty members for Quantitative Aptitude, Reasoning and English. I am sure you must have attended their classes on the Oliveboard portal.
SBI PO 2019 Preparation Cracker Course 2019
Let's get started with the Profiles of our Faculty Members in their own words.
Vivek Ranjan Sir – Faculty for Quantitative Aptitude
TEACHING EXPERIENCE:
I did my debut in the teaching field in the year 2004 soon after completing my 12th standard. At that point in time, I used to take classes up to 10th standard. However, I stepped into professional teaching in the year 2009 and since then I am training SSC and Banking aspirants.
TEACHING MANTRA:
Keep the concepts simple, because if I can't explain any concept or topic in a simple way, I feel I have not truly mastered at it.
DAILY MOTIVATION:
The thought that keeps running in my subconscious mind every moment is that I have to give my best, because so many lives are dependent on me and I can't play with their dreams. Because their dreams are everything to me. I am here for them and because of them.
IDEAL STUDENT:
Anyone, who is hungry for the success and is always ready to sweat more during the practice hour.
IF NOT A TEACHER?
Honestly speaking I never thought about an alternative career. I am here because of my choice and not because of an accident.
Harshita Khurana Ma'am – Faculty for English
TEACHING EXPERIENCE:
I have been an educator for Banking and SSC aspirants since 2014 and reflecting back on the years, it's been a great learning experience as I have developed my own teaching strategies and approaches that contribute to the student's enthusiasm and encourage positive participation so that learning has an impact. Also, it gives me immense happiness when my guidance helps students achieve their dream jobs.
TEACHING MANTRA:
I look for ways to make the learning process fun and try to arouse student's curiosity that helps them remember lessons that might otherwise go in from one ear and out from the other. Also, as a faculty of English language, I motivate my students to read a lot, because not only is it helpful from the exam's perspective, but also is fundamental to functioning in today's knowledge economy.
DAILY MOTIVATION:
The secret of your success is determined by your daily agenda.Take those small steps. START.
IDEAL STUDENT:
An ideal student for me would be someone who has set specific time bound goals and regularly works towards achieving those. Also, one who is perseverant and has a "Never give up" attitude.
IF NOT A TEACHER?
I would have been a travel blogger. I would definitely love to explore new places and pen down my experiences. Look at the world through rose-tinted glasses and phase out the negativity and clutter that defines modern life.
Mukesh Singh Sir – Faculty for Reasoning Ability 
TEACHING EXPERIENCE:
I am having 5+ years of experience of teaching Reasoning for Banking and SSC Exams. I have been one of the most popular faculties of India's biggest market of the coaching industry. It was only the voice of my heart which brought me here at Oliveboard because I wanted to be the reason behind the selection of students from all over India not only from one or two particular parts of the country.
TEACHING MANTRA:
My thoughts and my words must reach to the student sitting at the last seat in my class or the weakest student.
DAILY MOTIVATION:
It's all about the love of my students who eagerly wait for my classes and it inspires me to prepare for my classes.
IDEAL STUDENT:
All those students who put efforts from their sides after my class and make this journey of competitive Exams a Success.
IF NOT A TEACHER?
By blood I am a businessman also an aspirant of Civil Services Exams. Although now I am an Accidental Faculty and enjoying the same.
So this was a brief profile of our Teaching Faculty at Oliveboard that will aid you in your SBI PO 2019 preparation. The faculty being highly motivated by their work would bring the same motivation in students while teaching. For all those who attended the IBPS PO online live classes and IBPS Clerk Cracker Course must be aware of the expertise and teaching methods of our Faculty Members. For all others we urge you join the SBI PO Cracker course 2019 for SBI PO 2019 preparation to learn from our expert faculty and prepare with great ease and excel in upcoming SBI PO  2019.
All the Best for your SBI PO 2019 preparation.
Register for the SBI PO Cracker Course for SBI PO 2019 Exam. To read more about the SBI PO Cracker Course, click here.