With the IBPS Clerk Mains examinations just around the corner, it is now the final hour to wrap up your preparation and maximize your time devoted to revision and practice of the sections. Since we know that the last few days before the examinations can be especially stressful for the students, we at Oliveboard have brought you the IBPS Clerk Mains Revision Strategy to help you face the exam confidently.You should understand that revision is as important as your Preparation journey. It not only help you recollect and retain everything you have learnt so far but also boost your confidence on the final day! So, before starting with the IBPS Clerk Mains Revision Strategy, let's glance through the exam pattern first.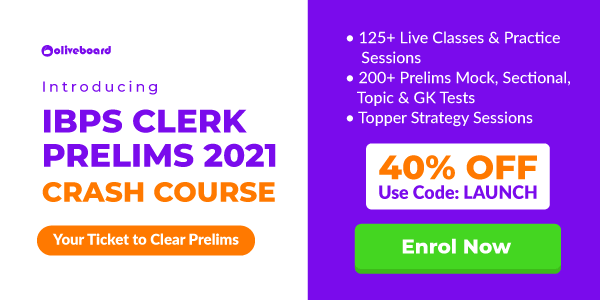 Read along to check how to get Oliveboard IBPS Clerk Mains 10 Mock Tests in Just Rs. 359
Sr. No.

Name of the Test

No. of Ques.

Max. Marks

Medium of Exam

Time allotted for each test

(Separately timed)

1.

General / Financial Awareness

50

50

English/Hindi

35 Minutes

2.

General English

40

40

English

35 Minutes

3.

Reasoning Ability and Computer Aptitude

50

60

English/Hindi

45 Minutes

4.

Quantitative Aptitude

50

50

English/Hindi

45 Minutes

 

Total
190
200

 

160 Minutes

Check IBPS Clerk Mains Study Plan to Revise all important topics before the final face Off!
IBPS Clerk Mains Revision Strategy
Analyse your prelims scorecard. Try to see which areas need improvement. The section(s) where your score was very close to the cutoff's are probably the areas you need to concentrate the most. Make sure you cover each and every topic mentioned in IBPS Clerk Mains Study Plan.
General / Financial Awareness
Most students seem to worry about General/Financial Awareness section. Its important to note that the section consists of questions from Economy, Finance, Banking Awareness and Current Affairs among other topics. Try to solve questions from all past year papers. By approaching it with a proper strategy, you can easily clear the cut-offs in the General/Financial Awareness section. Revise at least 6 Months current affairs from Oliveboard Monthly Current Affairs Bolt. To know more about important topics to be covered in General Awareness/Financial Awareness Section, read – How to Prepare General Awareness Section for IBPS Clerk Mains.
General English
General English would be of similar pattern as the one you encountered in Prelims. So, you don't need to worry much. Just keep practicing as many questions as you can and work on building vocabulary. For this we would recommend looking at the archives of the Daily Hindu editorial Vocabulary Booster and going through as many articles as you can. Also practice at least 3 RC passages and New pattern Cloze Test every day and practice Reading Comprehension Quiz.
Reasoning Ability and Computer Aptitude
Reasoning Ability section, again, will be of similar type to the prelims exam. Only change here will be clubbing of Computer Aptitude section. Practice High level questions of whatever you have done during prelims preparation and revise all the important topics that comes under computer aptitude.
Practice as many tests you can from logical and analytical reasoning, blood relations, syllogisms, circular seating arrangement, linear seating arrangement, coding decoding, inequalities etc. This section can be time-consuming and lengthy, therefore, make sure you pick and attempt wisely.
For Computer Aptitude, first understand how it is different from Computer Awareness. Under Computer Awareness Direct Factual Questions are asked such as History of Computers, Types, etc.,  while Computer Aptitude is the application of the computer knowledge in solving logical problems. Based on the questions asked in various other exams like, SBI PO, IBPS PO, etc. we can say that Binary number system (Language which computer understands) and computer programme flow charts are an important part of the syllabus of computer aptitude. So, focus more on practicing questions related to conversion of numbers from Binary to numerical system, Binary to Decimal System, Decimal to Binary, Numerical to binary, etc. The other type is flowcharts, in which a situation is given in the form of a flowchart (like that of a computer program) and candidates would have to solve the questions based on the information provided in the flowchart.
Important Topics under Computer Aptitude for IBPS Clerk Mains
DBMS, Full form of Technical Terms, Networking and Protocols, Flowchart, Logic gates, Basic terms of Hardware and Software, Computer Programmes, Commands, Basic logical questions on routine operation of computers, computer languages, Basic Conversion, etc.
Quantitative Aptitude
The trick to scoring marks in Quantitative Aptitude Section of IBPS Clerk Mains is to attempt the questions on Quadratic Equations, Simplification and Approximation first and then going for Number Series. Hence, work on strengthening these topics. The Data Interpretation questions are known to be calculation intensive. Hence, make sure you practice at least 5 sets everyday. Expect calculations to be lengthy in the IBPS Clerk Mains. So, in the next few days, revise various shortcuts to multiply, divide numbers, find percentage of numbers etc. The faster you can calculate, the more you can score in DI in the exam. Don't panic if you find the questions long. Solve a couple of DI Sets and move on to other sections.
It is very important to take a few mock tests in these days. Oliveboard offers 10 mock tests for IBPS Clerk Mains at Just Rs. 399. Apply Coupon Code OB10 and get it at Just Rs. 359
Register Here– Provide Your Email ID and Mobile Number
Select IBPS Clerk Mains Exam – Click on the Plan you want to Buy
Redeem the Coupon Code OB10
Click on Buy Now

Make Payment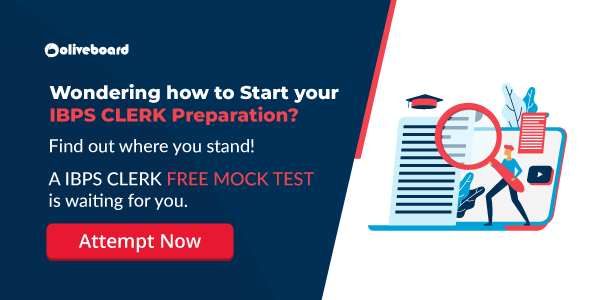 That's all from us. Hope you all find it useful and follow the IBPS Clerk Mains Revision Strategy to make the most of these last few days.
All the Best!