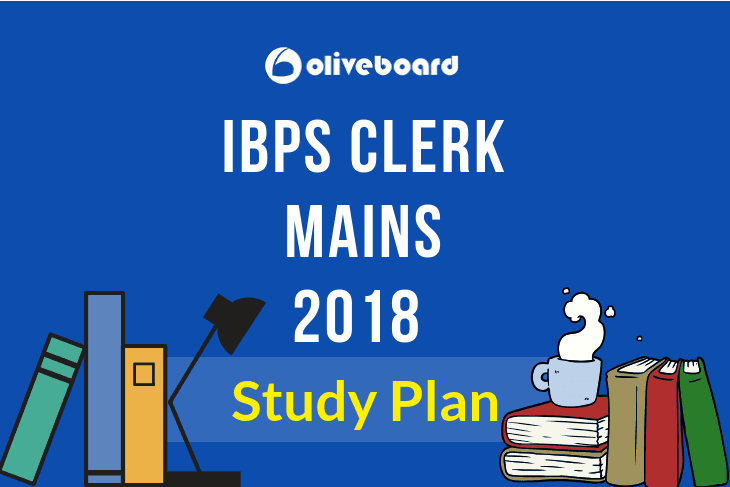 The IBPS Clerk Mains exam is scheduled to be held on 20th of January 2018. With Mains exam just around the corner, it becomes imperative to start thinking about the right strategy to get sure shot success. This is the time when you should forget everything else and approach the exam with single goal of clearing it. And we, at Oliveboard are always there to help you proceed in the strategic manner. To help you in this endeavor, we have created IBPS Clerk Mains 18 Days Study Plan. Many of you have enrolled for IBPS Clerk Cracker Plus Course for Mains while many are still waiting for the Prelims result. It is advisable to join the course now and not wait for the result because no matter what the result comes, whatever you'll learn in the LIVE Practice Sessions will ultimately help you in the long run as there are many exams which you'll be facing in the coming months. So, without further ado, let us check the IBPS Clerk Mains Study Plan.
Before that, let's quickly glance through IBPS Clerk Mains Exam Pattern
Sr. No.
Name of the Test
No. of Ques.
Max. Marks
Medium of Exam
Time allotted for each test

(Separately timed)

1.

General / Financial Awareness

50

50

English/Hindi

35 Minutes

2.

General English

40

40

English

35 Minutes

3.

Reasoning Ability and Computer Aptitude

50

60

English/Hindi

45 Minutes

4.

Quantitative Aptitude

50

50

English/Hindi

45 Minutes

Total
190
200
160 Minutes
IBPS Clerk Mains Study Plan 2018
Since you have already covered Quant, Reasoning and English during Prelims Preparation, for Mains you need to practice high level questions for the same and focus your attention on General/Financial Awareness and Computer Aptitude too as they are very scoring and less time-consuming.
Take Oliveboard's Free Mock Test for IBPS Clerk Mains



The topics to be covered for General Awareness are as follows:
Important Topics for General/Financial Awareness
Current Affairs: National and International news | Free Daily Current Affairs from Oliveboard Current Affairs & GK App
Static GK: History of Banking, RBI- Structure & Function, Finance, Insurance, Banking Awareness, Budget, Sports, Polity, Economics, Indian Constitution, Science & Technology, Inventions & Discoveries, Awards, Books & Authors, New Appointments and Joining
**Go to Oliveboard Blog Section to Download Free eBooks, Monthly Bolt and exam-related updates.
The topics to be covered for Computer Aptitude are as follows:
Important Topics under Computer Aptitude for IBPS Clerk Mains
DBMS, Full form of Technical Terms, Networking and Protocols, Flowchart, Logic gates, Basic terms of Hardware and Software, Computer Programmes, Commands, Basic logical questions on routine operation of computers, computer languages, Basic Conversion, etc.
That's all in this blog of IBPS Clerk Mains Study Plan. You can refer to this study plan or get yourself a customized study plan for IBPS Clerk Mains 2018 from Oliveboard's IBPS Clerk Mains Study Planner.
Also check IBPS Clerk Mains Tips and Tricks
Why You Should Attend IBPS Clerk Cracker Plus Course?
Wondering how to attend IBPS Clerk Cracker Plus Course and make the most of it? Here's what you should do-
Fill Your Email, Password, Mobile No.

Click on Enroll Now
If you have any doubt, ask directly from the faculty on Oliveboard Telegram Group. Install Telegram and join obbanking.
Know Why to Join Best Telegram Group for Banking Aspirants
All the Best!
  Oliveboard Live Courses & Mock Test Series