Indian Council of Medical Research (ICMR), New Delhi has entered into a memorandum of understanding with the Postgraduate Institute of Medical Education & Research (PGIMER), Chandigarh for holding of Direct Recruitment Examination/test for the posts of ASSISTANT (Group-B Level-6) of ICMR by PGIMER, Chandigarh. A total of 80 vacancies are announced for the posts of ASSISTANT (Group-B Level-6) of ICMR and its Institutes/Centers across India. In this blog, ICMR Assistant Recruitment Notification 2020 we are going to share the details like important dates, exam pattern, syllabus, eligibility criteria, vacancy details, etc.
Let's start with the blog and get to know everything about the ICMR Assistant Exam 2020.
To get direct updates to your mailbox, register here.
ICMR Assistant Recruitment Notification 2020 | Important Dates
Important timelines for the examination/test process will be as under:
Item(s) / Activities

Timeline (s)/ Remarks

Opening date for online registration for filling up of online application on PGIMER's / ICMR's websites

www.pgimer.edu.in

and

www.icmr.nic.in.

07.11.2020

Closing date for online registration & submission of online applications

04.12.2020

Opening date for availability of admit cards for downloading from PGIMER's & ICMR's websites

21.12.2020

Date for Computer Based Test (CBT) for 80 Marks

03.01.2021
ICMR Assistant Recruitment 2020 | Vacancy Details
As per the notification ICMR has released a total of 80 vacancies for the post of Assistant. Check the detailed break-down of category-wise ICMR Assistant vacancy below.
| | |
| --- | --- |
| Category | Vacancy |
| General | 33 |
| OBC | 21 |
| SC | 12 |
| ST | 06 |
| EWS/ PwBD | 08/04 |
| Total | 80 |
 ICMR Assistant Recruitment Notification 2020 | Exam Pattern
The exam pattern for the Direct Recruitment Examination/test for the posts of ASSISTANT (Group-B Level-6) is given below with details of subjects, marks and subject-wise number of questions (MCQ).
80% marks/weightage will be for the written/Computer Based Test (MCQs).
There will be a negative marking of 0.25 marks for each wrong answer.
Marks scored by candidates in Computer Based Test will be normalized. Normalized scores will be used to determine final merit and cut -off marks. For the purpose of normalization, VH candidates will be considered only with the candidates of the main shift.
For VH candidates of 40% and above visual disability, there will be no component of Maps / Graphs/ Diagrams / Statistical Data in the General Intelligence / Quantitative Aptitude subjects.
Skill Tests where prescribed in the Essential Qualification will be conducted and 20% marks/weightage would be given.
Prepare For ICMR Assistant By Attempting A Free Mock Test
ICMR Assistant Recruitment 2020 | Detailed Syllabus
Indicative Syllabus for Computer Based Test. Question papers will be in English language only. Questions may be picked up from among the following subjects/specialties.
General Intelligence: 
It would include questions of both verbal and non-verbal type. This component may include questions on
analogies,
similarities and differences,
space visualization,
spatial orientation,
problem-solving,
analysis,
judgment,
decision-making,
visual memory,
discrimination,
observation,
relationship concepts,
arithmetical reasoning and figural classification,
arithmetic number series,
non-verbal series,
coding and decoding,
statement conclusion,
syllogistic reasoning,
Semantic Analogy,
Symbolic/Number Analogy,
Figural Analogy,
Semantic Classification,
Symbolic/ Number Classification,
Figural Classification,
Semantic Series,
Number Series,
Figural Series,
Problem-Solving,
Word Building,
Numerical Operations,
symbolic Operations,
Trends,
Space Orientation,
Space Visualization,
Venn Diagrams,
drawing inferences,
punched hole/ pattern – folding & un-folding,
Figural Pattern – folding and completion,
Indexing,
Address matching,
Date & city matching,
Classification of centre codes/ roll numbers,
Small & Capital letters/ numbers coding,
decoding and classification,
Embedded Figures,
Critical thinking,
Emotional Intelligence,
Social Intelligence,
Other sub-topics, if any.
General Awareness: 
Questions will be designed to test the general awareness of the environment and its application to society. Questions will also be designed to test knowledge of current events and of such matters of everyday observations and experience in their scientific aspect as may be expected of any educated person. The test will also include questions relating to India and its neighboring countries especially pertaining to History,  Culture, Geography, Economic  Scene, General Polity & Scientific Research.
Quantitative Aptitude: 
The questions will be designed to test the ability of appropriate use of numbers and number sense of the candidate.  The scope of the test will be computation of
whole numbers,

decimals,

fractions and relationships between numbers,

Percentage,

Ratio & Proportion,

Square roots,

Averages,

Interest,

Profit and Loss,

Discount,

Partnership Business,

Mixture and Alligation,

Time and distance,

Time & Work,

Basic algebraic identities of School Algebra & Elementary surds,

Graphs of Linear Equations,

Triangle and its various kinds of centres,

Congruence and similarity of triangles,

Circle and its chords,

tangents,

angles subtended by chords of a circle,

common tangents to two or more circles,

Triangle,

Quadrilaterals,

Regular Polygons,

Circle,

Right Prism,

Right Circular Cone,

Right Circular Cylinder,

Sphere,

Hemispheres,

Rectangular Parallelepiped,

Regular Right Pyramid with triangular or square base,

Trigonometric ratio,

Degree and Radian Measures,

Standard Identities,

Complementary angles,

Heights and Distances,

Histogram,

Frequency polygon,

Bar diagram & Pie chart.
English Language: 
Candidates' ability to understand correct English, his basic comprehension and writing ability, etc. would be tested.
Prepare For ICMR Assistant By Attempting A Free Mock Test
ICMR Assistant Recruitment 2020 | Eligibility Criteria
Educational Qualification
(i) Minimum three years Bachelor's degree in any discipline from a recognized University/ Institute; and
(ii) Working Knowledge of Computer (MS Office / PowerPoint)
Age Limit
The candidates should not above 30 years.
Note: The date for determining age limit/eligibility in respect of Minimum Essential Qualification(s) shall be as on the prescribed closing date for submission of online applications i.e. 03.12.2020.
Don't wait till last, start preparing now.
ICMR Assistant Recruitment 2020 | Salary Structure
The candidates who will be appointed as an Assistant in ICMR will be paid (Rs. 35400-112400/-) in the Pay Matrix (Pre-revised Pay Band-2: Rs. 9300-34800/- + Grade Pay Rs. 4200/-). The salary to an ICMR Assistant will be paid in Level 6.
ICMR Assistant Recruitment 2020 | Application Process
The Application Process for ICMR Assistant has started and the last date to apply for the ICMR Assistant exam is 03-12-2020.
Application Fees/ Intimation Charges
Persons with Benchmark Disabilities (PwBD): Exempted from payment of a fee.

SC/ST/EWS/Women: Rs.1200/- plus Transaction Charges as applicable.

For all others: Rs.1500/- plus Transaction Charges as applicable.
Note: The candidates can deposit the above application fee through an online payment gateway available at the APPLICATION PORTAL using Debit/ Credit Card/ Net Banking.
Steps To Apply Online For ICMR Assistant 
All eligible candidates willing to apply in response to this advertisement notice should visit ICMR and PGIMER website www.icmr.nic.in and www.pgimer.edu.in and register himself/herself.

Then fill in other details i.e. post applied for, Name of Candidate, Date of birth, category, e-mail ID, mobile number etc. to register. (Candidates should apply only once for the post)

Login using the credentials and fill in the complete details of the application form like personal details, educational qualification, and other details.

Upload the photo & signature as per the mentioned dimensions.

Verify all your details.

Complete the online payment and take a print of the registration slip.
Candidate(s) should note that no edit option will be available to them after saving the application finally.
Steps to Apply A fresh After the Written Examination (Shortlisted Candidates)
The candidates shortlisted after the written test will be required to apply afresh offline within the prescribed time along with all the certificates/ documents/ testimonials etc. on a given format which will be made available on the website of the Institute along with the notice for shortlisting of the candidates on the basis of written examination. Shortlisted candidates will be required to furnish the following certificates/documents/  testimonials along with their offline application:-
Print out the online application form.

Self-attested/attested copy of mark sheet of Matric, 10+2, and other higher qualifications as per the requirement of the recruitment rules of the post concerned.

Self-attested/attested copy of caste/category certificate viz. SC/ST/OBC/EWS/PwBD.

No Objection Certificate from the present employer in case a candidate is working in Govt./Semi Govt./Autonomous Body etc.
---
DOWNLOAD THE OLIVEBOARD APP FOR ON-THE-GO EXAM PREPARATION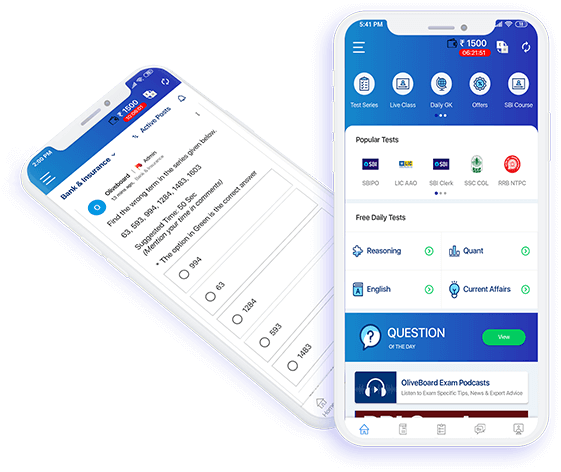 Video Lessons, Textual Lessons & Notes
Topic Tests covering all topics with detailed solutions
Sectional Tests for QA, DI, EL, LR
All India Mock Tests for performance analysis and all India percentile
General Knowledge (GK) Tests
Free videos, free mock tests and free GK tests to evaluate course content before signing up!

---