As per the latest update released by the Consortium of NLUs on June 30, 2020. The Common Law Admission Test, popularly known as CLAT is going to be conducted online in 2020. To help you in your preparations and make them better we have brought you a free ebook on Legal Reasoning Questions For CLAT 2020 exam.
The questions in this ebook are based on the latest pattern that is going to appear in the CLAT 2020 exam. Practice questions by downloading the free ebook from the below-mentioned link. Want to attempt a free CLAT 2020 mock test based on the latest pattern  ⇒ CLICK HERE.
Legal Reasoning Questions For CLAT | Free eBook
Download Free eBook by clicking on the link below:


Sneak Peek Into Ebook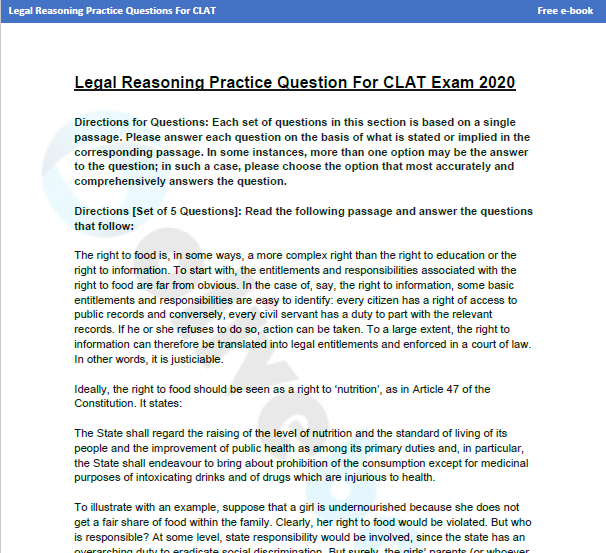 Free CLAT Mock Test! Yes, It's Free Take Test Now
CLAT 2020 Online Preparation
CLAT would be conducted in an online format for the first time. Therefore, we believe students should also prepare for the exam online. To help students do this, we have launched the CLAT Mock Test series on our platform.
The Test series would include 5 full-lengths CLAT mock tests. The first mock test would be absolutely free to attempt. All Questions will have detailed solutions. Candidates can access AI-based performance analysis after each mock test.
Take your Preparation to the Next Level with the FREE CLAT Mock Test Now
Keep Yourself Updated With The Weekly Current Affairs Here