Want to Ace Agricultural & Rural Development section in NABARD Grade-A Exam? This blog will be your key to it. Here you will get NABARD ARD Free notes to help you prepare the Agricultural & Rural Development section for NABARD Exams. These NABARD ARD free notes will be useful for you in all upcoming NABARD Exams like NABARD Grade A, NABARD Grade B & NABARD Assistant. Start your preparation with a free mock test here.

NABARD ARD Free Notes – Horticulture
Horticulture has been defined as the agriculture of plants, mainly for food, materials, comfort, and beauty for decoration.
The term Horticulture is derived from 2 Latin words: "Hortus" meaning garden and "cultura" meaning cultivation.
A more precise definition can be like, "It is the cultivation, processing, and sale of fruits, nuts, vegetables, and ornamental plants as well as many additional services". It also includes plant conservation, landscape restoration, soil management, landscape and garden design, construction and maintenance, and arboriculture. Read All About Horticulture & Related topics now
Branches of Horticulture – NABARD ARD Free Notes
Horticulture includes various fields and diversity of crops. Here are a few branches of Horticulture.
Pomology: it is a branch of botany that studies and cultivates fruit. Pomological research is mainly focused on the development, enhancement, cultivation and physiological studies of fruit trees.
Olericulture: It is the science of vegetable growing, dealing with the culture of non-woody plants for food.
Floriculture: Floriculture, or flower farming, is a discipline of horticulture concerned with the cultivation of flowering and ornamental plants for gardens and for floristry, comprising the floral industry. The development, via plant breeding, of new varieties is a major occupation of floriculturists.

Spices Crop:

This refers to the cultivation fo crops like cardamom, pepper, nutmeg, etc.

Plantational Crops: 

This tern refers to the cultivation of crops like rubber, coffee, coconut, tea, etc.

Post-Harvest Technology: This term refers to the dealings of post-harvesting handling, dealing, packaging, grading, processing, storage, marketing of horticulture crops, etc.
NABARD ARD Free Notes – Types of Fruits
The fruit's growth and cultivation are seasonal and is based on the temperature and season outside. There are basically 3 types of season:
Tropical Climate: A tropical climate is a non-arid climate in which all twelve months have mean temperatures warmer than 18 °C. Fruits that appear in this season are as follows- Mango, Banana, Papaya, Pineapple, Jackfruit, Avocado, Cashew, etc.

Subtropical Climate: 

Subtropical climates are often characterized by hot summers and mild winters with infrequent frost. Fruits growing in this season are- Guava, Grape, Citrus, Date Palm, pomegranate, litchi, etc.

Temperate:

T

he temperate climates of Earth occur in the middle latitudes, which span between the tropics and the polar regions of Earth. Fruits appearing in this season are: Apple, Pear, Peach, Plum, Apricot, Walnut, Almond, etc.
India is considered as the 2nd largest producer of fruits after Brazil. India accounts for 9.3% of the total world production of fruits. Preparing for NABARD exams, how about starting with a free mock test?
The leading fruit-bearing states in India are Karnataka, Bihar, Maharashtra, Uttar Pradesh & Andhra Pradesh.
Vegetable Crops – NABARD ARD Free Notes
India ranks 2nd in vegetable production and it accounts for close to 13% of the total world production of the vegetables.
West Bengal has been a top vegetable producer in India. Get more topics to study here.
NABARD ARD Free Notes – Importance of Horticulture
India is blessed with various types of soils and varied agro-climatic conditions as a result of which the country has the advantages of growing a variety of horticultural crops in particular and other crops in general.
Horticulture has risen as a source of medicine. Various types of medicinal and herbal plants grow on our land which is important from the medical perspective.
It enriches the diet. It provides us with critical nutrients and balanced diets.
Diets low in fruits and vegetables contribute significantly to some of the world's most widespread and debilitating nutrient-related disorders. Know all about the types of questions asked in the exam from horticulture.
It has increased incomes across categories.
Farmers growing high-value crops, such as fruits, vegetables, flowers or herbs, consistently earn more than those growing other commodities.
Horticulture is helping in increasing farmer profits and diversifying nutrient-rich diets.
[gdlr_button href="https://www.oliveboard.in/nabard-grade-a-b/?ref=tsh" target="_blank" size="large" background="#1b5df1″ color="#ffffff"]Get Complete ARD Study Notes here[/gdlr_button]
Get More NABARD ARD Study Notes – Topic-Wise
Here is a glimpse of Study notes provided by us. You can get the ARD AND ESI Study notes and prepare for the upcoming NABARD Exams.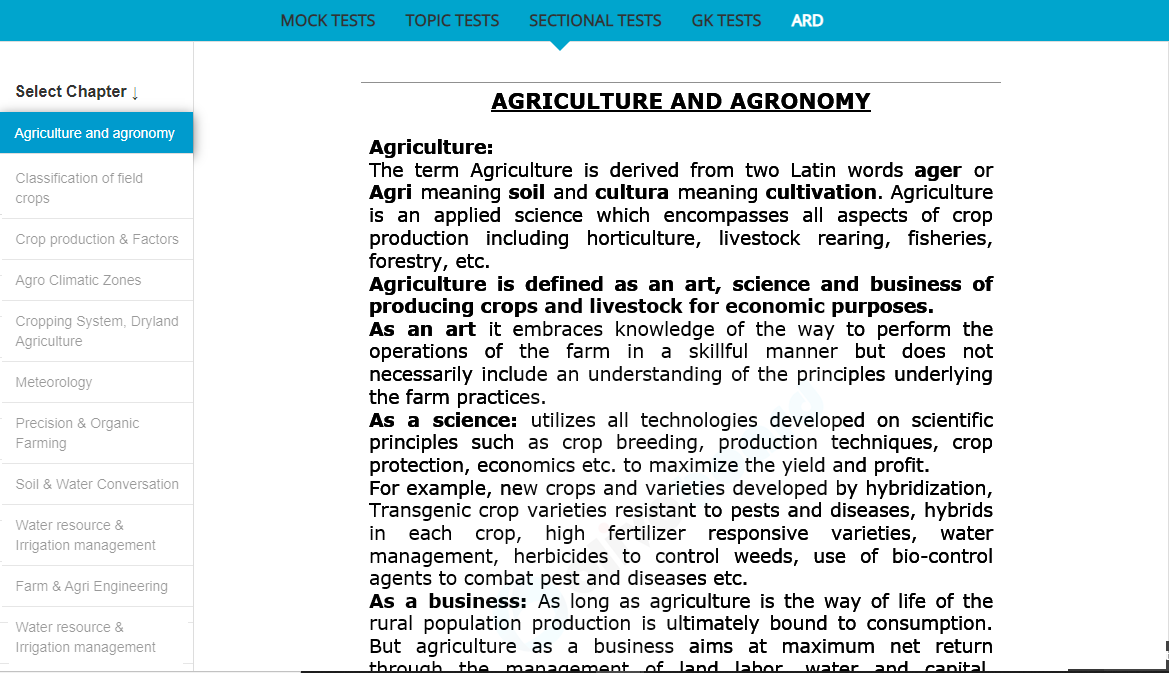 [gdlr_button href="https://www.oliveboard.in/nabard-grade-a-b/?ref=tsh" target="_blank" size="large" background="#1b5df1″ color="#ffffff"]Get Complete ARD Study Notes here[/gdlr_button]
That is all from us in this blog. Get NABARD ARD & ESI Study Notes on Oliveboard and prepare for upcoming NABARD Exams. ARD & ESI are an important part of NABARD Exams and thus being familiar with the topic is necessary to ace the exam. Other Aspirants are taking the test, try now and see your ranking.

Also, Check: