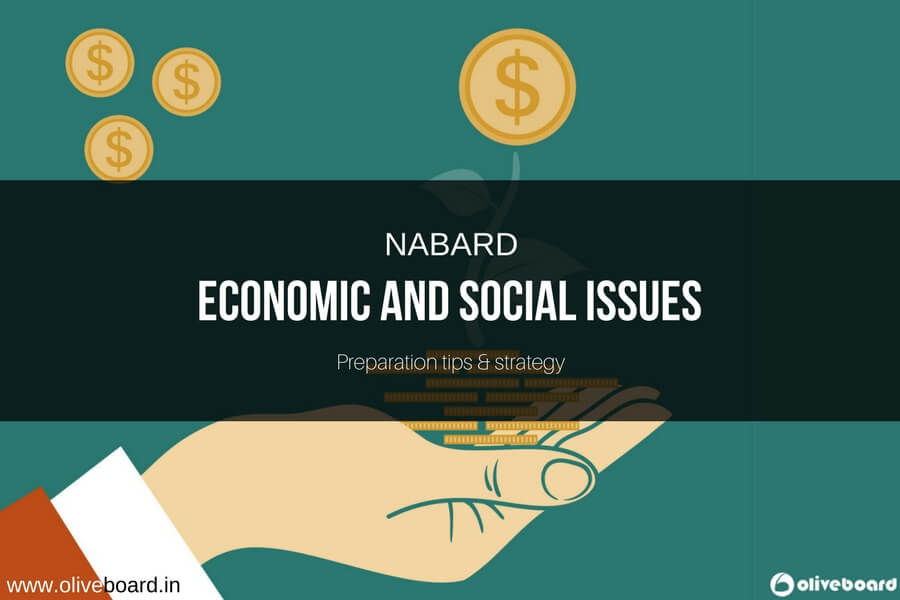 Dear Aspirants,
Following your requests to write a preparation guide for the Economic and Social Issues [ESI] paper of NABARD Examination, we have devised a preparation strategy for your Economics and Social Issues preparation. Previously we had provided preparation tips and strategy for Agricultural & Rural Development paper of NABARD. Save these preparation tips as a PDF to aid your ESI preparation.
This year, there has been a slight change in the pattern of the Phase 1 exam. The weightage given to the Agriculture & Rural Development (ARD) & Economic & Social Issues (ESI) papers have been increased from 25 to 40 marks and the weightage given to the Quantitative Aptitude & the Reasoning sections have been reduced from 30 to 20 marks and 40 to 20 marks, respectively. The overall pattern and type of questions in NABARD exam syllabus however remain the same.
In the following article we are providing you preparation tips and guide to effectively prepare for the ESI paper:
What to study?
Refer to the syllabus given by NABARD with its official notification on their website. Following is a list of topics that appeared in the previous year Economic and Social Issues [ESI] paper of NABARD. Note that the following list is indicative and not exhaustive:
Nature of Indian Economy

Opening up of Indian Economy – LPG

Inflation

Indian Planning

Poverty Alleviation

Employment Generation

Population

Agriculture

Industry and Labor

IMF

World Bank

WTO

Regional Economic Cooperation

Social Structure in India

Urbanization

Migration

Gender Issues

Education

Health

SC/ST/OBC issues and schemes

Social movement

Indian Political system

Human development

Current affairs
Kind of questions you can expect in ESI question paper analysis:
Questions on economic and social welfare schemes like Pradhan Mantri Jan-Dhan Yojana (PMJDY), Jan Aushadi, Pradhan Mantri Ujjwala Yojana (PMUY), Shyama Prasad Mukherji Rurban Mission (SPMRM), Pradhan Mantri Kaushal Vikas Yojana (PMKVY), Deen Dayal Upadhyaya Grameen Kaushalya Yojana (DDU-GKY), etc. that are launched for the welfare of people in rural areas, women, children, rural youth, etc
Committees set up by the government like the Shanta Kumar Committee, social sector programs and missions (like Indradhanush) launched by the Government
Autonomous agencies launched by the Government of India like the National Skill Development Agency launched by Ministry of Skill Development and Entrepreneurship
Questions based on the Economic Survey
Economic currents affairs on topics like department of disinvestment, overdrafts, etc
Questions based on passages related to current affairs (like the firing of the air hostess, being a good Samaritan, reservations, etc.)
Preparation Tips & Strategy for NABARD ESI Paper
We suggest you start your preparation by dividing your preparation schedule into broadly two categories: Static and Current Affairs.
Pick a topic from the syllabus
Read up about it and understand the concept
Read important current affairs related to that concept including the facts and figures
ESI Static Preparation tips and strategy
If you have studied Economic and Social Issues as part of your graduation, then you don't need to study the basics of Economy or Social Issues. However, if your foundation in Economic and Social Issues is weak, we suggest you start by getting your fundamentals in place by reading about them from NCERT textbooks of 8th to 12th grade. But, make sure you do selective reading of important concepts only.
Learn various Economic concepts for the static part and about social reforms, census, schemes, etc.
Read full names of schemes and not just their abbreviated forms. In the exam, most questions will only contain the abbreviated form. So it's important that you know the full-forms of the schemes and sub-schemes.
Do not spend too much time on the static part, as most of the questions that appeared in the previous years' Economic and Social Issues [ESI] paper were based on current affairs related to Economic and Social Issues.
NOTE: Having said the above, we suggest you don't entirely base your preparation on previous year ESI paper analysis alone. Use it as a guideline to prepare for this year.

ESI Current affairs Preparation tips and strategy
Most of the questions that appeared in the last year Economic and Social Issues paper were current affairs based which were published in newspapers like The Hindu and magazines like Yojana, and also from the Economic Survey, Union Budget and various government schemes.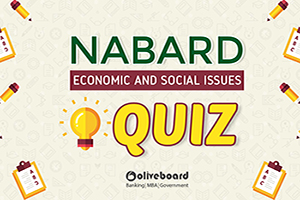 We suggest you cover current affairs of 1 year related to Economic and Social issues. It's important that you memorize facts and figures like percentages and other numbers.
The questions are based on the various government Policies in Economic sector, banking and social issues taking place in our surrounding, etc. Follow news related to economics and social issues regularly and read government notices.
Keep your preparation material minimum and do not hoard too many books as it will only end up intimidating you.
The syllabus of Economic and Social Issues [ESI] of NABARD can be intimidating since it is vast. However, reading books cover to cover to understand concepts will only end up confusing you at the moment. You might even spend a lot of time on learning concepts that aren't even in the syllabus.
Therefore, to save that effort and your precious time and energy, we recommend you take NABARD Mock Tests.
Why should you take NABARD Mock Tests?
The mock tests are prepared by experts, who know the latest NABARD ESI exam syllabus and pattern, after thorough research and analysis. They cover the most important topics in the mock tests that will appear in the exam. Taking the mock tests will give you a fair idea about the topics that will be asked, and also the pattern and difficulty level of the questions.
Using this information, you can fine-tune and tailor your Economic and Social Issues preparation and save time and energy.
Mock tests also help you analyze your performance, determine your speed and accuracy and identify your strong and weak topics in ESI section.
Reports
The

Economic Survey of India
Press Information Bureau

[PIB]
Policy reviews of the Government of India
Magazines
Books
Social & Economic Problems in India by Naseem A Azad
Indian Economy by Ramesh Singh
Social Problems in India by Ram

Ahuja
Indian Social System by Ram Ahuja
NOTE ON BOOKS: We suggest you pick the best book for your preparation; one with no errors and one that is most recommended. You also need to do selective reading of books. Do not spend time reading them cover to cover. Read up only those concepts that are important for your Economic and Social Issues exam paper.
Other study material
The Economic Times Newspaper
Save these preparation tips as a PDF and use it as a handy guide to aid your NABARD Economic and Social Issues [ESI] exam preparation. We hope the above helps you kick-start and ace your ESI preparation.
We wish you all the very best!
Further reading:
How to prepare for Agricultural and Rural Development [ARD] paper of NABARD