NABARD Gr. A exam is conducted by the National Bank of Agriculture & Rural Development (NABARD), the apex regulatory body for overall regulation and licensing of regional rural banks and apex cooperative banks in India. The exam is on similar lines when compared to SEBI Gr. A and RBI Gr. B exams. The sections that set these exams apart are ESI & ARD. To help you with your preparations, we have devised a preparation strategy for Economics and Social Issues (ESI) section. You can read about the ARD Preparation tips devised earlier, here. In the following article, we are providing you preparation tips and guide to effectively prepare for the ESI section. Follow these ESI preparation Tips to ace the exam.
Get NABARD Gr. A Free Study Material Here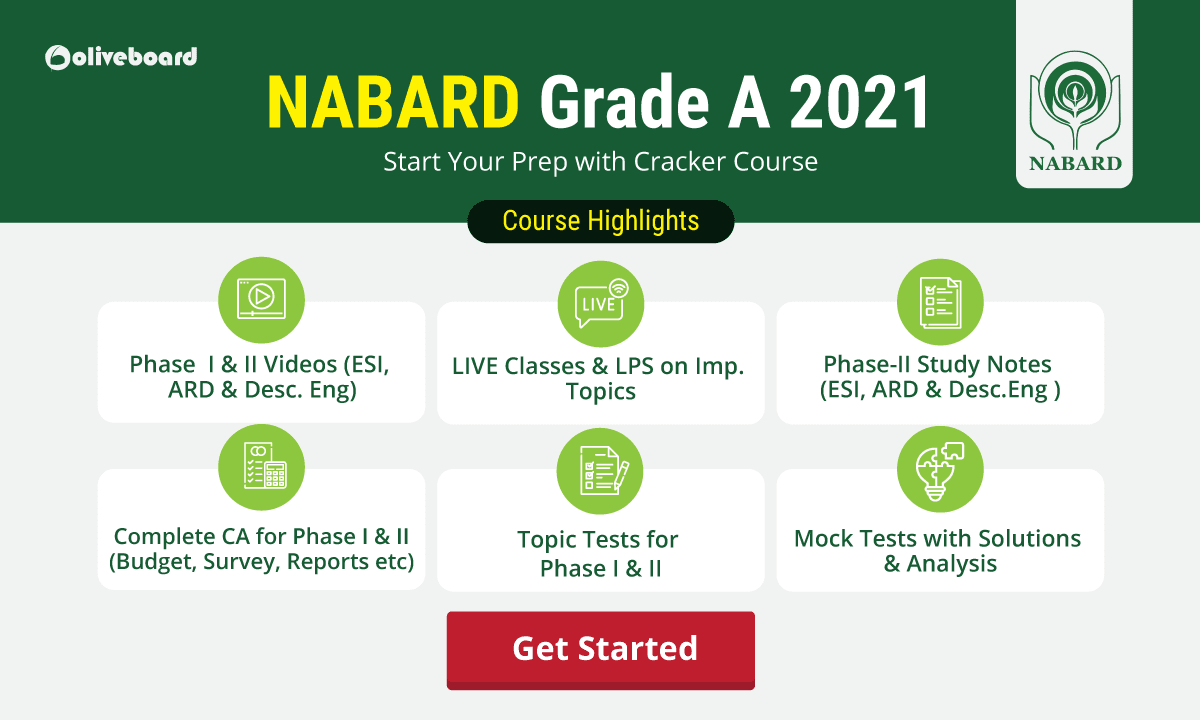 ESI Preparation Tips & Tricks For NABARD Grade-A Exam

In this article, you will get to know the complete ESI syllabus, tips on what to read from the syllabus and the resources to cover for your overall ESI preparation for the NABARD Grade-A exam. 
I. ESI Important Topics – What to Study?
Refer to the syllabus given by NABARD with its official notification on their website. Following is a list of topics that appeared in the previous year's Economic and Social Issues [ESI] paper of NABARD. Note that the following list is indicative and not exhaustive:
Nature of Indian Economy 

Structural and Institutional features

Economic underdevelopment

Opening up the Indian Economy

Globalization

Economic

Reforms in India– Privatisation

Inflation

Employment Generation in India – Rural and Urban

Measurement of Poverty – Poverty Alleviation Programmes of the Government

Population Trends – Population

Growth and Economic Development – Population Policy in India

Agriculture Industry

Rural banking and financial institutions in India

Reforms in Banking/ Financial sector

Globalization of Economy

Social Structure in India

Education

Social Justice

Get complete ESI Notes, Video Lessons & Topic Tests for all the Topics given in the Syllabus
---
II. Types of Questions you can Expect in the ESI question paper
1. Questions on economic and social welfare schemes like Pradhan Mantri Jan-Dhan Yojana (PMJDY), Jan Aushadi, Pradhan Mantri Ujjwala Yojana (PMUY), Shyama Prasad Mukherji Rurban Mission (SPMRM), Pradhan Mantri Kaushal Vikas Yojana (PMKVY), Deen Dayal Upadhyaya Grameen Kaushalya Yojana (DDU-GKY), etc. that are launched for the welfare of people in rural areas, women, children, rural youth, etc
2. Committees set up by the government like the Shanta Kumar Committee, social sector programs and missions (like Indradhanush) launched by the Government
3. Ranks of India on various indexes
4. Poverty Alleviation, Population Policy in India.
5. Autonomous agencies launched by the Government of India like the National Skill Development Agency launched by the Ministry of Skill Development and Entrepreneurship
6. Questions based on the Economic Survey
7. Economic currents affairs on topics like the department of disinvestment, overdrafts, etc
8. Questions based on passages related to current affairs (like the firing of the air hostess, being a good Samaritan, reservations, etc.)
---
III. ESI Preparation Tips & Strategy for NABARD Gr. A Exam
We suggest you start your preparation by dividing your preparation schedule into broadly two categories: Static and Current Affairs.
1. Pick a topic from the syllabus.
2. Read up about it and understand the concept.
3. Try and read the concepts thoroughly and not just the overview.
4. Give each topic sufficient time to prepare, otherwise, you might skip the concept at a later stage.
5. Read important current affairs related to that concept including the facts and figures.
---
ESI Preparation Tips and Strategy for Static Topics
1. If you have studied Economic and Social Issues as part of your graduation, then you don't need to study the basics of Economy or Social Issues. However, if your foundation in Economic and Social Issues is weak, we suggest you start by getting your fundamentals in place by reading about them from NCERT textbooks of 8th to 12th grade. But, make sure you do a selective reading of important concepts only or just go through our concise notes & explanatory video lessons. 
2. Learn various economic concepts for the static part and about social reforms, census, schemes, etc.
3. Read the full names of schemes and not just their abbreviated forms. In the exam, most questions will only contain the abbreviated form. So it's important that you know the full forms of the schemes and sub-schemes.
4. Spend equal time on the static part as well as current affairs related to these static topics from the syllabus of Economic and Social Issues. You can expect questions from static as well current affairs in ESI Phase-1 & Phase-2 of the NABARD Grade A exam. 
---
ESI Preparation Tips and Strategy for Current Affairs 
1. Many of the questions that appeared in the previous years Economic and Social Issues paper were current affairs based that were published in newspapers like the Hindu and magazines like yojana & kurukshetra, and also from the economic survey, union budget and various government schemes.
2. We suggest you cover current affairs of one year related to Economic and Social issues. It's important that you memorize facts and figures like percentages and other numbers.
3. The questions are based on the various government policies in the economic sector, banking and social issues taking place in our surrounding, etc. Follow news related to economics and social issues regularly and read government notices.

Get monthly CA capsules, Govt. Schemes & summaries of imp. reports in NABARD Gr. A Cracker Course
---
IV. Preparation Material for the ESI Paper of NABARD

Important Reports
The Economic Survey of India
Press Information Bureau [PIB]
Policy reviews of the Government of India
Current Affairs Magazines
Other study material
The Economic Times Newspaper
Get Complete Current Affairs for NABARD exam in NABARD Gr. A Cracker Course
---
Some Tips
1. Keep your preparation material minimum and do not hoard too many books as it will only end up intimidating you.
2. The syllabus of Economic and Social Issues [ESI] of NABARD can be intimidating since it is vast. However, reading books cover to cover to understand concepts will only end up confusing you at the moment. You might even spend a lot of time learning concepts that aren't even in the syllabus.
3. Therefore, to save that effort and your precious time and energy, we recommend you to refer to the NABARD Grade A Cracker Course comprising complete study material for ESI & ARD as well as Mock Tests for Phase-1 & Phase-2. 
Using this information, you can fine-tune and tailor your Economic and Social Issues preparation and save time and energy.
That is all from us in this blog. We have tried to cover every aspect possible in ESI Preparation tips to help you with your exam approach. Read and follow the steps religiously and you will be able to get the most of this section.
We wish you all the very best!
---
NABARD Grade A Online Course 2021
» Oliveboard offers the best NABARD Grade A Online Coaching for you all which will help you crack the exam with ease in your first attempt.
» NABARD Grade A Online Course would include Online Video Lessons, Detailed Study Notes, All-India Mock Tests, and much more for your exhaustive preparation.
» Oliveboard's NABARD Grade A Online Course 2021 will be your one-stop destination for all your preparation needs.
Why Join Oliveboard?
» Structured preparation @ one place.
» Strengthen your concepts using Videos & Notes.
» Have a grip on topics through Topic Tests.
» Improve speed and accuracy through Full-length Mock Tests.
Course Details
» Phase  I & II Videos (ESI, ARD & Desc. Eng)
» LIVE Classes & LPS on Imp. Topics
» Phase-II Study Notes (ESI, ARD & Desc. Eng)
» Complete CA for Phase I & II (Budget, Survey, Reports, etc)
» Topic Tests for Phase I & II
» Mock Tests for Phase I & with Solutions & Analysis
As they say, start early and stay ahead!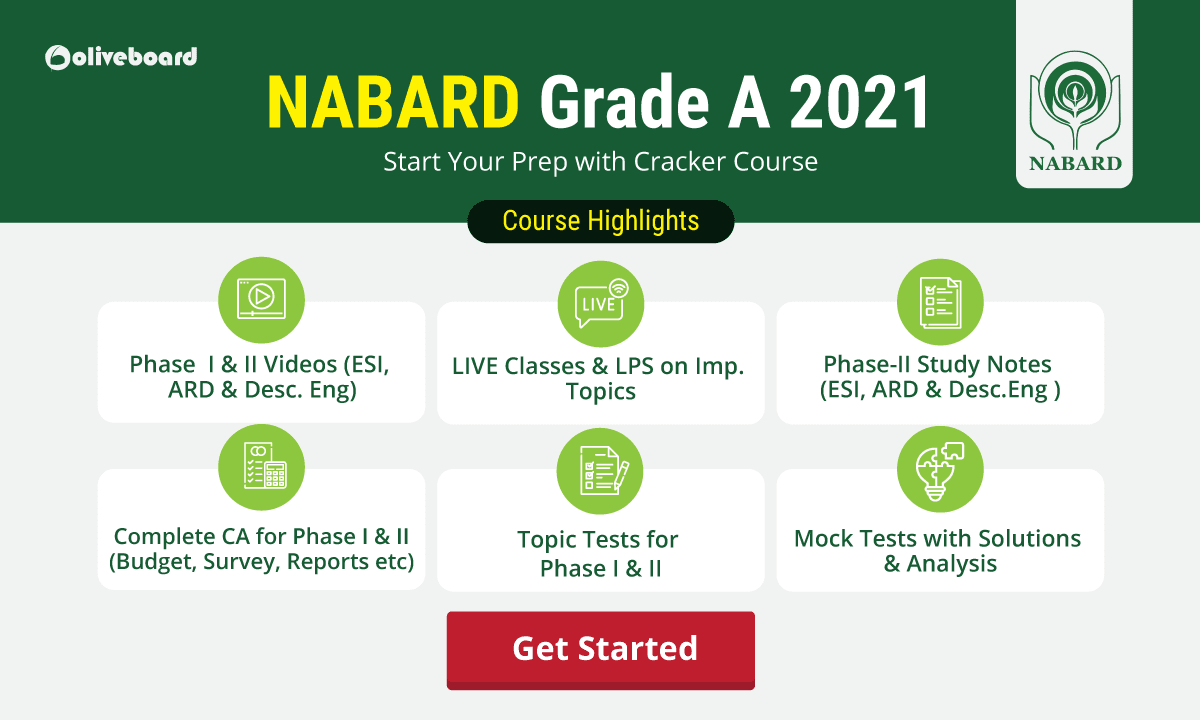 Also, Check:
  Oliveboard Live Courses & Mock Test Series