Either one of the mother tongue or the local/regional language will be the medium of instruction up to Class 5 in all schools, the government said Wednesday 29 July 2020 while launching the National Education Policy 2020. Not only this government has brought many reforms in the Education Sector with the launch of New Education Policy 2020. Read along to know everything about the new education policy.
Register here for a Free Mock Test & also get Daily Exam & Upcoming Offers
1. Top 10 Points On New National Education Policy 2020
1. The mother tongue or local or regional language is to be the medium of instruction in all schools up to Class 5 (preferably till Class 8 and beyond), according to the policy. Under the NEP 2020, Sanskrit will be offered at all levels and foreign languages from the secondary school level. However, the policy also says "no language will be imposed on any student".
2. This point is likely to be viewed warily by many after the controversy broke out in June last year after the draft NEP was seen by many southern states as an attempt to impose Hindi on school students.
3. The 10+2 structure has been replaced with 5+3+3+4, consisting of 12 years of school and three of Anganwadi or pre-school. This will be split as follows: a foundational stage (ages three and eight), three years of pre-primary (ages eight to 11), a preparatory stage (ages 11 to 14), and a secondary stage (ages 14 to 18). According to the government, the revised structure will "bring hitherto uncovered age group of three to six years, recognized globally as a crucial stage for the development of mental faculties, under school curriculum".
4. Instead of exams being held every year, school students will sit only for three – at Classes 3, 5, and 8. Assessment in other years will shift to a "regular and formative" style that is more "competency-based, promotes learning and development, and tests higher-order skills, such as analysis, critical thinking and conceptual clarity".
5. Board exams will continue to be held for Classes 10 and 12 but even these will be re-designed with "holistic development" as the aim. Standards for this will be established by a new national assessment centre – PARAKH (Performance Assessment, Review, and Analysis of Knowledge for Holistic Development).
6. The policy, the government has said, aims at reducing the curriculum load of students and allowing them to become more "multi-disciplinary" and "multi-lingual". There will be no rigid separation between arts and sciences, between curricular and extra-curricular activities and between vocational and academic stream, the government said.
7. To that end, the policy also proposes that higher education institutions like the IITs (Indian Institute of Technology) move towards "holistic education" by 2040 with greater inclusion of arts and humanities subjects for students studying science subjects, and vice versa.
8. The NEP 2020 proposes a four-year undergraduate programme with multiple exit options to give students flexibility. A multi-disciplinary bachelor's degree will be awarded after completing four years of study. Students exiting after two years will get a diploma and those leaving after 12 months will be have studied a vocational/professional course. MPhil (Master of Philosophy) courses are to be discontinued.
9. A Higher Education Council of India (HECI) will be set up to regulate higher education; the focus will be on institutions that have 3,000 or more students. Among the council's goals is to increase the gross enrolment ratio from 26.3 percent (2018) to 50 percent by 2035. The HECI will not, however, have jurisdiction over legal and medical colleges.
10. The HECI will have four independent verticals – National Higher Education Regulatory Council for regulation, General Education Council to set standards, Higher Education Grants Council for funding, and the National Accreditation Council for accreditation.
Source: NDTV
Want To Attempt A Free Mock Test? Register Here For Free
2. New Education Policy 2020 Complete Highlights
2.1 HRD Ministry to be renamed as the education ministry
"The policy draft has been approved. The Ministry has been renamed as Education Ministry," a senior HRD Ministry official said.
2.2 Best universities to set up campuses in other countries
High performing Indian universities will be encouraged to set up campuses in other countries. Selected universities like those from among the top 100 universities in the world will be facilitated to operate in India.
2.3 National Committee for the integration of vocation Education -Lok Vidya
Lok Vidya', i.e., important vocational knowledge developed in India, will be made accessible to students. The education ministry would constitute a National Committee for the Integration of Vocational Education (NCIVE).
2.4 National Research Foundation (NRF) to be established
A National Research Foundation (NRF) will be established. The overarching goal of the NRF will be to enable a culture of research to permeate through universities. The NRF will be governed, independently of the government, by a rotating Board of Governors consisting of the very best researchers and innovators across fields.
2.5 Indian Institute of Translation and Interpretation (IITI) proposed
New Education Policy proposes the setting up of an Indian Institute of Translation and Interpretation (IITI) while also laying significant emphasis on Sanskrit and other Indian languages.
Prepare For Different Banking & Govt. Exam Here
2.6 Education Policy modified after over 30 years 
After over 30 years this change has been brought. The education policy was released in the year 1986.
2.7 PM approves to the new policy for the 21st century after 34 years
The cabinet under Prime Minister Narendra Modi has given approval to the new education policy for the 21st century.
2.8 Multiple entry and exit programme
The government aim at a 50% gross enrolment ratio by 2035. There will be multiple entry and exit options for those who wish to leave the course in the middle. Their credits will be transferred through Academic Bank of Credits, said Amit Khare, secretary of the education ministry.
2.9 New Pedagogical and curricular structure
The extant 10+2 structure in school education will be modified with a new pedagogical and curricular restructuring of 5+3+3+4 covering ages 3-18. Currently, children in the age group of 3-6 are not covered in the 10+2 structure as Class 1 begins at age 6. In the new 5+3+3+4 structure, a strong base of Early Childhood Care and Education (ECCE) from age 3 is also included.
2.10 E-content in regional language
There will e-content in the regional language apart from English and Hindi, said Khare. E-courses to be in eight major languages, not just English and Hindi.
2.11 Financial Autonomy to be given to 45K affiliated colleges
There are over 45,000 affiliated colleges in our country. Under Graded Autonomy, Academic, Administrative & Financial Autonomy will be given to colleges, on the basis of the status of their accreditation: Amit Khare Higher Education Secretary.
Take Up A Free Mock Test For Different Banking & Government Exam Here
2.12 National Curricular and pedagogical framework to be developed by NCERT
A National Curricular and Pedagogical Framework for Early Childhood Care and Education (NCPFECCE) for children up to the age of 8 will be developed by NCERT, Anita karwal, the school education secretary said.
2.13 Coding to be taught from class 6 onwards
Students of class 6 and onwards will be taught coding in schools as a part of 21st-century skills, the school education secretary said.
2.14 Importance of board exam to be reduced, the exam can be conducted twice a year
In order to reduce the importance and stress of board exams, the exam will be conducted in two parts: Objective and descriptive. The exam can be conducted twice a year. Board exam should promote knowledge application rather than rote learning, she added.
2.15 360-degree holistic report card for students
Students will get a 360-degree holistic report card, which will not only inform about the marks obtained by them in subjects but also their skills and other important points.
2.16 NTA to offer common entrance exam
The National Testing Agency (NTA) will offer a high-quality common aptitude test, as well as specialized common subject exams in the sciences, humanities, languages, arts, and vocational subjects, at least twice every year for university entrance exams.
2.17 Variable models for board exams – annual, semester, modular exams
Boards may over time also develop further viable models of Board Exams, such as – annual/semester/modular Board Exams; offering all subjects beginning with mathematics, at two levels; two parts exams or objective type and descriptive type.
Test Your Preparation With A Free Mock Test
2.18 Tech-based option for adult learning through apps, TV channels, etc
Quality technology-based options for adult learning such as apps, online courses/modules, satellite-based TV channels, online books, and ICT-equipped libraries and Adult Education Centres, etc. will be developed.
2.19 Preparatory class Balavatika for children below the age of 5
Prior to the age of 5, every child will move to a "Preparatory Class" or "Balavatika" (that is, before Class 1), which has an ECCE-qualified teacher.
2.20 Early childhood care and education curriculum (ECCEC) to be carried out by MHRD, WCD, HFW, tribal affairs
The planning and implementation of early childhood care and education curriculum (ECCEC) will be carried out jointly by the Ministries of HRD, Women and Child Development (WCD), Health and Family Welfare (HFW), and Tribal Affairs.
2.21 National Mission on Foundation Literacy and Numeracy to be set up by MHRD
A National Mission on Foundational Literacy and Numeracy will be set up by the Ministry of Human Resource Development (MHRD) on priority.
2.22 Nutrition and health cards, regular health check-ups for school students
The nutrition and health (including mental health) of children will be addressed, through healthy meals and regular health check-ups, and health cards will be issued to monitor the same.
2.23 NIOS, open schools to offer courses for grades 3,5 and 8
NIOS and State Open Schools will also offer A, B and C levels that are equivalent to Grades 3, 5, and 8 of the formal school system; secondary education programs that are equivalent to Grades 10 and 12; vocational education courses/programs; and adult literacy and life-enrichment programs.
2.24 Curriculum content to be reduced
Curriculum content will be reduced in each subject to its core essentials, and make space for critical thinking and more holistic, inquiry-based, discovery-based, discussion-based, and analysis-based learning.
2.25 Content will focus on the idea, application, problem- solving
The mandated content will focus on key concepts, ideas, applications, and problem-solving. Teaching and learning will be conducted in a more interactive manner
2.26 Experiential learning in all stages
Experiential learning will include hands-on learning, arts-integrated and sports-integrated education, story-telling-based pedagogy, among others, as standard pedagogy. Classroom transactions will shift, towards competency-based learning and education
Attempt A Free Mock Test For Different Banking & Govt Exam Now
2.27 No hard separation of streams for students
Students will be given increased flexibility and choice of subjects to study, particularly in secondary school – including subjects in physical education, the arts and crafts, and vocational skills
There will be no hard separation among 'curricular', 'extracurricular', or 'co-curricular', among 'arts', 'humanities', and 'sciences', or between 'vocational' or 'academic' streams.
Subjects such as physical education, arts and crafts, and vocational skills, in addition to science, humanities, and mathematics, will be incorporated throughout the school curriculum.
Each of the four stages of school education may consider moving towards a semester or any other system that allows the inclusion of shorter modules
2.28 Indian Sign Language to be standardized across the country
Indian Sign Language (ISL) will be standardized across the country, and National and State curriculum materials developed, for use by students with hearing impairment
2.29 The medium of instruction will be the local/ regional language
Wherever possible, the medium of instruction until at least Grade 5, but preferably till Grade 8 and beyond, will be the home language/mother-tongue/local language/regional language.
2.30 Three languages learned by children will be the choice of state, regions, and students
The three-language learned by children will be the choices of States, regions, and of the students, so long as at least two of the three languages are native to India.
2.31 Bagless days encouraged
Bagless days will be encouraged throughout the year for various types of enrichment activities involving arts, quizzes, sports, and vocational crafts.
Source: Hindustan Times
Keep Yourself Updated With Weekly Current Affairs Questions & Answers
3. Ebooks
You can download 200+ ebooks important for SSC, Banking, Railway, Insurance, and other government exams here.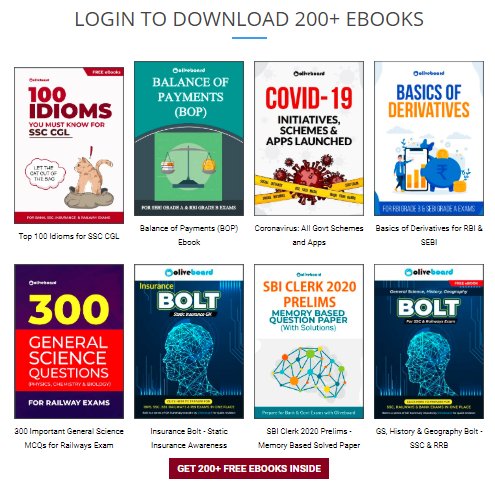 Oliveboard Bolt series E-books: 
This is all from us in this blog, New National Education Policy 2020. Stay tuned with Oliveboard for more exam related information.