SBI PO Recruitment notification is expected to be released in the coming days. The number of students eagerly waiting for this notification is more than ever before. This is because of the COVID-19 Pandemic. It has impacted the economy and job market in the Private sector negatively. Because of this, the importance of Job security has increased. Job Security is now the top priority of lakhs of youngsters while deciding the career path. As a result, the post of Probationary officer in India's biggest Public sector Bank – State Bank of India (SBI) is now the first choice for all those youngsters. This means the Competition would be the toughest this year. But you do not need to worry. In this blog, I am going to tell you how Online classes would help you beat the competition and become an SBI PO in 2020. Here are the 5 reasons to join Online classes for SBI PO Exam.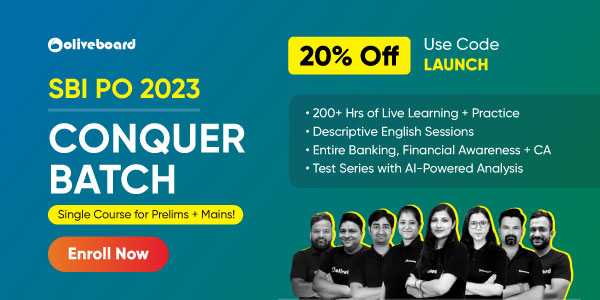 Why Join Online Classes for SBI PO exam preparation?
The answer to the above question is very simple.
Have you seen any huge structure without a strong base? The answer would be NO.
Similarly, to build your structure of Success in SBI PO, you need a strong base. Online Classes are the primary source to build this base. Only in online classes with the help of expert faculty, you would be able to learn the concepts of all-important topics in SBI PO. To elaborate this point, I have listed down 5 (mix of statistical & Strategic) reasons why you should join Online Classes for SBI PO 2020:
1) Online classes help you Increase your Score by 57%
In an internal analysis done by Oliveboard, It was found that students who completed an online course increased their score by 57%. Online classes help students understand the concepts with such clarity that it increases their speed and accuracy. The 57% score increase is a direct result of the increase in speed and accuracy while solving questions.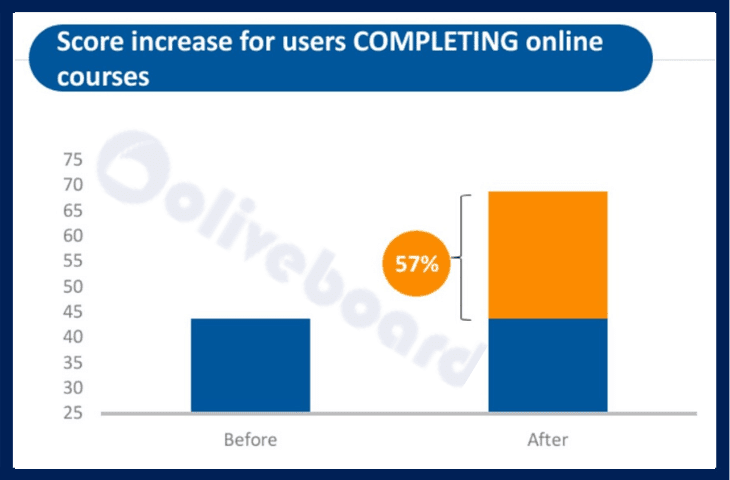 Follow these 6 Easy steps to increase your scores
Join Oliveboard's SBI PO 2020 Complete Course now to see the improvement in your scores now.
2) Increase Questions Solving speed with shortcut tricks
One of the biggest advantages of joining an online class is to learn the best and simplest of short tricks to solve the most difficult questions. These short tricks are developed by expert faculty themselves based on their years of teaching experience. In the below table you can see the time taken by students to solve an important question type, along with the ideal time to solve it. The questions can be solved within the given ideal time only with the help of Shortcut tricks taught by the Faculty in online classes: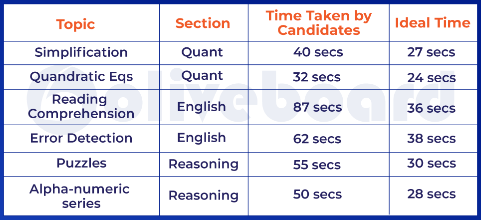 Watch Video lectures & join Live Practice sessions in SBI PO 2020 complete course to improve your speed
3) 25% of selected candidates in 2019 had used Oliveboard's Online Classes
People who join online classes have a much better chance of achieving success. Let's look at the data:
500 out of the 2000 candidates (25%) selected had used Oliveboard for their SBI PO Exam preparation. This includes our Online Classes and Mock Tests. The number could go even higher if consider the candidates who might have joined an online course on any other platform.
Use code ND60 to Join the SBI PO Course Now & get a FLAT 60% discount.
4) Online classes allow you to access teachings of Best Faculty
This is a reiteration of the already mentioned point. Only through online classes, you can have access to the best faculty for each section of the SBI PO Exam from any corner of India. Each of our Faculty has 10 to 15 years of experience teaching. Join our SBI PO Titan course now to learn for the Best Faculty for SBI PO Exam.

Join the SBI PO complete course to learn from the Team of Best Faculty in India. Register NOW to get FLAT 60% off. Use Code ND60.
Read the full list of SBI PO Syllabus Topics here
5) Online Classes + Mock Tests + strategy Sessions = Complete Preparation
To achieve success in an exam like SBI PO Recruitment, one needs a full-proof preparation plan. The level of competition is so high that one mistake could cost you your dream. Therefore, while preparing you should cover all 3 pillars of Online exam preparation – Learning, Practice & Strategy.

Only these 3 combined will give you success. Practice without Learning or strategy is as harmful as Learning without practice or strategy. Online classes allows to cover all 3 factors effectively from the comfort of your home. Hence, it is my fifth reason for you to join online classes for SBI PO exam preparation
The SBI PO 2020complete course (the details are given below) is designed with the same approach discussed above. It promises to cover all 3 pillars effectively so that you have the best chance to become an SBI PO in 2020.
Register for the course Now to get FLAT 60% Off. Use code ND60.
SBI PO 2020 Complete Course – Join now to Guarantee your Success
Learn

Practice

Exam Strategy

Live Video & Audio Interaction with the faculty

18   Live Practice Sessions (led by faculty)

Special   test-taking strategy sessions

80+ Hours of Doubt   Cum Revision Classes

20   Prelims + 10 Mains Mock Tests

Previous   year Topper sessions for tips and strategies

120+ Video Lectures

90   Sectional Tests for Prelims & Mains

Topic + GK Tests + 200   Ebooks
If you Register for this course before 3rd July 2020, you will also get access to our Special SBI PO Mock Recruitment Drill. It is a special exercise to give our users a complete recruitment process experience before the actual SBI Recruitment is released on the SBI website begins.
Read more about course features here
---
Use code ND60 to Join the Course Now & get a FLAT 60% discount.
---
I hope you found the information given above useful. All the best for your exam preparation.
See you in the SBI PO Online classes soon.

The most comprehensive online preparation portal for MBA, Banking and Government exams. Explore a range of mock tests and study material at www.oliveboard.in
  Oliveboard Live Courses & Mock Test Series