In order to score good marks in the upcoming NABARD Grade A Officer Exam held by the National Bank for Agricultural and Rural Development (NABARD), all the candidates need to focus on one crucial aspect of the paper, which is Agricultural and Rural Development. Today, we'll discuss various organizations for rural development in India. Knowing about these organizations, and how they assist the rural sector to develop will help you with your preparation.
Have a look at the NABARD Gr. A Complete Course Material Here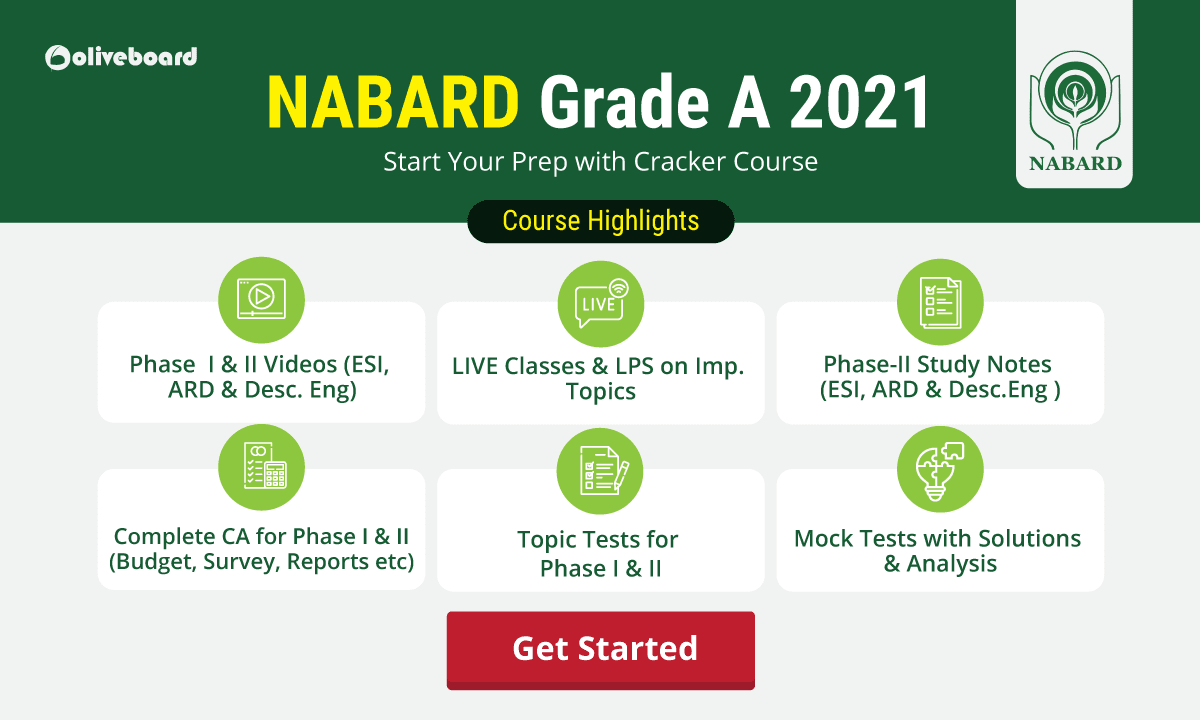 Rural Development Organizations in India
The majority of the population of India dwells in villages. However, due to poor connectivity with cities and towns, lack of schools, and lack of knowledge of modern farming techniques, life in most of these villages is delinked from the modern conveniences one enjoys in towns and cities.
For the overall development of the country, rural development programmes and schemes are important. In general, rural development denotes community and economic development initiatives and actions taken to improve the standard of living of remote villages, non-urban localities and the countryside.
The Government organizations for rural development in India aim to better the social and economic lives of poor people by providing financial aid.
Here are the names of a few such organizations that have contributed greatly to the development and welfare of the Indian rural sector:
1. National Bank for Agriculture and Rural Development
» NABARD is an apex of Indian development financial institution, headquartered in Mumbai.
» The institution has regional offices all across the country.
» The bank has been entrusted with matters concerning policies, planning, and operations in the credit field for agriculture and similar activities in the rural areas.
» NABARD looks after the development of small-scale village industry and cottage industry.
» The bank also coordinates the financing activities of all institutions involved in developmental work at the field level and maintains an association with the Reserve Bank of India, State Government, Central Government, and various national-level organizations concerned with the formulation of the policies.
---
2. Khadi and Village Industries Commission
The Government of India formed a statutory body, the Khadi and Village Industries Commission, under the Parliament Act, in 1956. Under the Ministry of Micro, Small and Medium Enterprises, this apex organization seeks to promote, plan, organize, assist, and facilitate the development and establishment of village and khadi industries in the rural locations in coordination with other organizations involved in rural development wherever required.
The Commission aims to fulfil three objectives by monitoring and implementing various programmes and schemes. The objectives are –
» Providing employment opportunities to the rural population
» Providing saleable articles
» Creating self-reliance among rural people and building a strong community spirit
Get Complete ESI & ARD Notes for NABARD Gr. A Exam Here
---
3. Centre of Science and Technology for Rural Development
Headquartered in Thrissur and operative in 13 other sub-centres including Gurgaon and Kerala, the organization strives to change the economic and social status of the poor by providing eco-friendly, low-cost housing technology using transparent, gender-sensitive, and participatory procedures.
---
4. Ministry of Rural Development
The Ministry of Rural Development is a branch of the Indian Government, entrusted with the task of advancing the socio-economic development of rural India with special respect to education, health, hygiene, drinking water, roads and housing.
Besides, nowadays, several Non-governmental Organizations like Salaam Bharat, Sehgal Foundation, Sanjeevani, and Rural Development Foundation, India are actively participating in rural development programmes, and reaching out to the poor to provide financial aid with the aim of improving the current scenario of rural India.
Rural development in India is an important topic for your upcoming NABARD exams, so make sure you have a comprehensive knowledge of the same. Practice previous years' question papers and sit for regular mock tests to nail your preparation.
Get Complete ESI & ARD Notes for NABARD Gr. A Exam Here
---
Read More Agriculture and Rural Development (ARD) Study Notes :
That is all from us in this Free ARD Notes blog on Organizations for Rural Development of India. Keep checking this space for NABARD Exam updates, Study Materials and Mock Tests.
If you wish to get in touch with your fellow competitors for preparation of Bank & Govt. Exams, you can visit Oliveboard's discuss forum.
Want more? You can access Oliveboard's Mock Tests, study materials, Podcasts, Word lists, etc. from your phone. Download Oliveboard Mobile App and prepare on the go!
---
NABARD Grade A Online Course 2021
» Oliveboard offers the best NABARD Grade A Online Coaching for you all which will help you crack the exam with ease in your first attempt.
» NABARD Grade A Online Course would include Online Video Lessons, Detailed Study Notes, All-India Mock Tests, and much more for your exhaustive preparation.
» Oliveboard's NABARD Grade A Online Course 2021 will be your one-stop destination for all your preparation needs.
Why Join Oliveboard?
» Structured preparation @ one place.
» Strengthen your concepts using Videos & Notes.
» Have a grip on topics through Topic Tests.
» Improve speed and accuracy through Full-length Mock Tests.
Course Details
»Phase  I & II Videos (ESI, ARD & Desc. Eng)
» LIVE Classes & LPS on Imp. Topics
» Phase-II Study Notes (ESI, ARD & Desc. Eng)
» Complete CA for Phase I & II (Budget, Survey, Reports, etc)
» Topic Tests for Phase I & II
» Mock Tests for Phase I & with Solutions & Analysis
As they say, start early and stay ahead!
Start Your Preparation with Cracker Course