According to a recent notification, RRB NTPC is scheduled to be held from the 15th of December, 2020. We are sure many of you have aspired to crack this exam and join the prestigious organisation of Indian Railways but after scrutinizing the syllabus one thing came to our mind i.e. how to prepare for it. Science has haunted most of the aspirants coming from different backgrounds if not all. Many aspirants wonder as to How to prepare General Science for RRB NTPC? Worry not: Oliveboard is always here for you! In this article, we will see what should be done by aspirants like you to prepare General Science for RRB NTPC thus maximising your score.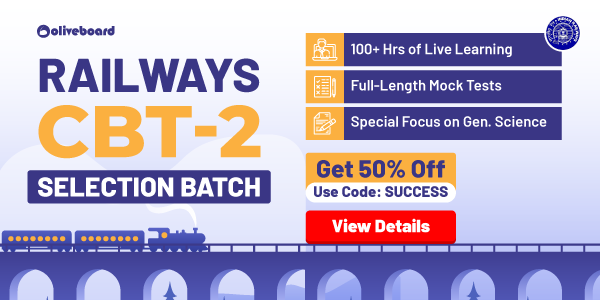 We are sure many of you have carefully examined the syllabus for the exam. Let us look at the topics of General Awareness for RRB NTPC:
Current Events of National and International Importance, Games and Sports, Art and Culture of India, Indian Literature, Monuments and Places of India, General Science and Life Science (up to 10th CBSE), History of India and Freedom Struggle, Physical, Social and Economic Geography of India and World, Indian Polity and Governance- constitution and political system, General Scientific and Technological Developments including Space and Nuclear Program of India, UN and Other important World Organizations, Environmental Issues Concerning India and World at Large, Basics of Computers and Computer Applications, Common Abbreviations, Transport Systems in India, Indian Economy, Famous Personalities of India and World, Flagship Government Programs, Flora and Fauna of India, Important Government and Public Sector Organizations of India, etc.
Without further ado, let us move to the main objective for which you are here i.e. How to prepare General Science for RRB NTPC?
1. Carve out a Study Plan and Time Management
You are aware of what the examining entity wants you to prepare. You should prepare a routine and appropriate a relevant portion of time to it, say 2 hours a day thrice a week. After appropriating the time, you need to subdivide it into three parts giving equal weightage to Physics, Chemistry and Biology.
2. Quality and not Quantity
There are ample resources available for preparation but restrain yourself from exploring everything under the sun. Stick to the quality resources available for General and Life Science as running after the resources and reading everything would cause confusion. Remember the aim is to crack the exam not to do scholarly work. Do check out our website and YouTube channel for quality resources.
3. How to prepare General Science for RRB NTPC: Divide and Rule
For many aspirants, science is a phobia but you can finish the lengthiest and hardest of topics in time if taken piece by piece. Science is no different!
Suppose we need to cover the biology section first. We will not straight away jump to reading the whole of biology textbook but we will pick one chapter and then divide it into segments. We will cover one segment at a time. It will not only help you to cover the whole textbook but will make your concepts clear.
4. What is the expected level?
You are required to prepare up to class 10th level and not beyond that. We are providing some sample questions so that you get a fair idea about the level of difficulty.
Q.1 _______ is the smallest particle of an element or a compound that is capable of independent existence and shows all the properties of that substance.
Q.2 Which law of motion states that the rate of change of momentum of an object is proportional to the applied unbalanced force in the direction of force?
Q.3 Who is known as the 'Father' of nuclear physics?
These should be a cakewalk if you have gone through the standard textbooks say, NCERTs or Oliveboard Resources.
5. How to prepare General Science for RRB NTPC: Revision
You may have covered every topic under General and Life Sciences but would you be able to recall it after 15 days? The answer here is no for most of the aspirants. Revising the concept will help you to understand it better. It will take less time and will ensure that you fetch marks without failure.
Remember Revision is the key to crack the exam.
6. Mock Tests, sectional tests and topic tests
Are you going in the right direction? You can assess yourself only after checking your preparations. Mock tests, sectional tests and topic tests will not only give you a fair idea of where you stand but they will also tell you if you have missed some important topic.
A key advantage of attempting more tests is that you will be able to manage your time and it will be easier to cope with the exam stress and pressure. Seeing your marks improving after 2-3 tests will provide you a sense of accomplishment and motivate you.
If you follow these six steps no one can stop you from mastering the topic of General and Life science. You are expected only to have a general understanding of the subject. We hope this article helped you in understanding the question "How to prepare General Science for RRB NTPC?". We wish you all the best and may you crack the exam with flying colours.
Study at your own convenience anywhere. Download the Oliveboard app now!
  Oliveboard Live Courses & Mock Test Series